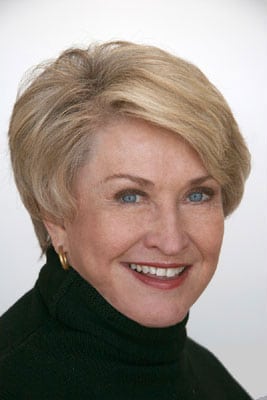 We are so sorry to say goodbye to a true friend of the Hulings family and champion of CHF, bronze sculptor Glenna Goodacre, who passed away from natural causes on Monday, April 13th. A Santa Fe resident originally from Lubbock, Texas, Goodacre's work is represented in collections across the country. She is best known not only for large public works such as The Vietnam Women's Memorial in Washington, DC and the Irish Memorial in Philadelphia, but also for her design of the Sacagawea dollar coin in 1999.
Goodacre won the James Earl Fraser Sculpture Award at the Prix de West Exhibition in 2002, and in 2003 she was awarded the Gold Medal For Career Achievement from The Portrait Society of America, the Texas Medal of Arts, and was inducted into the Cowgirl Hall of Fame. In a 2006 interview with Dickinson Research Center Director Chuck Rand, she described being a student who got a "D" in sculpture from a professor who didn't think she could see 3-dimensionally and should never sculpt. She was later awarded honorary doctorates from Texas Tech University and from her alma mater, Colorado College, where Goodacre titled her commencement address: "Success is The Greatest Revenge."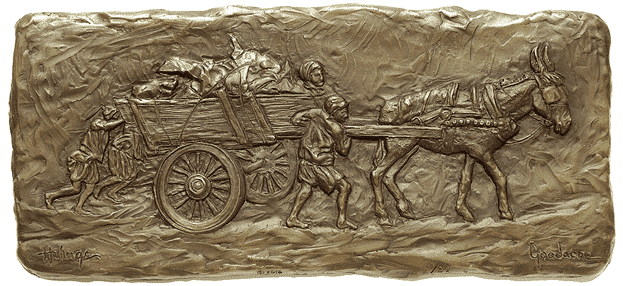 Clark Hulings' colleague and friend for many years, Goodacre was an enthusiastic supporter of CHF. She and Hulings were anchor members of the Santa Fe artist lunch group started by Robert Lougheed, where discussion and debate about the business art was always on the menu. CHF's mission resonated loudly with Goodacre, who overcame discrimination of many stripes during her long, storied career. The last piece she created before retiring was a bas relief of Hulings' drawing Helping to Push. She included both Hulings' signature and her own on it, and donated the original for CHF to use in its fundraising efforts. Glenna Goodacre was a force to be reckoned with, a tremendous talent, and a class act. We will miss her.