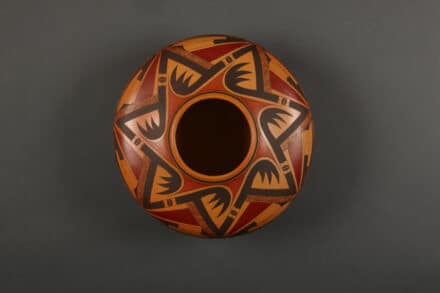 Nampeyo 1859-1942 was perhaps the most celebrated Indigenous ceramic artist of her day, and perhaps of all time. She revived traditional Pueblo designs and techniques that had been dormant for centuries, transforming symbols and motifs into abstraction, visions out of her own aesthetic imagination, for an appreciative audience of anthropologists and collectors. Despite the fact that she did not speak English, Nampeyo was also a skillful entrepreneur, sought after and highly successful in her lifetime. Her family continues her tradition of innovation in clay to this day.
The Japanese call it wabi-sabi, the acceptance of imperfection, impermanence, asymmetry, simplicity, roughness. Wabi-sabi, however, goes beyond acceptance, becoming an aesthetic unto itself, a category of beauty. The cracks in a piece of pottery, for example, might be repaired and filled in with golden lacquer, in a process known as kintsugi. The history of the object, its transience, becomes not merely something we accept, but something our eyes go to, something we celebrate—the object's resilience, its survival, its life and its will to live.
I've been reading Edwin L. Wade and Allan Cooke's Canvas of Clay: Seven Centuries of Hopi Ceramic Art, the superb book that accompanies the beautiful Allan and Judith Cooke Collection at Western Spirit: Scottsdale's Museum of the West, a generous gift to the museum that is on permanent exhibition here. What might seem to Western eyes at first to be beautiful but utilitarian objects turn out to be some of the fullest expressions and most profound repositories of a complex culture, while the anonymity of most of these artists, who were women, makes one long to reach back into time to learn who they were and what inspired them.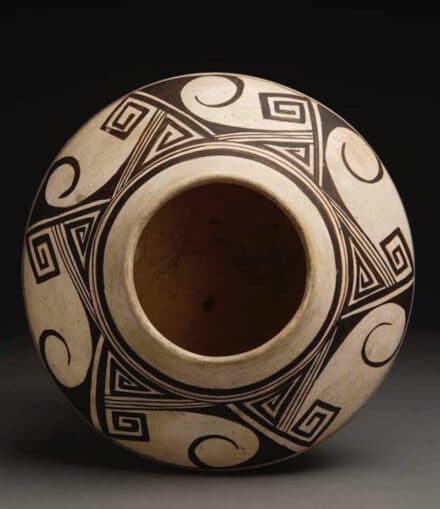 Perhaps the best of its kind, the Cooke Collection, chronicles both continuity and change in Hopi pottery over centuries of development. I was especially taken with the explosion of forms and the experiments with color, firing, motif, shape, and symbolism during the Sikyatki Polychrome style that flourished from 1375 to 1625 c.e. This period saw the birth of the Katsina Cult, in which a pantheon of spirits—Katsinas, or Kachinas—properly appeased through ritual, would bring the rains, ensuring the harvest and the prosperity of the Pueblos. As a result of this spiritual revolution—as well as the arrival of the Spanish conquistadors—the ensuing clashes, migrations, and influences, saw the Hopi pottery tradition evolve and adapt, retreating at times, but never disappearing. By the end of the 19th century, the supreme artistry of Nampeyo and others resurrected old forms, renewing them with fresh ideas and perspectives. The Hopi pottery tradition had proved resilient and adaptable. Creativity had flourished through adversity.
As I looked at the accompanying images of the vessels, especially the views from above, I began to see them in motion. Birds, feathers, insects, stars, and abstract, geometric forms, whirled about the central axis, the hole that seems almost to allow entrance into a spiritual, spatial realm of pure potential. Fugal, centrifugal, centripetal: what stories might be in there? Your stories. Mine. Stories with endings. Stories that haven't yet begun. Stories waiting to be put together, to be told. Flying in and out like fragments of dreams. I began to see some of these jars and pots as performative objects, alive on the stage of the world, representing the wheel of years and seasons, filled with will and wonder.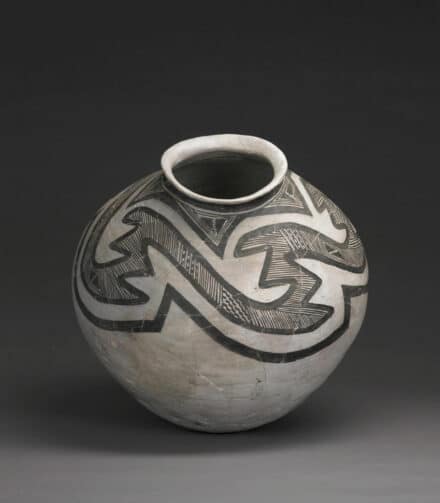 Then I began to see the cracks and repairs. Old repairs. Loving restorations at the hands of trained restorers. All part of the histories of these objects. Invisible kintsugi in a wabi-sabi world. The cracks are a metaphor, I thought, not only for what we have gone through this year—what we are still going through—but a metaphor for what someone somewhere is always going through. We can all use a little kintsugi in a wabi-sabi world. We can all use a dose of the beauty and genius of the Hopi ceramics in the Cooke Collection at Western Spirit.
I'm going to try to make up a word for what I am talking about, put a name to the idea: fracreation. Fracreation is what's known as a portmanteau word, a word made from parts of two other words, combining the words fracture and creation. Maybe fracreation is clumsy, poorly struck coinage, maybe you'll never hear it anywhere but here, maybe there isn't enough gold lacquer in the world to graft fracture to creation. But what I mean by fracreation is simply this: creative healing arising out of adversity; making a new world from the fragments of the old, in a process that transcends mere repair. Every visit to the museum shows how other individuals and peoples in the past have achieved this—how they not only survived adversity, but triumphed over it, how they adapted, created, and remade themselves and their world. There's a lesson in this for all of us in these difficult and transformative times.
Western Spirit: Scottsdale's Museum of the West is currently open 10-3, Wednesday to Sunday. Timed entry, social distancing, and safety measures are in place. scottsdalemuseumwest.org