There's no substitute for in-house knowledge. A nonprofit can engage consultants and hire freelancers but, without a sufficient body of understanding in key areas assigned to specialists, the organization is utterly dependent on its best guess. Even if we outsource, just as creative entrepreneurs often do, the keeper of the vision is ourselves.
Some Ways to Learn with CHF
Focus on a key area for organizational improvement, like brand storytelling or content marketing. The course bundles in CHF's digital campus are perfect for this and you can view the videos they contain repeatedly over time, onboarding new team members as they join you. Talk to us about group rates.
It's easier to focus on your specific knowledge gaps using your examples, starting where your staff are, and with the ability to engage the instructor with questions on the fly. Open-ended workshops around topics you choose with opportunities for followups and feedback are tailored to your organizational needs. Reach out and tell us more about the gaps we can address.
One of the better ways to acquire more in-house understanding of key practice areas is to ride-along as we provide that education to your constituents. This can be an ongoing process that continually refines and reinforces skills, or we can 'train the trainer'. Let's talk about what your organization wants to accomplish.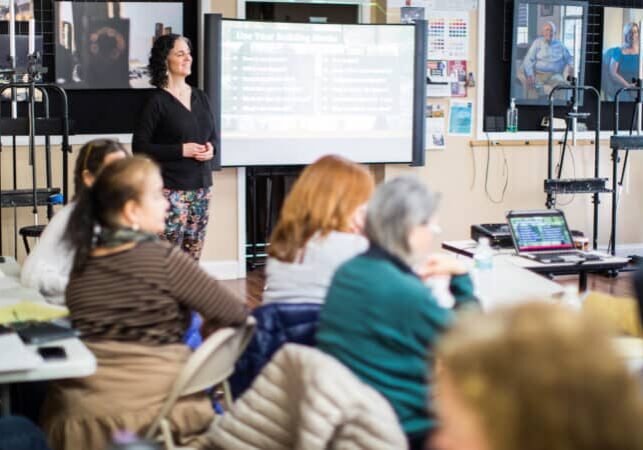 We're all in this to do good. And ultimately, we need to fuel those motivations and efforts to grow our impact with internal growth—including additional skills, insights, and knowledge.
An organization is an organism, and the healthiest organisms have a broad range of diverse inputs. In the context of a non-profit, for instance, that means engage people with strong business backgrounds and robust 'unicorn' skills in areas like audience engagement, persuasive messaging, data stories, and other areas of specific practice.
Everyone lags behind on tech, because tech moves so quickly. You're not alone, but we have practice area leaders that excel in helping organizations make the next leap.
Whether it's constituent and donor data, marketing analytics, operational data of other kinds, or ongoing research, making what we do measurable is a milestone in making it powerful.
Every org is a brand, and every brand has a community. Plugging those into one another is what completes the circuit. Engaging a community requires building and stretching muscles at the same time.
Any organization can operate more like a business, by professionalizing its outreach, empowering its conversations, and refining its processes. The line between org and enterprise isn't absolute.