Why Support CHF
The Case for Giving
CHF is committed to a robust culture, replete with art and creative energy, teeming with artists, stacked with creative intelligence. This is an achievable goal. Artists and creative professionals are the mainspring of the creative economy, and their enterprise is a powerful lever, thrusting us forward in multiple disciplines. Support CHF with your generous gifts, and we equip those art-entrepreneurs, art-businesses, and creative enterprises, with the professional training, peer networks, pivotal project support, and industry connections needed to sustainably transform our world.
We don't have to wonder if it works. Not only CHF's own data, but a broad spectrum of analytics shows that equipping creators with professional, entrepreneurial, and business skills puts rocket fuel into the creative economy. Measurable changes in mindset and behavior produces self-sustaining small businesses that create additional hiring and jobs, become clients of other businesses, promote tourism and local economic growth, and contribute to the overall cultural and economic context we share.
The Creative Economy is an Ecosystem
Artists and creative professionals, collectors and dealers, arts organizations, state and municipal government, business and creative enterprise all have skin in this game. Each has distinct goals and needs, but they overlap, and each participant in the ecosystem of creative economy needs the others to succeed. CHF is the linchpin.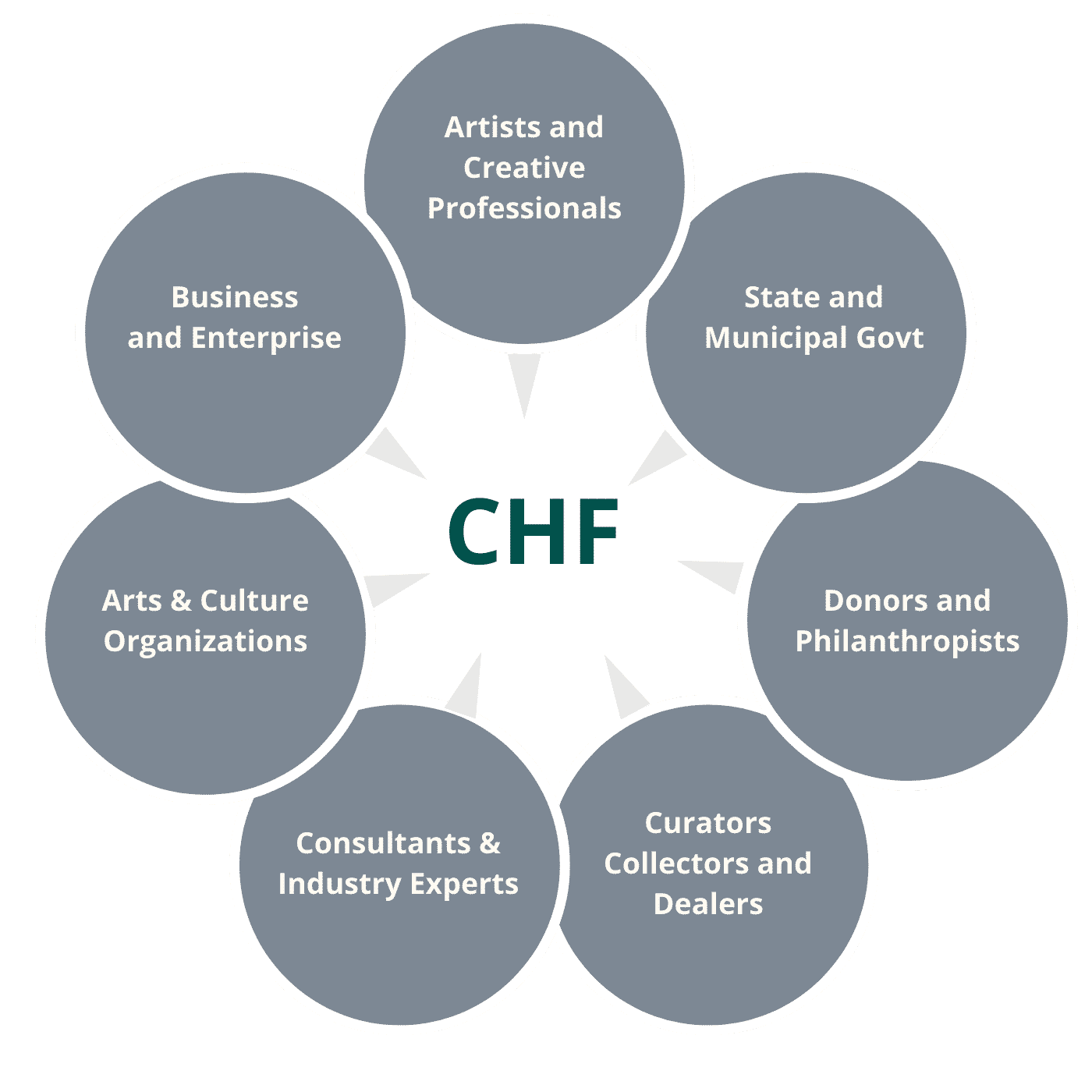 Championing Small Business
CHF is not a typical arts organization. There are many organizations that support art production or artistic development. CHF focuses on art business development—because technique alone won't yield career longevity, and funded exhibitions and performances don't address the underlying need for sustainability.
Leveling the Playing Field
Artists and creative professionals are routinely excluded from environments where practical business skills are instilled, professional networks expanded, and pivotal contacts acquired. All of those things are necessary to be self-sustaining. CHF reaches artists who want a level playing field, not a hand out, so they can stand on their own and compete independently in the open market.
Safeguarding a Free Market
Removing for cultural entrepreneurs the barriers of access to the kinds of education, peer exchanges, and networks of opportunity MBAs take for granted, supports free market supply and demand. By removing these unnecessary barriers to trade, CHF frees up opportunities for art producers to create what inspires them and art buyers to acquire what suits them. We think that's a just cause.
Privatizing Art Philanthropy
Make a strategic investment in the business of art.
Give online using the form below, or mail your check to:
1012 Placita Don Andres
Santa Fe, NM 87501
Thank you for your support!