The initial bridge is between art and the broader culture, creative intelligence and innovation, the market and the muse. Every positive step we've taken, since the dawn of time, is along a path forged by artists, inventors and creative entrepreneurs. Successive generations will inherit the world we determine today, whether ill-equipped and inhospitable or robust and thriving at every level of human experience.
OUR MISSION: The Clark Hulings Foundation (CHF) is a 501(c)(3) nonprofit organization that promotes the legacy of American painter Clark Hulings (1922 - 2011) by equipping working visual artists to be self-sustaining entrepreneurs. Founded in 2013, CHF showcases Hulings' life and work as an example to today's artists, and offers them a comprehensive art-business education so that they can thrive as he did. We deliver a suite of integrated learning services continually, both virtually and in-person—via live events, digital channels, and portable media formats—and build professional networks of opportunity.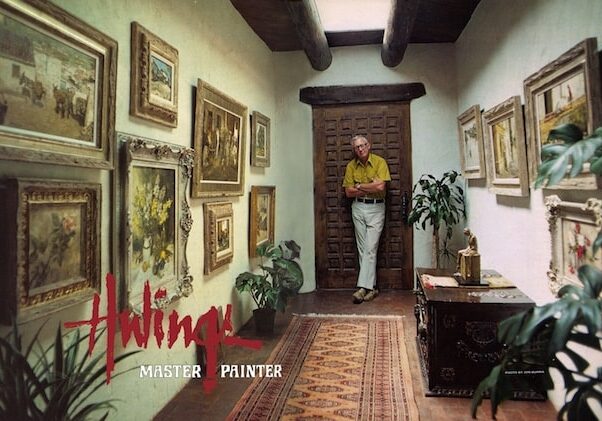 Our namesake, Clark Hulings, was both an acclaimed master painter and an astute businessperson. After building a career as a commercial illustrator, he made the transition to fine art at the age of 40, financing the move with his own savings and applying his considerable business experience to grow his art practice.
While he continued to hone his craft well into his 80s, he also knew that, to be successful, he had to think like an entrepreneur and seize opportunities to grow his business.
The Clark Hulings Foundation is dedicated to a robust culture and creative economy driven by self-empowered, self-sustaining artists and creative professionals, so that they, the arts industry, and all of us can thrive. Learn more about Clark Hulings, artist and entrepreneur.
No human being is an island.
Yet in the world of visual art, everyone has long occupied separate land masses, barely communicating, let alone cooperating. Artists, in particular, have been the most isolated, working in solitude and garnering a negligible share in the fruit of their endeavors.
The Clark Hulings Foundation makes it possible for artists to thrive and ensures collaboration among artists, collectors, dealers, other members of the art industry, and the wider world of which they are a part. A healthy social ecosystem is one where all of its members can connect, and artists are the key to building these vibrant communities. Without artists, we're all left culturally stranded. When artists flourish, we all flourish.
"CHF has totally rewired my brain. I now think of both cost and opportunity potential for everything I consider doing in my business." - Kristin LeVier, CHF Fellow
We Equip Artists to Flourish
Because they are self-employed, visual artists are necessarily entrepreneurs, but like all business owners, they need training and real-world experience to achieve financial prosperity. CHF equips working artists with critical entrepreneurial skills, business tools, technology, and networks of peers and experts. Artists already work hard; we help them work smart.
Plan: Career success doesn't just happen for artists; it requires a strategic blueprint for each individual. We share our extensive art-industry and business expertise, and artists determine their professional objectives and how best to achieve them.
Teach: We put in what art schools leave out. CHF delivers a suite of business skills and knowledge to artists in nine comprehensive practice areas that capitalize on their strengths and springboard their practices to the next level.
Execute: A business strategy is only as good as the entrepreneur's ability to act on it. We ensure that artists plan and execute pivotal business projects designed to accelerate their careers.
Share: We create virtual and in-person communities where artists break out of otherwise solitary studios to trade information, contacts, and skills, connecting with experts and creating opportunities in their own backyards.
Acquiring the Tools to Thrive
CHF programs deliver learning and professional assets in four key categories:
Career Blueprint & Planning
CHF works with creative professionals to "blueprint" a prosperous, sustainable, vibrant, and satisfying career. By reverse engineering the creative impulse as it is manifested in an individual artist's motivation and energy, creators gain clarity, a roadmap, and a clear understanding of the milestones needed for personal achievement.
Business Skills & Training
Any self-employed professional requires a mix of skillsets: business planning, project implementation, sales and selling methods, pricing and strategy, marketing, finance, and intellectual property protection. CHF equips artists end-to-end with the tools and skills all entrepreneurs rely upon to succeed in their own creative enterprise. *
Development of Pivotal Projects
Careers proceed at a normal, sometimes epochal pace, because they lack accelerating components. Developing pivotal projects that connect the creator's muse to the market's interests can be the octane in an artist's creative energy that propels the work forward. CHF works with artists to develop projects that reach more people, garner more attention, increase impact, and accelerate a career.
Industry Connections, Networks & Peer Support
The bridges we each construct determine our opportunities. CHF helps artists build contacts, networks, and collaborations with others in their profession, those in the same industry who play a different role, and across industry lines to the broader market and ecosystem, socially, politically, and commercially.
* The specific practice areas in CHF's learning programs are based on our analysis of what had the biggest impact on Clark Hulings' career and those of his peers.
Driven By Our Values
Self-Sufficiency: Artists are fully capable of succeeding on their own, as long as they are armed with the necessary knowledge and skills. We offer working artists a hand up, not a handout.
Fairness: Regardless of the art genres and movements currently in fashion, all artists whose work is commercially viable, and who intend to make a living from it, are provided a level playing field of access to business development. We supply the tools to prosper; they do the work.
Collaboration: Human beings utilize group learning and colleague networks to achieve success. That's why we partner with like-minded organizations and individuals, and push artists to team up with their peers, as in professional sports. Together, we learn better and multiply our collective reach.
Accountability: Data and feedback keep us on track toward our goals. We conduct rigorous research, solicit input from artists and industry experts, and compile meaningful analytics to ensure that we are achieving our mission. We expect the same level of accountability from the artists we serve.
Agility & Fiscal Efficiency: We are fiscally sound and efficient, maximizing the impact of every dollar we receive. That means we cut overhead, prioritize functionality over theory, eliminate barriers to execution, and adapt to changing conditions—applying data and input to pivot when necessary, and getting more done with less.
"Attending CHF's Art-Business Conference was one of the best investments of my time and resources I've made. I feel like the trajectory of my art career has changed because of it." - Bradley Reyes
Programs for Working Artists
Boots on the Ground Education
CHF partners with art and business organizations that have a strong presence in a specific geographic area to bring face-to-face entrepreneurial learning to working artists where and when they need it most. The result is a growing network of partners and resources that ensures widespread reach for crucial labs, workshops, and training.
Self-Directed Digital Learning
CHF's Digital Learning Portal provides education in formats that working artists already consume. Portable podcasts, expert columns, and how-to videos are here. More detailed and structured Accelerator learning modules are available by registration.
Like sticks in a bundle, artists are stronger together. The Artist Federation is a growing professional peer-network of visual artists that's managed by artists. Individual chapters engage in skill and referral exchanges, joint entrepreneurial learning, and organization to achieve and maintain centrality in their industry.
The CHF Art-Business Accelerator is an intensive and interactive business-education program for working artists. Fellows plan pivotal business projects, produce an Investment-Grade Proposal, and acquire a business skill set that's designed to serve them throughout their careers.
A Team Leadership Effort
The all-star lineup at CHF is an impressive team of multi-talented professionals with formidable expertise in the art-business world. From marketing, sales, PR, and communications, to educational design, finance, operations, technology, and data analysis, we apply our real-world knowledge and experience to help artists help themselves.
Our Allies
By partnering with organizations and businesses that share our goals, we break down art-industry silos—fostering communication, sharing data, and spreading best practices—and can quickly scale up our individual and collective efforts, extending our missions and increasing the number of artists we reach and assist.
"I follow a lot of art-business programs, and this is the most clear and actionable one I have had access to yet." - Andie Freeman
The Shared Opportunity
Organizations and companies with overlapping missions and similar values collaborate with the Clark Hulings Foundation as a force multiplier.
Deliver art-business learning content in a cost-efficient way. Avoid overhead and development costs by offering your constituency turn-key access to our art-business content and services.
Attract new funders to help you achieve your mission. Add our valuable learning content or co-sponsor an art-business conference to demonstrate that you are increasing your impact and building a sustainable community.
Show your commitment to social entrepreneurship. Align yourself with an organization that is having measurable impact on the economic viability of visual artists.
Draw new members and increase revenue. Bundle our powerful learning content with your existing services or partner with us on local events, and promote these offerings to boost your membership.
Build a sense of community among your audience members. Tap into our resources to encourage discussion, host a local event, and help your constituents forge a powerful network of allies.
Increase your visibility. Partner with us on meaningful events that draw the right kind of publicity and cultivate an audience that aligns with your message.
Foster local economic development. Harness our educational resources to create self-sustaining entrepreneurs and help your community grow.
Have a sustainable impact on your target audience. Offer them learning content and events that allow them to take charge of their careers.
Some Words from Working Artists
From a Recent CHF Art-Business Conference
The Clark Hulings Foundation
1012 Placita Don Andres
Santa Fe, NM 87501