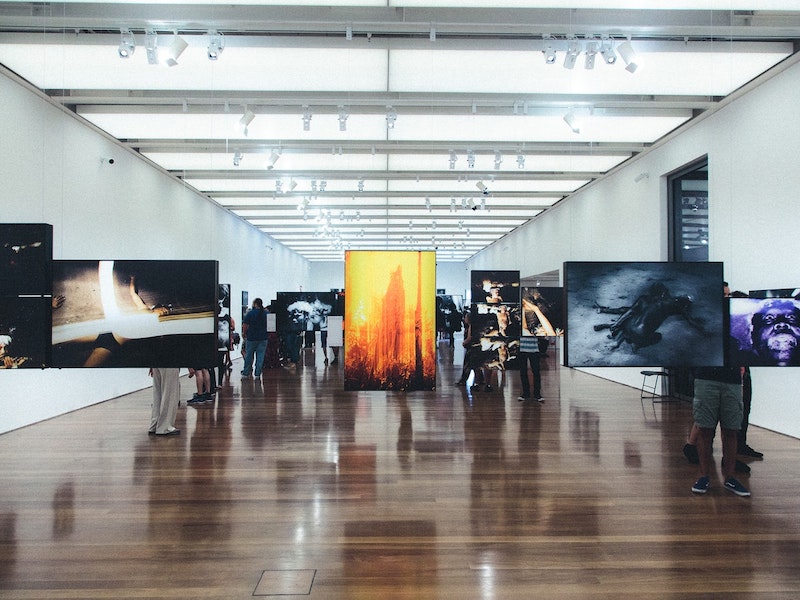 The current pandemic has made virtual platforms our lifeline. Virtual art fairs have sprung up in unprecedented volumes, due to limited in-person gatherings yet the remaining demand for art. One example is the Santa Fe Indian Market: an annual event, exhibition, and celebration of the arts that serves a global audience and that has been cultivated by the Southwestern Association for Indian Arts (SWAIA) for the past 99 years. This event, like many other art fairs, is conducting itself entirely online for the first time. CHF is proud to be SWAIA's partner in this transition, and to work with Artspan to host the artists' websites.
Expanding Horizons
While the transition to online art fairs may be jarring for both buyers and sellers alike, virtual fairs offer unique opportunities. When conducted online, art fairs are no longer limited by location. Art that once was only available to a select group of individuals who were conveniently located near markets and fairs or to those with the means to travel there, instantly places the art at the fingertips of a global audience. Not only does this exponentially increase the sheer number of potential buyers, but also the diversity. In-person fairs are restricted to largely catering to the local audience and wealthier benefactors willing to travel. With virtual fairs, geography and origin become enhancing details, not limiting factors.
The magic of virtual art fairs is that when the sun goes down, the fair can stay open. Even with the same fair dates, the time available to browse and purchase works is easily doubled. Art fairs that want to retain the same sense of exclusivity may offer works only on limited dates.
Operating online gives artists displaying their works in markets and fairs increased networking benefits. Platforms such as Instagram lend themselves to widespread intertwined social webs. Tweets and hashtags travel faster than word of mouth. A link can easily be copy, pasted, and shared, whereas it is much more difficult to convince someone to mobilize and show up to an address at a specific date and time.
Make the Money Count
Significant economic benefits for both buyer and seller come with virtual art fairs. Artists don't have to pay to rent space, or if they do still need to pay to participate, fees are almost always reduced. Last year, the Frieze online exhibition had a $57 attendance fee in contrast to being entirely free to attend virtually this spring. With virtual fairs, there is no need to pay for transportation to and from the fair, nor the cost of boarding in a hotel; this goes for both artist and patron. Additionally, the financial burden and potential cost of damage to the artwork due to shipping is eliminated, as the artwork can remain safely in the studio while being displayed online.
Alleviating many financial strains consequently breaks down long established socioeconomic barriers and generates a more equitable art market. It allows anyone with internet access, regardless of socioeconomic status, to browse the art and contemplate purchase. Those who might be new to curating art are given the opportunity to shop, without any additional cost. This, in turn, draws in a larger audience and increases sales. Individuals who may have previously disregarded collecting art as beyond their financial capabilities may be allured into browsing and eventually purchasing art. While not all virtual art fairs adopt this model, several have been posting prices for works that would otherwise only be available upon inquiry. This transparency adds to making the art market less intimidating, again increasing prospective buyers.
Up Close and Personal
In the comfort of one's own home, the virtual art market takes on a unique intimacy. What once took place within cold concrete and stark white walls is replaced with cozying up in bed with a laptop. Not only this, but many gallerists have made themselves available through Facetime and other digital platforms to interact face to face (well, face-to-screen and screen-to-face) with potential clients. These interactions are more personal due to the undivided attention the client receives from the gallerist, lacking the clutter and noise of peripheral viewers and other buyers. Similarly, SWAIA's art market will feature a weekend where artists exhibit their works live via Zoom "booths," allowing real time interactions between artists and potential buyers. For those concerned about the lack of social interaction that results from an online interface, this resolves those anxieties.
Let the Computers Do the Work
The internet is not merely good for impersonating reality: it can do so much more. By hosting art fairs online, artists can gain access to quantitative feedback on how buyers interact with their art—which works get the most views, how long customers spend scrutinizing each work, whether some works receive disproportionate attention, the list goes on. While some of this can be observed with the naked eye in person to some degree, the precision and accuracy which comes with technology eliminates any bias or skewed interpretation. Artists can then strategize how they market their art and what works or attributes to emphasize.
What Do We Lose?
While pixels and soundbites strive to mimic the tangible world, nothing can imitate the full act of in-person, first hand, experience. Art cannot be entirely processed, appreciated, and understood without being in front of the work and witnessing its presence in space. Online renderings do not do justice to the physical and emotional weight these works carry. It is both the details—the nuances of a brushstroke, the weave of a textile, the curvature of a stone—and the macro view which get lost in translation. Not only the experience of the art itself in person, but the whole experience of the art fair cultivates a sort of creative fervor that cannot be reproduced when scrolling through art in isolation.
Charging Forward
But fear not. Yes, the mesmerizing experience of absorbing a work with all five senses is paramount to the act of buying art, but virtual art fairs do not threaten to remove that aspect entirely. Many artists offer to ship and show the piece to a serious buyer before they fully commit to purchasing the work. By this method, the overall transportation of artwork is, at most, the same, but often significantly less than if the work were displayed at a fair—since only those who almost certainly are going to purchase will be sent the work. Therefore the shipment is likely its last, and the artwork will remain at that destination. To the point of digital previews being subpar in lieu of the real thing, if the buyer likes the work online, it is probably even better in person. On The Thriving Artist TM podcast, artist Ashley Longshore, when talking about works of hers purchased online, argues that she has "never had a situation where somebody receives the artwork and is disappointed."
Virtual art fairs extend the reach of both artists and their creations, allowing for a more inclusive and diverse audience. The internet is a passport to where feet cannot reach. Online art fairs allow for transportation and exhibition cost reduction, thus giving the artists more budget for other means to advance their work. This could be new materials, publicity-related costs, or simply allowing the artists to create freely without worrying about making the type of art that sells best. Less money spent on rudimentary costs such as plane tickets and booth fees promotes more spent on making great art. Digital tools like video calls and means for data collection allow for improved experiences. Virtual art fairs not only resolve pitfalls of historically in-person affairs, but they can do things one step further. While the transition to virtual art fairs is happening out of sheer necessity, this catalyst towards an online future is serving us well.
The art world has been one of the lagging communities reluctant to transition online, but a little shove from the pandemic has shown us that it is ultimately for the better. Replacing Art Basel with a computer tab may be an uncomfortable and polarizing experience for some, but we must lean into the boundless opportunities the virtual world is offering.