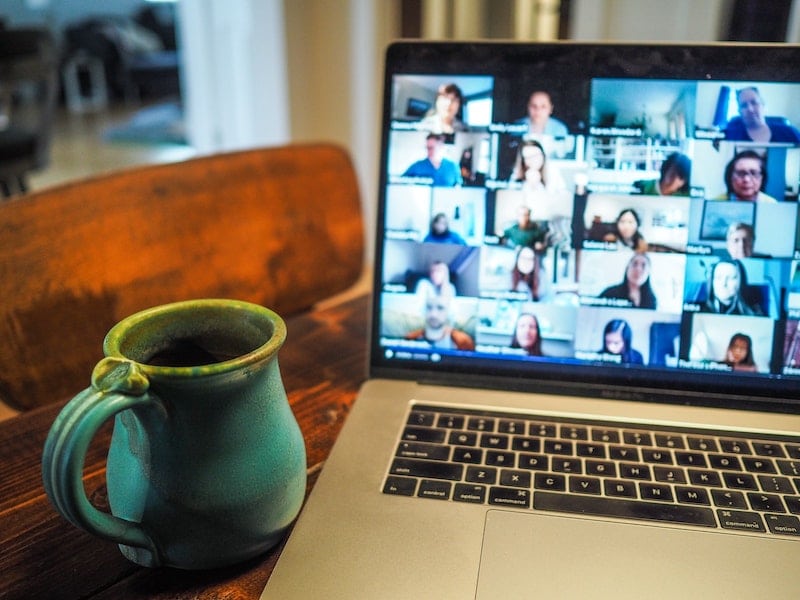 Networking as an artist necessitates a careful curation. If you have the artistic skill but not the connections, no one will get to see your work. If you have the connections but not the skills, no one will see the value in your work. If you have them both…bingo! You've got yourself the recipe for continued artistic and financial growth.
But getting the recipe down pat and establishing the network to allow for confident artistic exploration is no simple task. Getting to that point—as the art industry becomes increasingly virtualized, and as digital platforms offer an artist yet another blank canvas—is even more difficult. The days of word of mouth and networking over coffee are not disappearing entirely, but artists are discovering that they must be able to do it all: create a network through online self-promotion, conversation, and marketing, but make sure that it retains the type of genuine connection formed through in-person interactions.
An artist must be both proactive and focused in their network building. This means undergoing a substantive business education, developing inner-confidence and an artistic brand, and growing a strong network of colleagues among whom experiences can be shared. As the virtual art-business world expands, it stretches the networks of an artist to global proportions.
Finding a Foundation in Education
A holistic art business education, such as that offered by The Clark Hulings Foundation, teaches an artist how to market their art and market themselves through their professional interactions. Courses that develop an artist's career blueprint, sales strategy, and peer network shape an artist into a well-rounded professional able to reach out to fellow artists, gallerists, and potential buyers with greater experience under their belt.
The virtual format of these courses is suited to creating these best networking practices—as the art industry adapts and digitizes to meet advancing technology, navigating online art business coursework prepares an artist to navigate professional interactions with purpose, diligence, and success. The Clark Hulings Foundation's art business coursework engages an artist's creative mindset and directs it outwards, teaching them how to capitalize on it and market it to others in the best light.
The CHF Art-Business Accelerator, a 12-24 month intensive, non-resident art business program, targets network building through its workshops and labs led by industry experts and educators. The completely virtual format of this program allows it to mesh into an artist's ongoing practice and opens itself up to participants from around the country, creating a web of artists that acts as a support system and an opportunity for relationship building. The Fellows build strong and valuable connections throughout the year(s), and sustain these connections for future networking and career opportunities. The CH Fellows Facebook group allows past and present Fellows to maintain these relationships and acts as a forum for mentorship and professional networking.
The Clark Hulings Foundation also allows an artist to connect with others through its Art-Business Conferences around the country, and is working to launch an entirely virtual version of the conference this fall. These conferences unite artists based in cities around the United States, and can serve as the starting point of long-lasting, mutually beneficial relationships. The virtualization of this conference will extend the possibility for connection-making further, bringing together artists from all backgrounds and walks of life, and will enable continued networking—even as social distancing policies persist. Artists should take advantage of these conferences, both as an educational experience, and as an opportunity to share their art and their brand with a larger audience.
Developing a Business-Oriented Mindset and Approach
An artist looking to network both within and beyond their immediate community must learn to see themselves as a business person. This means solidifying a comprehensive brand story and exploring online platforms, social media networks, and groups that best suit that brand as well as their professional goals.
It is crucial that an artist approaching a networking opportunity knows what they hope to get out of it. In an age when connections can be formed at the click of a button, the need to separate tentative links and strong, advantageous bonds becomes necessary. For an artist, this means both reaching out to others online and then following up with those connections in person, whenever possible. An artist must strike a balance between artistic skill and business savvy in the same way that they must harmonize face-to-face conversations and digital networking practices into sincere virtual interactions.
Maintaining Authentic Connections
While the pandemic limits that in-person connection for now, we turn our efforts towards forming stronger, genuine connections through the virtual world. The Clark Hulings Foundation maintains its Thriving Art Exchange group on Facebook, uniting all sectors of the art. But beyond this, plug in some of your identifiers into a search engine or a social media site—your location, your medium, your artistic style—and you're off and running.
Reach out to members of the groups you find and the administrators of pages you follow often and with purpose. Make yourself seen and heard, by boosting your art with your ability to communicate virtually and with your understanding of the digitizing art industry. Rely on the other artists you know for guidance and advice, and offer your own experience in return. An artist must adapt to the virtualizing art world in order to expand their business potential and achieve financial growth, but career longevity itself must be maintained by the authenticity and sincerity of these virtual, interpersonal connections.