"[CHF's] workshops are tremendous because you're with other artists who have such a different perspective than yourself, yet you all have this commonality about you that you can converse openly…" —John Pedone
"What I really like is that it's not the standard stuff you're going to read in a blog…It goes deeper than that. It is more authentic to what I can actually do."—Sharon Deheney Walker
After our live learning events have ended, we always hear from participants who tell us how much they've been impacted by the experience. That feedback is only part of the story, though. The other part is how much WE learn from all of you.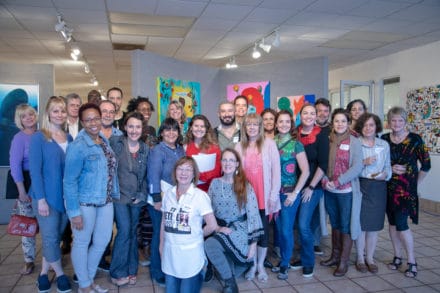 On January 31st, we kicked off three days of art-business talk in south Florida with a reception at Claire and Jack Rosen's CJR Fine Arts & Frame gallery in Royal Palm Beach. The event marked the debut of CHF's Thriving Art Exchange, which brings together leading voices from all facets of the art world to foster dialogue in the industry—both in person and online. In this time of upheaval, we're encouraging collaboration and helping to build an art industry where everyone can thrive. (Stay tuned for more information on our Thriving Art Exchange in the near future.)
The following morning marked the start of our Ft. Lauderdale Art-Business Conference at ArtServe, co-hosted by the Broward County Cultural Division and sponsored by Wells Fargo. The event drew an impressive and inspiring bunch of artists! South Florida's arts community is in savvy and passionate hands. Our interactive workshops are designed to be their own kind of Thriving Art Exchange, fostering dialogue and collaboration. We provided these artists with a strong foundation for growing their businesses, and they in turn shared their stories and offered us terrific suggestions that we'll be incorporating into future conferences and CHF curricula.
Smack in the middle of the workshops, four leaders from the local arts community graciously shared their expertise in our roundtable Q&A: Ilene Adams, marketing expert, graphic designer, and artist; Deborah Bigeleisen, painter and former owner of a global textile print-design company; Janeen Mason, artist, curator, author, illustrator, speaker, and arts advocate; and Rickie Leiter, publisher of The Rickie Report (which covers southeastern Florida's visual-art scene) and guest of honor at our Thriving Art Exchange reception. (To learn more about all four, read their full bios here.)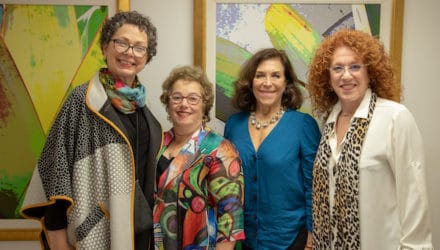 These amazing women led a spirited discussion that covered a lot of ground, including how to find public art and grant opportunities; getting involved with south Florida's local gallery scene; and making art fairs work for you. Ultimately, participants learned that art-business success requires engaging with people in honest and meaningful ways. It's not about sales but rather true connections.
The next opportunity to connect is coming up soon at CHF's metro DC area Art-Business Conference, March 23rd – 24th at Artists & Makers Studios in Rockville, Maryland. In the interim, the discussion continues in our Thriving Art Exchange. Don't get left out of the conversation—join our Digital Learning Portal today!