I remember the day clearly even though it was many years ago. My 14-year-old self was standing in line with my mom at a local Starbucks when I spotted a particular piece of art on the wall. The store was selling a 36" canvas covered with a huge gold splatter topped with symmetrical black dots. As soon as I ordered my grande-skinny-vanilla-chai-latte, I darted over to the painting to check out the price tag. $400! There were not nearly enough coins in my teenage piggybank to contemplate such a purchase.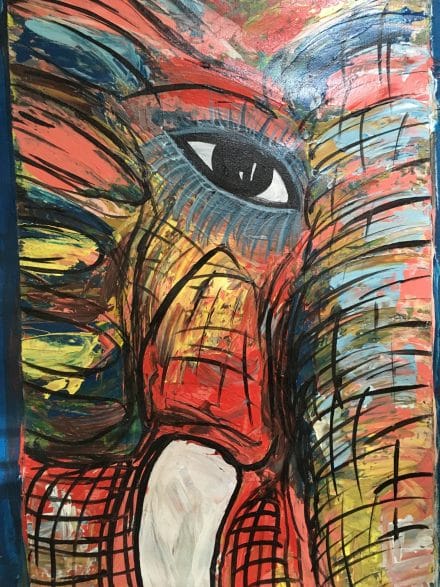 I wish I could have articulated why I was so drawn to that piece, but I guess that's the magic of art. All I knew then was that it had made an impression. Even though I lacked artistic ability, canvasses, and patience, I tried my best to recreate it. Three failed attempts later, I gave up. As sports and school took over my life, I accepted the fact that I didn't really want to create art; I wanted to be surrounded by it instead.
Ten years later, I'm living in my own house in Philadelphia. On one wall hangs a framed bullfighting poster that I found in Madrid. Next to my closet is a painting of an elephant's profile that I commissioned while I was in Uganda. Folded atop a leather chest that used to belong to my mother is a handmade indigo-dyed blanket that I bought from a woman in a rice-farming village in north Vietnam. The vegetables I bring home from the supermarket get placed in a straw basket from Jinja, Uganda. My cups are all pint glasses from favorite bars and other places.
Even though I like some of the products IKEA sells, you won't ever hear me say that I buy art there. I've curated my space to speak to me and the people who join me in it. But I still want that asymmetrical gold splatter with the black dots. I want the story behind it. I want what no one else in this world has, and I want to see it every day and share it with others.
Although I cannot afford to spend $20,000 on a painting, I know that there is a lot of wonderful art that I can afford. The problem is that I have no idea where to look for it. Many artists promote their work on Instagram and Facebook, but I don't know how to locate their accounts—which means I don't know how to find their work. Over the years, social media and word of mouth have helped me to discover restaurants, yoga studios, shoe stores, travel destinations, and jewelry purveyors, but I have yet to figure out how to access the art I want.
As any successful CEO will tell you, it doesn't matter how great your products or services are if nobody knows about them. You must be profitable to survive, but you are not going to generate profits if you cannot be found. That's why small organizations and big corporations alike are trying to use today's technologies to reach more people. And it's not just more consumers they're after, but a more targeted audience. I am exactly the audience that many artists should be striving to reach because I want in. I want my friends to enter my home and say "WHERE DID YOU GET THAT?!?" I want to wake up and feel inspired by the beauty that surrounds me. And I am not the only one who feels this way.
Basic economics dictate that supply will meet demand when goods are priced at a level that consumers are willing to pay, but a lack of distribution and marketing strategies skews that theory. The supply is there, and folks like me are demonstrating demand, so what is it going to take for artists to meet our desire for their work? Will it require an artist-centered social-media platform? Better business strategies? More fairs? Savvier dealers? A hashtag? All of the above?
I don't know the answer, but I do know that I'm not giving up—I plan to keep looking for the art that moves me. Ultimately, however, artists must also decide that they want to be found. For those who do, CHF is here to help them figure out how best to connect with potential customers like me.