Kathleen Gilrain is the executive director and chief curator of Smack Mellon, a nonprofit arts organization in Brooklyn, New York, that supports emerging, under-represented, mid-career, and female artists in the creation of new works. At Smack Mellon, Kathleen has introduced initiatives such as the Artist Studio Program, which provides working artists with free private studio space and funding, and Art Ready, a mentorship program for high-school students. She is also an artist herself, and has exhibited her work internationally.
In a recent interview with CHF Educational and Marketing Director Daniel DiGriz, Kathleen talked about the value of art in public spaces and the importance of exposing young people to careers in the arts.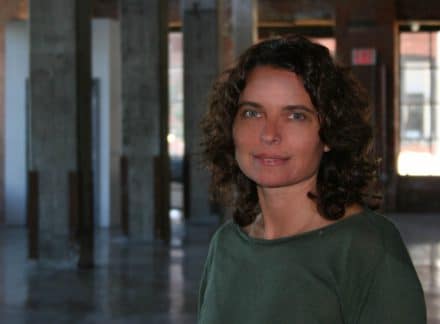 DD: Tell us about yourself and your work at Smack Mellon. 
KG: Before this job, I was the executive director of Socrates Sculpture Park [in Long Island City, New York], which is also a nonprofit organization. I had been at Socrates for five years, and one of the artists whose work we showed there was also involved with Smack Mellon. He invited me to apply for a position; Smack Mellon's founders were moving and leaving the organization, and they were looking for a new executive director. It was very young organization then. There wasn't any paid staff, but I liked the fact that it was a wide-open job. I could just create whatever we were going to do there.
I've been at Smack Mellon since the year 2000. Through our various programs, we support under-represented artists so that they can create new work and exhibit it, and we help students explore careers in the arts. We were founded on this mission, and I believe in supporting women artists and those who are not getting solo exhibitions in New York City.
The way we do it is to exhibit their work and provide studio space. At least 60 percent of the artists we work with are women. We do not exhibit artists who have gallery representation in the city, unless they're part of a larger group show that also includes emerging or under-recognized artists.
DD: How do you screen for meaningful projects beyond the criteria of choosing female and/or under-recognized artists?
KG: That's really a matter of curating and looking for artists whose work is interesting. We have a very unusual gallery space. It's an old boiler building with ceilings that are up to 40-feet high, with a huge coal hopper at the top of the building. There are concrete and steel columns throughout the space. The space has its own character, but it's very overpowering. It doesn't make sense to show a lot of artists in that gallery because it needs an installation. The artists we show there have to be able to create new work that will not be overpowered by the architecture. That's one thing we keep in mind when we're looking at work.
The back gallery has four white walls and 11-foot ceilings. In that gallery, we can show work that might need a more intimate setting and that wouldn't do well amid the large architecture. These two different exhibition spaces allow us to show a lot of different kinds of work.
DD: What do you look for in applicants to your Artist Studio Program?
KG: When I joined Smack Mellon, the organization had studio space, but it hadn't really formalized how it would offer that to artists. There weren't systems set up. I set up an application process where artists could apply.
When the program started, we got 100 applications. Now, we get over 600 applications each year. We need four panels to get through it all and reduce the number to about 20 artists. We review those 20, to make sure that we're representing different communities, and that at least 60 percent are women. We create a diverse group that will occupy the studios for a year.
DD: Does being an artist yourself change how you deliver educational programming to artists?
KG: Yes. For example, when I worked at Socrates, everybody that worked there was an artist, and the founder was an artist. Everybody was actively making art and very aware of all the difficulties that come with trying to make work while living in a very expensive city, and also trying to make large-scale work outdoors. There's a whole other set of problems with working outdoors and building artwork that's going to exist out in the elements, in public, and without guards around it.
As artists, you ask, "How can I make this about the artist?"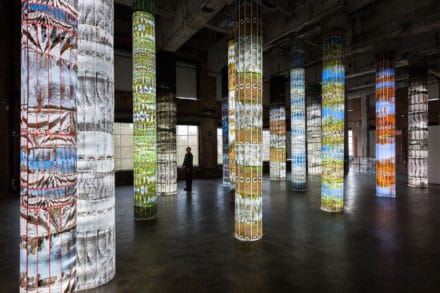 DD: Tell me about Smack Mellon's Arts Ready program.
KG: I was interested in helping high-school students figure out how they might become artists. Having spent so much time with artists who have already gone to college and are trying to make a living, I realized how important it is to know what you're getting into before you spend six years in art school. I wanted to take a group of students to artists' studios so that they could see different ways that artists make a living, whether it's through their artwork or some other way. Students could gain awareness about the possibilities and the problems.
The program is not about trying to get students to become artists or grow the field. It's more about making sure they know about all the various ways of making it work. A lot of students that we work with are from public schools in New York City—and not the art-focused high schools—and they have not had a lot of exposure to art fields.
We include artists who are video artists and jewelry designers. This year, we've got a shoe designer in the group and a printmaker. From October to January, the students visit all the artists. Then, after they've met all the mentors, each student chooses one artist to work with for the second half of the program. From January to May, they're actually in the studio with that artist. The artist is helping them, tutoring them on creating work. They're not assistants to these artists, and they're not working on the artists' projects. The artists are helping the students to make new work, and teaching them new skills and ways of working.
DD: Do students in the program need to be artistically gifted?
KG: We don't require that they be particularly gifted. We require that they have a desire to make art, and that they are considering going to art school. We're not looking for students who have already made that decision. Few of these students have had art classes. They really need the skills, and they need to be taught.
The ideal mentor is somebody who has teaching experience at the high-school level and who is also making a career in the arts. Not all of the mentors have teaching experience, but it's easier if they do.
DD: As you mentioned, you ran Socrates Sculpture Park before working at Smack Mellon. What's the history of that organization?
KG: Socrates was founded by the famous sculptor Mark di Suvero. His studio is adjacent to the park, which basically had been a dumping ground. When he purchased his property, he brought with him a lot of artists and friends who helped clean up the space, and he created a sculpture exhibition.
I worked there from 1995-2000, before it was designated a New York City park. That was really a big moment for Socrates. It meant that the land could not be developed. Up until that point, there were always developers eyeing that piece of land because it was right on the East River.
Similar to what we do now in our studio program at Smack Mellon, we fielded submissions from artists, and we also reached out to artists we knew would be able to make a large-scale outdoor sculpture—which is not an easy thing to do. We also accepted proposals from artists who'd never done that kind of work before. We showed artists who were making outdoor work and public art alongside artists who were making their first public pieces for us, and we assisted them in that process.
DD: Why is public art important?
KG: It's a unique way to experience art because the viewer isn't going there to see art. Socrates is a sculpture park, so a lot of people know they're going to see art, but there are still a lot of visitors who are just heading down to the water. When you come upon the work, and you experience it in your surroundings, you don't feel intimidated by it. I think a lot of people don't want to go to art museums and galleries because they feel like they don't understand it, or they are not sure how to approach it. When people come upon art in public spaces, it's a little easier for them to experience the art without feeling like they have to have an art-history background to know what they're looking at. They can just experience it—the same way you experience anything at a park.
A lot of outdoor sculpture is not contemporary; it's monuments or permanent sculptures that were purchased and put up 50 years ago. Socrates and organizations like the Public Art Fund and Creative Time expose people to contemporary art. Showing contemporary artists and contemporary art in the public realm is important.
DD: Do you think more artists should be thinking beyond the gallery and doing public art?
KG: Every artist has their own way of working. Certainly, there are a lot of ways that artists like to work that would not work at all in an outdoor space. There are other public spaces that are not outdoors that might be a little easier for some artists, but it's valuable to get more people into these spaces and more art into communities.
DD: How do artists market works in public spaces?
KG: I think it depends on the venue that's showing them. If they're showing at Socrates Sculpture Park, for example, they're being marketed by Socrates. Then, once an artist has done a public piece at Socrates, they can try to do permanent sculptures, if that's what they're interested in. There are a lot of artists who make a living from public art.
DD: Two artists in our Business Accelerator Program—Adam Eckstrom and Lauren Was (the husband-and-wife team known as Ghost of a Dream)—recently had an exhibition at Smack Mellon entitled The Fair Housing Project.
KG: Yes, they had their work in our front gallery. Adam and Lauren were both in our artist studio program in 2012; that's how I got to know their work.
The show was really, really interesting. Lauren and Adam make a living as installers for art fairs. They travel to different art fairs all over the world, and at the end of each fair, there's a huge amount of waste, from all of the artwork that gets shipped there in crates, as well as anything else that the galleries bring into a venue, like carpeting. There's just so much that goes into producing an art fair, and it's all thrown out at the end, except for the artwork, which is sold or brought back to the gallery.
Lauren and Adam collected things from these art fairs then created artwork with that recycled material. That's part of what their exhibition was about.
DD: There was also a panel discussion at their show.
KG: Yes, it was primarily about art fairs. It included a gallerist discussing the sustainability of that model. Artists have this idea that gallery dealers make a ton of money, when actually, many galleries are in a similar situation to artists, which is to say that they're struggling to stay in business. Real estate has become so expensive in New York that running a gallery is not sustainable. Most of what they're selling is sold at art fairs, but they can't get into art fairs unless they have a gallery. It was interesting to hear the panel talk about how difficult it is to operate under those circumstances.
They have to have this gallery and produce exhibitions that people can go see, which is great for New Yorkers or anybody near a city that has a lot of galleries; you can see a lot of actual art. Going to art fairs is awful because the artwork is shown in tiny little rooms, which diminish it. It's not a good way to look at art at all, but it's become the way that galleries sustain themselves.
DD: Looking ahead, what do you hope to accomplish at Smack Mellon over the next 10 years?
KG: I hope Smack Mellon continues to grow, support artists, and present exhibitions in our space or another awesome space. Ideally, we'll be here, continue the programs we've set up, do more programming, and get more funding. Nothing stays the same in New York City, and I'm sure there will be change over the next 10 years, but I hope that change will bring new opportunities, for art and artists.