Dear Friends:
You still have time to support CHF in 2017! Our year-end fundraiser is live for just three more days. Click 'Contribute' to make a tax-deductible donation before the year's up and get the charitable deduction while you still can! All donations go directly to helping ensure visual artists thrive in their careers—and we're excited to offer an archival grade Clark Hulings reproduction for donations over $500.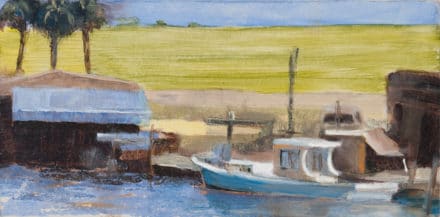 Eighteen Fellows are completing The Business Accelerator Program, and 13 advanced fellowships have been awarded for the 2018 Program. We're thrilled to see the Fellows thrive in the program and in their businesses. "This program," one Fellow writes, "has provided me with the expertise I lacked to progress my art business."
A write-up in Inside Philanthropy examines CHF's approach to empowering artists, and determines that it's as vital as ever. The Thriving Artist Podcast has two new episodes this month, with serial entrepreneur Eric Rhoads, and business consultant John Furth. CHF's own Daniel DiGriz provides us with a comprehensive breakdown for writing an effective sales letter—read the 'ingredient list' here. And finally, working artist Kirsten Stolle answers our questions about her business, which includes creating the infrastructure to support her art practice.
-The CHF Team
Want to contribute to CHF? Donate, pitch a story, or tell us who you want to hear in an upcoming podcast episode.
---
Year-End Fundraiser
Inspired by the success of CHF's Giving Tuesday campaign, we recently launched an end-of-year fundraising campaign. We also made a great one-minute video to highlight our work. All tax exempt donations will be used to further develop our Learning Portal to include additional and more complex content. The learning portal is a critical component of our educational program. It provides visual artists with business and entrepreneurial trainings, informative expert columns, and insightful interviews with business and art industry professionals.
Ways that you can help:
1. Donate to The Foundation: Go to the fundraiser page and click Contribute.
2. Spread the word: Share The Foundationraiser page by clicking the social share icons under the description, or just share the URL to your social audience with an encouragement to support visual artists.
3. Watch and Share the Video: Let your networks know about the important work CHF is doing—visual arts depend on it.
4. Write a Review:  Visit the Thriving Artist Podcast on iTunes or Stitcher and leave a compelling review there, so others will learn about the educational value of the show.
Donate to CHF and Own a Clark Hulings Reproduction!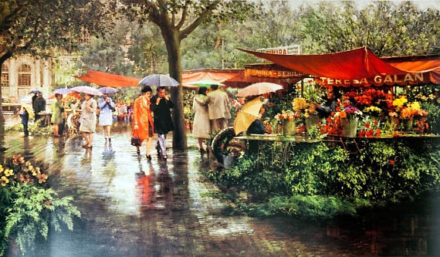 Why own an archival print? Prints offer you a chance to own a work that is oftentimes hard to come by. The Clark Hulings Estate vets each item to make sure it's true to color, and of the quality expected from Clark Hulings' work. Prints are low maintenance in many ways; easy to care for, and there's no need to insure them. Learn how your donation to CHF is used and see what prints you can choose from on our site.
From the Learning Portal
How do you know when to make changes to your business model? And how do you start integrating those changes? This month's Thriving Artist Podcast digs deep into the problems all business owners face, with CEO and business advisor John Furth, and publisher of Fine Art Connoisseur Eric Rhoads. "What makes a great leader, great CEO, a great artist" John explains, "is a commitment to continuous learning. They're on a mission to not let themselves get blindsided by things they don't know."
Interested in writing a sales email that will opened, read, and get a response? The Marketing Director of CHF explains how in his piece Cook Better Sales Letters and You'll Bring More People to the Table. It's information and entertaining, so you'll remember the tips when you're drafting your next letter.
Finally, we're always interested in the ways working artists approach business and implement plans to make their art business sustainable. In an email exchange with CHF, Kirsten Stolle answers questions about attaining financial stability, identifying her audience, and marketing and selling her work. Read the interview here.
Advanced Fellowship Awards
CHF is thrilled to award advanced fellowships to 13 Fellows for the 2018 Business Accelerator Program. Eighteen Fellows completed all requirements for the original one-year fellowship, including developing an "investment-grade" business plan for an entrepreneurial project. The Executive Fellowship and Entrepreneur Fellowship comprise a tiered approach to CHF's deepening work with selected Fellows—involvement that includes developing skills, maintaining project accountability, and seeking to capitalize their plans. "After a rigorous and intense artist business training program, our Fellows are ready to take the next step in their careers as working artists and capitalize their projects. We are excited to continue to support all our alumni in their future endeavors." -CHF Executive Director, Elizabeth Hulings
Press
From this month's feature of CHF in Inside Philanthropy: "While other outfits offered traditional artistic training and support, The Foundation, according to Elizabeth, sought to provide 'the much rarer, equally important complement to that—business training and support. Artists need both to thrive.'"
Mike Scutari notes the "intuitive" approach to supporting artists through business development, and examines CHF's Business Accelerator Program and The Artist Federation, which will "'create opportunities for artists to network—not at shows, but in scenarios where they can discuss their business activities.'"
Browse all of the exhibitions that CHF Fellows are involved with on our Fellows Events page.