Dear Friends:
This month, Gigi Rosenberg of Professional Artist Magazine offers practical advice on how to ace your next grant proposal, and the Thriving Artist Podcast welcomesArree Chung to the show. An illustrator and founder of Storyteller Academy, Arree and podcast host Daniel DiGriz discuss marketing techniques, and the most valuable business practices that Arree has learned so far. Daniel DiGriz discusses philanthropic return on investment in his piece The Philanthropic Investor, Philanthropic ROI, and a New Renaissance. If you're interested in hearing the highlights from our shows and Accelerator workshops, be sure to check out CHF's Youtube channel here—there are tips on pricing, art licensing, evaluating your sales goals—it's all there!
CHF was at stARTup Art Fair Los Angeles–Accelerator Fellows Juliana Coles and Gregg Chadwick, along with Chairman of CHF's Board of Directors Steve Pruneau, participated in the panel discussion Artist as Entrepreneur: Becoming the CEO of Your Life. Stay tuned to our Learning Portal for their takeaways from the discussion. CHF's next big event is the 2nd Art Business Summit in Santa Fe—follow #artbizsantafe for updates, and get your early bird tickets by February 15th to secure your spot! Finally, The Clark Hulings Estate is offering the chance to own an archival print of Clark Hulings' work with your donation. Details and available prints can be seen here.
-The CHF Team
Want to contribute to CHF? Donate, pitch a story, or tell us who you want to hear in an upcoming podcast episode.
From the Learning Portal
In this month's episode of the Thriving Artist Podcast, host Daniel DiGriz and guest Arree Chung discuss what Arree learned from his first business venture, and what he improved in his second business, Storyteller Academy. "I'm an entrepreneur, I have ideas I want to make happen," Arree says, "but as an entrepreneur, you ask your customer what their needs are, and build solutions and a business plan around that." For those who struggle with identifying their market, or marketing effectively, this show's a must-listen.
Educational and Programming Director Daniel DiGriz writes about the ways CHF produces return for its investors, and how the economy benefits from an "aesthetic renaissance." "Philanthropic investors and visual artists are natural bedfellows," he states. Read the full article on our Learning Portal, here.
Partners
The Salmagundi Club welcomes CHF's Daniel DiGriz as a member of its New York City chapter. Daniel took an interest in the club when he interviewed Tim Newton for The Thriving Artist Podcast, and 
discovered his own quiet support of living and legacy artists and art collection were a "thing". Salmagundi has served as a gathering place for artists and patrons of the arts since 1871, and the Clark Hulings Foundation is proud to partner with an organization that brings so much to the arts community.
Press
Elizabeth Hulings and CHF Fellows are featured in the December/January issue of Professional Artist Magazine. In Strategic Planning in Action, Elizabeth emphasizes the necessity of an action-based plan "to figure out what to do with the work–how to sell it, market it, price it and protect it." CHF Accelerator Fellows Holly Van Hart and Willy Bo Richardson discuss their experience with the program and how their approach to business has changed over the course of the Accelerator's first year. Access the digital edition if you're a subscriber, or issues are available for purchase here.
Events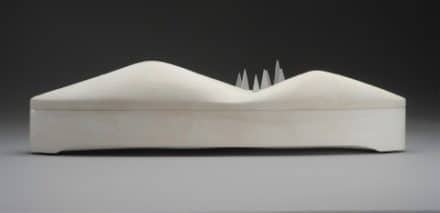 CHF Fellows have group and solo shows, both in the US and internationally. We list them here–see works like KristinLeVier's Palouse Box, which is included in the show Gender Bend: Women in Wood, Men at the Loom.
All of CHF's events, including the Second Annual Art Business Summit, are listed here. Purchase your ticket before February 15th and get a deep discount—secure your spot now!