Dear Friends:
June has been a watershed month for CHF. We marked the one-year anniversary of Doug Pensinger's death, held a milestone event in Denver, introduced a major new initiative that strikes at the core of our mission (see "The Artist Federation" below), and passed the halfway mark in our 2017 Business Accelerator. I spent time this month with each of our 20 Fellows, reviewing their business plans and giving them individual feedback, and let me tell you, I am very impressed with the passion, energy, and sheer hard work they are putting in. It's hard for anyone—artist, architect, or fast-food purveyor—to examine their business practices while simultaneously remembering their raison d'être. I am asking them to dream while building, and build while dreaming, and they are doing it! I fully expect that by the fourth quarter we will have proposals that many of you will agree warrant support.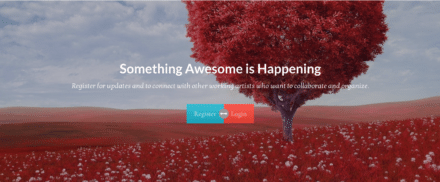 Likewise, it was thrilling to watch the artists who joined us in Denver eagerly offer up ideas for working together to reach their goals and impact their industry. Plans were suggested for everything from collective pop-up galleries and guerilla plein-air events (where work created on-the-spot would be sold on the spot), to membership co-ops that would share the costs of tech and knowledge development, to rotating open studios with peer-to-peer critiques, to curated Instagram exhibits.
The creativity I witnessed in Denver and among our Fellows is staggering and inspiring. Most exciting, though, is how the practical, viable nature of the ideas bears out my conviction that artists actually have terrific business aptitude—when given the opportunity and confidence to employ it. That's what CHF is here to do, and our efforts are panning out.
Wishing all of you a wonderful summer, full of your own dreams and creations.

Elizabeth Hulings
Director, The Clark Hulings Foundation
---
The Artist Federation
The Clark Hulings Foundation is proud to introduce The Artist Federation, a resource to help visual artists connect with other local and regional groups of working artists—to self-organize, collectively influence their industry, and determine their own destinies by working together. While it's up to the artists to decide how and when they want to meet and collaborate, and what challenges and issues they want to tackle, The Artist Federation was designed to offer structural support, consulting, education, and long-term vision to these local and regional affiliated "chapters" as a means of facilitating the exchange of ideas among them and producing a greater cumulative effect. In addition, CHF is promoting exactly this kind of artist-to-artist collaboration through our boots-on-the-ground educational events across the United States. Case in point: the recent "Connect-Develop-Thrive" forum in Denver [see "Artists Connect in Denver" below].

To join the conversation and find out how to organize your own local chapter, click here.
---
Remembering Doug Pensinger
June 10th marked one year since the sudden and untimely passing of noted photojournalist Doug Pensinger, in whose memory CHF's Pensinger Photography Fund was established.
The Foundation commemorates the contributions of this incredible visual storyteller and builds on the steadfast support that Doug offered throughout his life to aspiring photographers and peers alike.
Learn more about Doug Pensinger and see examples of his work here.
---
Artists Connect In Denver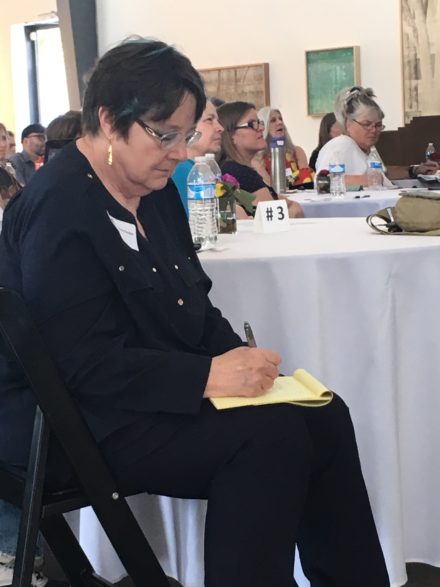 That's exactly what guests did at "Connect – Develop – Thrive, "the recent business-development forum for artists, co-sponsored by CHF and Windows to the Divine (WTTD). Held on June 20th at Denver's Space Gallery, the event was a resounding success, with about 100 working artists coming together to learn, discuss, and engage with their peers on the issues that affect their careers.
Shannon Robinson, WTTD chairperson and curator, kicked things off with a big-picture look at today's rapidly changing global art industry—its strengths, weaknesses, and areas of opportunity for artists. CHF Director Elizabeth Hulings encouraged attendees to seize control of their careers, put themselves at the center of their businesses, and maximize the opportunities that are now available to them.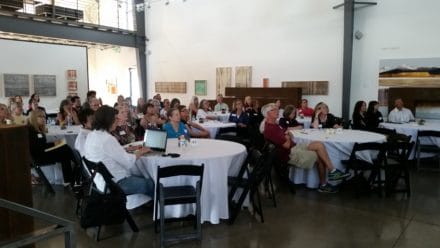 Daniel DiGriz, CHF's marketing and educational director, steered the discussion to the power of storytelling, offering an in-depth look at how to use engaging narratives to build an audience. Finally, Nephi Niven, leadership and accountability coach, guided the artists through a brainstorming session, intent on helping them self-organize and set their own course for the art industry. Many thanks to Shannon and Nephi, to all of the artists who participated, and to First National Bank of Denver, Space Gallery, Richard and Linda Kelly, and Art Cantina who provided sponsorship and support for the event.
For images and additional highlights from the event, visit our Facebook page.
---
What's New On Our Learning Portal
The most recent episode of our Thriving Artist Podcast featured Gregg Chadwick, a 2017 CHF Business Accelerator Fellow. Gregg discussed the connection between politics and art, the decision-making process behind donating some of his work, and his collaborations with other artists, including his Accelerator peers. "This is a group of like-minded individuals in which we can talk about our work and challenges together."
Among the challenges that Gregg and other artists face is figuring out how to read the market accurately. While public-policy research demonstrates that these creative entrepreneurs help drive local economies, artists lack the kind of data that would be truly useful to them. "The hesitation to quantify an individual's creativity is understandable," writes Jennifer Orbom in Let's Demystify the Pricing of Art, "but without a deeper analysis of the economics of creativity, pricing is left up to galleries and agents, which some artists have trouble acquiring."
With everything else on their plate, it's common for working artists to put estate planning on the backburner. Dan Anthony, the manager for famed sculptor Glenna Goodacre, explains why this would be a mistake. Dan was instrumental in facilitating Glenna's transition into retirement, and in this Q&A with CHF's Editorial Director Sofia Perez, he reminds artists that protecting their legacies takes careful effort and collaboration.
To learn more about the business of art, visit our Learning Portal, and while you're there, be sure to check out our Thriving Artist Podcast, which is also available via Android, RSS feed, Stitcher and iTunes. To help us reach a wider audience, please rate and review each podcast episode after you've listened to it.
---
Spotlight On…
The latest additions to our website's "Spotlight On…" section include Q&As with three of our 2017 Business Accelerator Fellows: Jodi Bee, Kristin Levier, and Bethany Taylor. The Q&A series explores the business challenges our Fellows face—including building an audience and navigating the global art market—and celebrates their artistic and entrepreneurial successes. Check out all of our Spotlight Q&As to hear what these working artists had to say and view images of their art. To see their work in person, visit their exhibitions, including the following:
CHF Fellow & Event Title: Ghost of a Dream, State of the Art: Discovering American Art Now
Location: Frist Center for the Visual Arts, Nashville, TN
Dates: May 26 – September 10, 2017
Description: A traveling exhibition of American artists
CHF Fellow & Event Title: Holly Van Hart, Alive with Possibilities
Location: Stanford University, Stanford, CA
Dates: February 21 – August 20, 2017
Description: A solo show of abstract oil paintings
CHF Fellow & Event Title: Belgin Yucelen, BARED Exhibit: The Art of Bras & Breasts
Location: Ground Floor Gallery, Nashville, TN
Dates: August 1 – August 31, 2017
Description: A group show featuring artists from Les Femmes Folles
For a listing of all current and upcoming shows by our Fellows, visit CHF's event calendar.
---
Let's Keep Artists In Business
Support CHF's educational programs today.