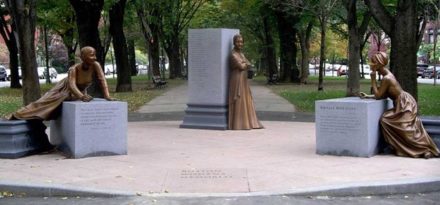 As part of the 15th anniversary celebrations for the Boston Women's Memorial, the work's creator–award-winning sculptor Meredith Bergmann–will give a talk with slides at the Omni Parker House, sharing stories about the memorial, other commissions, the process of bringing history to life, Phillis Wheatley and her poems, and the tradition of a lover's quarrel between sculpture and poetry.
The following day, Sunday 10/28, another event will be held at the memorial site (Commonwealth Avenue at Fairfield Street), from 1pm – 3pm, featuring Bergmann and Barbara Lee (founder and president of the Barbara Lee Foundation), to honor the three women featured in the memorial. Both events are free and open to the public.
Bergmann has been a guest on CHF's Thriving Artist™ podcast and also served on our Accelerator Program judging panel.