All areas of our lives have been unprecedentedly infiltrated by technology and the last two years have been directly impacted by the pandemic. These experiences have been shared by leadership teams around the globe. At CHF we are proud to have a team that has not only survived but THRIVED. In the last two years, CHF has not only navigated the changes and had amazing results, but our leadership has been highlighted in the media.
Here are three must-read articles about Elizabeth Hulings, Executive Director of Clark Hulings Foundation, Penelope Thomas, Director of Communications, and Daniel DiGriz, Creative Director and Director of Education.
"The virus will be vanquished soon, but virtual is here to stay. NFTs, blockchain, and cloud-based inventory systems are just the beginning of this next revolution in how we do business. We are continuing to innovate and educate and support our constituents and customers so they can integrate their online and in-person activities and continue to thrive."- Elizabeth Hulings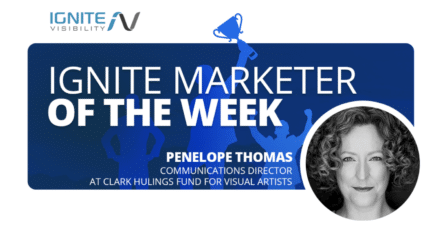 Penelope has recently also been highlighted in Thrive Global, Penelope Thomas Of The Clark Hulings Foundation: "Have multiple definitions of success"
From the article this quote about the Thriving ArtistsTM Podcast,
The Thriving ArtistTM; podcast is six years old, and I've been with the show for three and a half years. Many podcasts fold before they finish their first year, so those are dog years. So I'll say 40 podcast years.

We have 129 episodes, all with different windows into the business of visual art. We have artists including CHF's Art-Business Accelerator grads Willy Bo Richardson, Kristin Levier, and Donna Lee Nyzio; pop artist Ashley Longshore; and Amanda Theis from the School of Atelier Arts. We have experts from the business side: intellectual property attorney Emily Danchuck and gig economy expert Angela Heath. We've featured thought leaders like Pratt Institute professor Mary McBride, and artist and corporate consultant Noah Scalin — who is a great example of the kind of innovative thinking that artists have to share with the straight-ahead business world.

Our most recent episode features James D. Balestrieri, who's working on a major monograph about our namesake, painter Clark Hulings — I particularly liked the way Jim questioned the authority of art industry gatekeepers. Next up, we tackle NFTs, blockchain, and crypto art — yes it's trending, but beyond the flavor of the month factor, the topic shines a light on some absolutely key themes in the art world: value, authenticity, and the role of the artist in the midst of a rapidly changing art industry. There's a reason why all the fun movies and documentaries about art involve a heist or a forgery: we're fascinated with the value and magic of iconic art, and often blind to the cultural system that creates the magic. Meanwhile: where's the actual artist in the middle of all of that? So these are the mega themes on my mind as we get ready for that episode."
"You will not get it right the first time. That probably seems obvious. It's obvious to me after starting several businesses, but I didn't really understand it the first time. I thought I would plan it, get it right, launch, and it would either work or not work. That's true of an omelet, but not a business. That should be comforting. It's not a binary proposition: win/lose. It's not an all-or-nothing proposition."
CHF is launching a new series with Daniel DiGriz—Host of The Thriving ArtistTM; podcast, Instructor at The Clark Hulings Foundation, and Digital EcologistTM at MadPipe—called Practical Tactical Entrepreneur. These art-biz courses will provide hands-on tools that will accelerate what creative professionals and art-entrepreneurs can do to grow their business—while cutting waste, saving time, and delivering maximum punch for the effort.
CHF's Programming is fueled by donations. Consider supporting our mission by donating today.