2017 Accelerator Fellow
Where did you grow up?
I grew up in the suburbs of Philadelphia, though I also spent a total of five years in Spain and Italy as a child, as well as my junior year of art college in Rome, Italy.
When/how did you first know that you wanted to be an artist?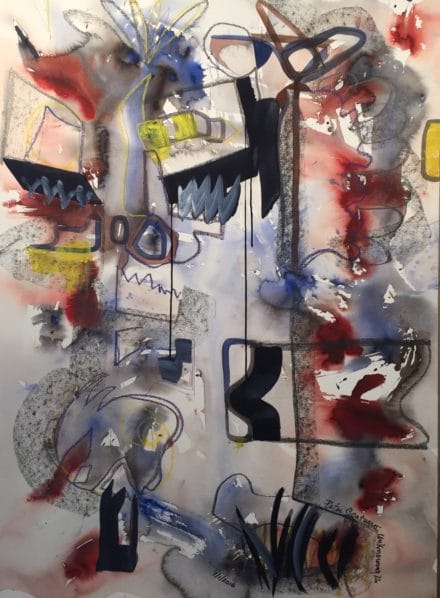 I have been creating art since I was seven or younger. I remember sitting in the back seat of my family's two-toned green Dodge station wagon and drawing as we traveled throughout Spain. The car barely fit through the narrow streets of the small towns we visited, and we once gave a ride to an entire family and their chickens!
It wasn't until the end of my junior year, while studying at Temple University's Tyler School of Art in Rome, that I decided to become an artist. I had been wrestling with whether or not to stay on for the second semester, and late one night I was compelled to go for a walk through the city. As I strolled along the banks of the Tiber River, I suddenly knew with certainty that I wanted to commit to being an artist. I finished out the year and sold five sculptures—two to the star of Fellini's movie Satyricon and the rest to the La Salita gallery. I still marvel over that epiphany, which has kept me steadfast through some rocky times.
Where do you currently live/work, and how would you describe the arts community there?
I'm in Napa, California, where there is a growing local art scene that's headed up by a strong arts council. Although I am developing my career here—I've been in a four-person show at the Napa Valley Museum—I'm also interested in connecting with the greater arts community of the San Francisco Bay Area. I have been in two significant two-person shows at San Francisco's Museo Italo Americano at Fort Mason, and a solo show in the Concourse Gallery of the city's former Bank of America Headquarters building.
How would you describe your art to someone who's never seen it?
My paintings are visual parables; they express the enigma of life. They are not meant to be complete tales but rather to provoke viewers to wonder and engage, to try to understand and ask questions—in short, to see their own stories in a new way.
Watercolor is my medium, and I push it past its traditional applications to achieve the weight and intensity of oil. My work is an individualized version of Abstract Expressionism, a style that captures dynamic emotional content, which is what draws people to it. You can see this in my painting Unknowing 32.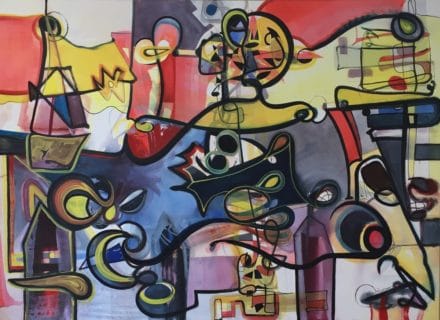 What do you hope to communicate to your audience?
I want my art to create a deeply moving and transformative personal experience that enriches the life of the viewer. This experience can be very subtle or profound. I love to hear from folks who own my pieces; it's great when they share their reflections as they develop a relationship with the work over time.
What's been your biggest business challenge?
It's a challenge to keep building professional recognition within the fine-art community, particularly the kind of recognition that values the integrity, effort, and experience behind each artwork. I strive to continue cultivating relationships with people who collect very individualized Abstract Expressionist watercolors such as mine.
Tell us about a business success and what you did to achieve it.
I was in the middle of an intense period of creating pastels, working well into the morning hours to try to finish a body of work, and one weekend I participated in an open studio event in Mill Valley, California. Among the folks who happened to stop was a Macy's buyer, and as it turned out, my work was exactly in the style of what she was looking to acquire for the company's stores. She purchased eight original pastels, as well as the limited production rights to print those same pieces, which were used in thematic displays in 44 stores across four states. The royalty checks were great.
Another success occurred while I was living and working in Rome. I spent many hours reaching out to the chief editors of various locally based United Nations' departments and their satellite NGOs. Over time, I developed a rapport with a few of them, and eventually I was commissioned to create illustrations for some UN catalog covers and posters.
How do you feel about today's technology (tools for your business, for creating your art, or both), and has it altered your way of doing business?
I am working on adapting to it and making better use of it. Before I fully embrace a new technology, I need to build my trust in it and know that it can be effective in increasing my business. I resist being overwhelmed by desk hours that cut into my creative spirit. Facebook has had a positive effect on my business, as have sending out monthly newsletters and keeping my website updated.
What do you think about the state of today's art market?
It's saturated, and seems to be increasingly geared toward mass digital reproductions that are sold at low prices. Nevertheless, today's market can also raise the recognition and value of the work of serious career artists.
Give us an example of how you balance studio time with business time.
I often do a least one business task each morning—composing a letter to a valued art historian in New York, for example, or taking photos of several of my best pieces so that I can attach those images to the correspondence I send out. Afternoons are mostly spent in the studio working on original paintings.
How have you evolved as an artist?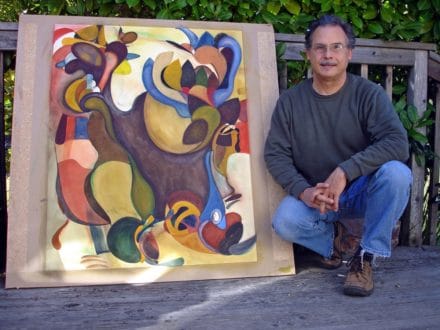 My work has definitely become more visually powerful and mature. I am recognizing its value more and more, and the positive feedback I receive from fellow artists, art professionals, and customers continues to encourage me.
How have you evolved as an entrepreneur?
I am less timid these days, which has made me a better businessman than I used to be; I can see this demonstrated through my sales and exhibition records. Increasingly, I place a higher monetary value on my talent, time, and energy, and I want to get paid what my effort and skills are worth. I am starting to understand that I am an entrepreneur, and the work that I create is very valuable.
What role do artists play in our society? What role SHOULD they play?
Artists are explorers, experimenters, risk-takers, and teachers. We are examples of what it means to follow one's passion and succeed on multiple levels by doing so.
Anything else you would like us to know?
I am at a pivotal point in my career. I am self-assured, yet open to new ideas, and I am curious and eager to see how the work I'm doing with CHF will manifest in the years to come. I need new and improved business skills to generate new income and produce the kind of professional recognition that will give my career staying power.
Years ago, I made a pact with myself that I would aim to paint with the passion of Van Gogh, while thrive economically from my work with the intensity of Kandinsky.
For more information on Peter Scaturro, see his official CHF bio.
YOU have the power to make art a self-sustaining part of our economy by investing in the business education of hardworking artists like Peter.
Support CHF today with a tax-deductible donation.