2017 Accelerator Fellow
Where did you grow up?
New York City.
When/how did you first know that you wanted to be an artist?
​I always knew I was an artist. I was raised by my artist mother and police officer father, and Mom taught me and my siblings how to draw and paint, freely sharing her high-quality art supplies with us. I usually had multiple art projects going at once, from painting and ceramics, to crocheting and calligraphy. In college, I majored in engineering, which didn't leave much time for art. But later, while working in high tech, I pursued painting as a hobby, and I did so with a vengeance—taking classes, reading hundreds of books, forming an art-critique group, and painting whenever I had a spare minute. I also entered painting competitions, won awards, and sold my work. Gradually, painting became a bigger and bigger part of me, until I decided that I needed to become a full-time professional painter. That was four years ago, and I have never looked back. This definitely feels like what I was meant to do!
Where do you currently live/work, and how would you describe the arts community there?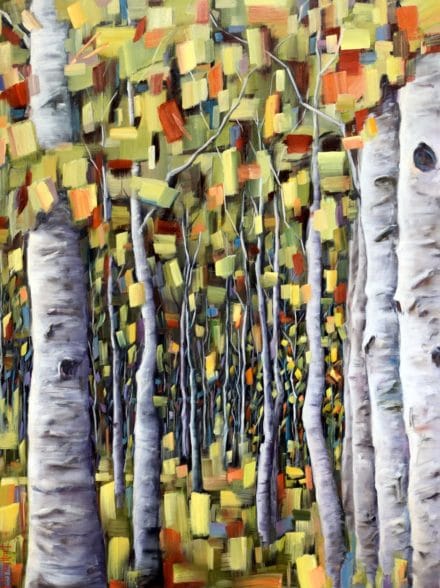 I live and work in Silicon Valley, California. We have lots of excellent artists here, spread out over a large geographic area. San Francisco, San Jose, and Oakland all have vibrant art scenes and heav​y ​concentrations of ​professional ​artists, so I spend a lot of time in those places.
How would you describe your art to someone who's never seen it?
I make oil paintings that capture the abundance of nature—particularly lush forests and fields of flowers. My paintings ​use both realism and abstraction. For example, you might see realistically painted birch trees juxtaposed against vibrating blocks of color that represent the sky, leaves, and fields.
What do you hope to communicate to your audience?
​My abstract paintings of nature are meant to spark excitement about the limitless opportunities in our lives. I'd like people who look at my work to feel that anything is possible and be energized by that. Our lives are as large as we make them!
What's been your biggest business challenge?
​Figuring out how to balance everything. I spend a lot of time painting, but it's hard to know which business activities will generate the best results. I invest my time in networking, updating my website, approaching galleries and designers, and doing social media, as these are all things that need to be done (and that I enjoy doing).
Tell us about a business success and what you did to achieve it. 
In the last three years, my work has been shown in six commercial galleries. These opportunities have come about through networking, as well as approaching galleries directly.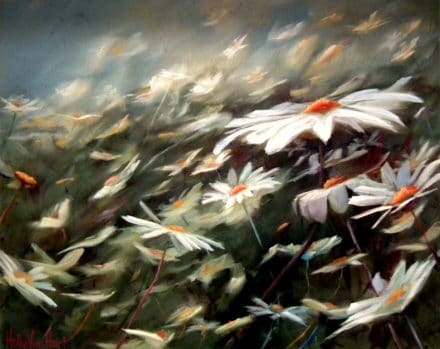 How do you feel about today's technology (tools for your business, for creating your art, or both), and has it altered your way of doing business?
​I think it's great! Social media gives artists access to a large global audience, so we are more in control of our own marketing these days. Websites and online galleries are getting easier and easier to use, providing us with more venues to show our work.
What do you think about the state of today's art market?
​Strong—except that the upper echelons of the art market are much more accessible to men than women. Over the past decade, 88% of Gagosian's shows were by male artists. In the art world, gender stats tell a disturbing story across the board. While I want to advance my own career as much as possible, part of my personal mission is to help pave the way for other women to do the same.
Give us an example of how you balance studio time with business time.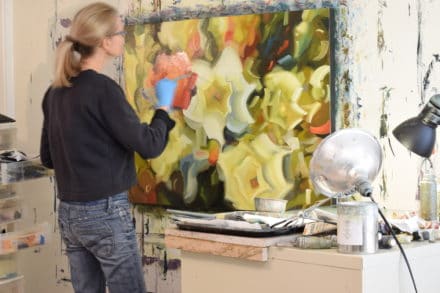 I have a home studio and am there painting every weekday from 7am until 3 or 4pm. I follow the advice of artist Chuck Close who said, "Inspiration is for amateurs. The rest of us just show up and get to work … All the best ideas come out of the process; they come out of the work itself." I believe that. Through the process of painting every single day, I challenge myself to create my very best work, and to keep learning and experimenting.
But an artist's job is not done once the art is created. We also have to run our art businesses—which means managing a website and blog, marketing the work, developing relationships with galleries, etc. I try to dedicate my days to painting and take care of the business stuff in the evenings. On most days, this takes many hours. Having come from a long career in business, I'm used to it and actually enjoy this part of the job, too.
How have you evolved as an artist?
Early on, I experimented with many different subjects and styles (e.g., portraits, traditional landscapes, pure abstracts, etc.). Over time, I realized that I was most energized by painting scenes from nature, so that's what I focus on now. I love being outdoors and am passionate about nature, which is a great vehicle for portraying life's abundance.
How have you evolved as an entrepreneur?
When I worked in high tech, I did engineering, marketing, sales, and operations. That experience has given me a great foundation upon which to build my second career as full-time professional artist.
What role do artists play in our society? What role SHOULD they play?
An artist's role is to make people see and feel things in a new way.
Anything else you would like us to know?
​When I was in my early 20s, I wanted to take six months off from work to travel and explore the world, but I saw too many obstacles in my path. One was that my parents weren't big on international travel, and I worried that they would not understand my wish. Another was that I didn't want to have to quit my engineering job. (I was paying off my student loans and needed to save money.)
But a friend coached me and helped me to see that these weren't such big obstacles (and that my parents would get over their concerns), so I took the leap. I enlisted a girlfriend to join me, and we made our case. Receiving leaves of absence from our engineering jobs, we bought our plane tickets and headed west, backpacking across Australia, Asia, and Africa for half a year. We had the time of our lives. That experience definitely opened up my thinking about what's possible.
For more information on Holly Van Hart, see her official CHF bio.
Want to see more great art in the world?
Help hardworking artists like Holly and the rest of our Fellows run self-sustaining businesses. Support CHF's educational programs by making a tax-deductible donation today.