Deb Slowey has been an artist for four decades, and her body of work includes paintings, prints, and installation pieces. Her pieces have been featured in solo and group shows throughout the US, as well as in Brazil and China. A native of Syracuse, New York, she currently lives and works on Florida's Gulf Coast, where she also serves as the president of the state chapter of the Women's Caucus for Art.
The CHF team first met Deb at our Ft. Lauderdale Art-Business Conference this past February, and since then she has been one of the most active members of our virtual Thriving Art Exchange community. In this interview with CHF Editorial Director Sofia Perez, Deb discusses some of the challenges of being an artist-entrepreneur.
How would you describe your local arts community?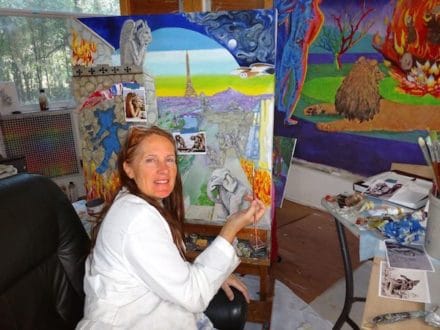 When I relocated to Florida after 20 years in New York City, I knew I still needed to be near people, but I also wanted a big studio, so I moved to the beach. There are three cities nearby—Sarasota, Tampa, and St. Pete. And they each have their artist enclaves. They are trying to come together as Tampa Bay, but they're individual places.
I made a circle in Google Maps to find a location between the three cities. This neighborhood was right by a state park, which is great because I love nature. All the houses here are set on a couple of acres, so I am able to have my big studio, and I can also get to St. Pete, Sarasota, or Tampa in about 20 minutes.
There's a lot going on in Saint Pete. We're doing some projects there with the Women's Caucus for Art, and the city is very supportive. So are Tampa and Sarasota, but St. Pete is more of a tourist destination. They have the Salvador Dalí Museum, the Museum of Fine Arts, and Dale Chihuly's collection of glass art. They are a lot of glass artists around here.
In addition to creating your art, you are also a registered nurse. How do you balance that with your studio work and the time you need to develop your art business?
When I lived in New York City, I was doing odd jobs for artists and making enough money to live on, but when I moved out, I needed a different job—one that would give me enough money without having to work too many days. So I got my nursing degree, and have been able to work as a travel nurse, setting my own hours.
My nursing work has always been PRN [short-term, contract, or fill-in work], and I won't do more than a certain number of hours per week, 16 or sometimes 20 hours. I work one day, and then I'm off one day, then I work another day, and I'm off for several days. On the middle day, I handle the business side—working on my website, making connections with the other artists, doing studio visits. Stopping and starting can make it hard to keep the momentum going with my art, but you have to have some kind of a set schedule. Otherwise, it's just chaos.
Handling the business side is really important to me, because I want to be able to stop nursing and save my energy just for the art. If I could do that, I'd be able to produce more. But I see art in everything. There's art in nursing. There's art in business. And business can be fun.
What's been your biggest business challenge?
The balancing act is hard, and keeping up the momentum is hard, but one of the biggest struggles has been the fact that I'm a woman. I believe that I've been discriminated against. I don't think that women have gotten their due in the art world. We are often ignored—that is a business struggle we face. It's the challenge of getting your work out there, of being included, and I don't think there's been a balance in galleries.
Hopefully, it's starting to change, though. I'm trying to do my part by working with the Women's Caucus for Art. You can join the caucus as a national member, and then choose your local chapter. It used to be part of the College Art Association in the '70s. Back then, a bunch of women were challenging the fact that men were taking up more of the space, so they formed their own group.
The focus is to promote women artists, to come together and share resources, and also to benefit from the fellowship. You get a lot from that. They honor a few women every year and have conferences twice a year. Basically, it's a support system for women artists. I've made some good connections through the group.
You've also become a very active member of our virtual community, the Thriving Art Exchange. How did you first get involved with CHF?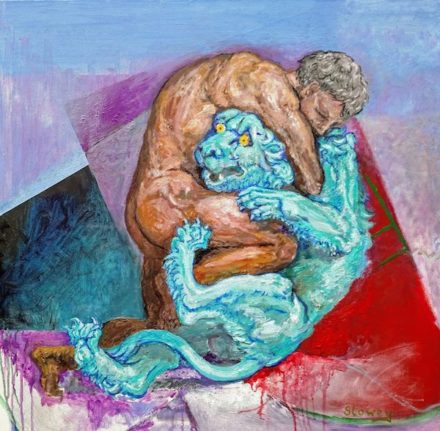 I found CHF online, though I don't remember how. Your website is really good, and you've got great podcasts. I've learned a lot. I went to your Art-Business Conference in Ft. Lauderdale, and it was wonderful. It was great to meet serious artists. And thanks to the Internet, you can keep up with people afterward. I don't want to be in just one group, like the Women's Caucus. I want to be in many groups.
In fact, I am planning to go back down to Ft. Lauderdale and do a show with some people I met when I was there for your conference—it'll be a pop-up art show on boats. It's going to be a lot of fun.
What did you find valuable about our conference? And feel free to comment on what we could've done better, too.
The people that gave the presentations were really intelligent leaders. They hit the nail on the head, and I learned so much. My only criticism is that it was too short. If it had been a weeklong event, each class could've lasted longer. Each individual section could've been an entire class. We covered a lot. It was like doing a college course in two days.
You use a variety of technological tools in your business—social media, a blog, an online shopping cart to sell your work directly.
I don't know why people think technology is a dirty word. We should embrace it. It's the age of communication. At the turn of the century, artists could gather in cities, in cafés, and be in groups, but now we have the world. I just sent some work off to China, to a print show. I connected with the organizers through the Internet.
You also created a video that shows all the various layers that go into of one of your paintings. What made you think of doing that?
Everyone's always saying to me, "Well, how long did that piece take?" That's one of the first questions I get. So I figured I'd show them the process. I used time-lapse video to demonstrate how it comes together. As a nurse, I do a lot of teaching, and sharing my artistic process is another form of teaching.
When you deploy all of these tools, what are you hoping to achieve?
Promotion. An artist needs to have a website, and you can't just have a website of your pictures. That's why I have a blog. If I have all my ducks in a row, it'll be a stronger presentation for someone who wants to buy something. It's a way of connecting with the people who buy my paintings.
They're getting to know the story behind your work.
Right, and that's exactly what I'm working on right now; I'm trying to shape my brand story. The whole process has helped me to understand how my voice might come across to somebody else. I always think that the last painting I do is the best painting. I look at it before it's finished and think, "That's my brand. It's all there." But working on brand story has helped me learn my place in the world—in my world.
A lot of businesses fail because they just keep working on product development and never do any distribution or marketing. They're making the greatest product in the world, but if it never gets seen or gets to market, it would be very sad. Also, I don't have children or anyone to give my paintings to, so if I don't get my work out there, it'll be lost.
What do you hope your art communicates to your audience?
I hope it gives them peace and transmits the idea that there's something more, some kind of connectivity that we all have. I want them to enjoy the painting as a thing, like a good meal. Good paintings drag you in, and hold you for a while, and then they change as time goes on. I try to give the audience an experience.
How have you evolved as an artist and as an entrepreneur?
It's been a long career so far. I've learned to trust my artistic voice, and know that it is good and worthy.
In terms of the business part, I came of age as an artist in the early '90s, and the gallery system was so scary. I was petrified back then. Now, I realize that it is a business. There are rules to this business, and there are ways of doing business. Rejection shouldn't be taken the way I used to take it. I have grown in my understanding of that process.
To receive powerful entrepreneurial training and connect with artists like Deb, attend an upcoming CHF Art-Business Conference. Visit our Conference hub for more information.