2017 Accelerator Fellow
Where did you grow up?
In Glendora, a suburb of Los Angeles.
When/how did you first know that you wanted to be an artist?
I've wanted to be an artist for as long as I can remember, but as a child I also wanted to be a scientist, writer, coroner, and brain surgeon, among other things. It made me mad when I found out that people were supposed to only want to be one thing. When it was time for college and, later, graduate school, I had a hard time deciding between science and art. From my father, I learned to be practical; he told cautionary tales about how hard it can be for artists to make a living. So instead, I chose to pursue science.
When I was studying and working as a biologist, I needed a creative outlet to keep a sense of balance. I took a few art classes and filled my free time with drawing, knitting, sewing, and—eventually—furniture-making, but it wasn't until I had been a scientist for nearly two decades that I was ready to devote myself to a serious art practice. It's been 11 years since I made the change from my first career as a molecular biologist to my second career as an artist. I am incredibly lucky that I have been able to work in two fields for which I have great passion, but being an artist feels like what I was born to do.
Where do you currently live/work, and how would you describe the arts community there?
I live in the rural college town of Moscow, Idaho, a few hours drive south of Canada. We moved to Moscow just over a decade ago for my husband's job, and I'm very grateful for the life we live here. It's friendly, safe, affordable, and beautiful—we're surrounded by miles and miles of lush rolling hills. I find the views I see every day very energizing.
Within a few weeks of arriving here, I met two extremely talented, nationally recognized wood artists who I've been working with ever since. Together with a fourth artist, we created a group shop where we share tools and space. Mostly, we work independently, but we turn to each other for friendship, encouragement, critiques, and help. And some really good lunches.
Having said that, I do go crazy if I don't get to a big city at least a few times a year. I crave the culture and diversity and the art. People in this area have enthusiasm for the arts and flock to local cultural events, but there are no big museums or fine-art galleries. The money I save living in Moscow is spent on shipping my sculpture to shows outside of this area and taking art trips to cities to keep me sane.
How would you describe your art to someone who's never seen it?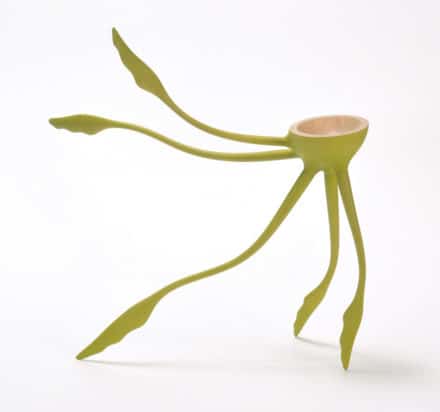 I make minimalist, contemporary sculpture that's driven by my fascination with the natural world. I find great beauty in non-traditional subject matter and inspiration in a broad range of sources. A blade of grass or the movement of a bacterium can be achingly beautiful, and I try to fill my work with the wonder they instill in me.
I love things that undulate, slither, and flutter through their environments, and I spend my time working to create objects that appear to have a sense of organic motion. I'm preoccupied with internal mechanisms and how living entities move, feed, and protect themselves and their young. I'm inspired by tentacles, horns, plants, snakes—anything with a great shape or movement–and have loved these things since I was a child playing outside in the grass and dirt. I work primarily with wood because of its connection to the earth and the sense of warmth that it imparts to my sculpture.
What do you hope to communicate to your audience?
My deep conviction that there are innumerable exquisitely beautiful things in nature—elements subtle, fierce, and everything in between.
What's been your biggest business challenge?
Locating the perfect audience for my work. My sculpture is unusual, and it's likely to resonate best with curious, unorthodox art lovers who have a bold sense of design and a passion for the natural world.
Tell us about a business success and what you did to achieve it.
I have had many baby-step business successes, but I think the biggest was designing and building my own website. It was an intimidating prospect because I knew nothing about the process. I took two weeks away from my studio to read books, watch YouTube videos, and look at dozens and dozens of websites, including those created by and for artists and others working in creative fields.
I've had my own site for over three years now, and regularly update and reorganize it. I feel proud to have developed this skill set from square one and know that my website is absolutely critical as a virtual home for displaying my work to the world.
How do you feel about today's technology (tools for your business, for creating your art, or both), and has it altered your way of doing business?
I love any technology that allows me to do what I do better or faster. I use an online platform to keep an inventory of my completed work, which allows me to track images, physical data, pricing, and location for my sculptures in one place. Implementing this cloud-based system gave me a significant sense of security once my body of work began to increase. Given that I live in a small rural town, I am especially grateful that my website and social-media platforms (particularly Facebook and Instagram) allow my work to be visible to anyone who wants to see it.
I would also like to use more technology (such as CNC routers and laser cutters) to help streamline the early steps of my sculpture-making.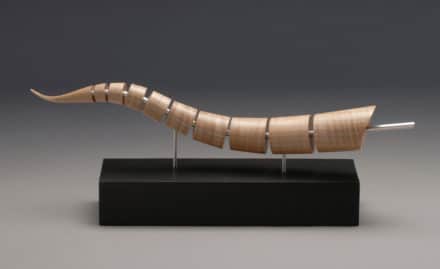 What do you think about the state of today's art market?
It's in flux. The new ways of viewing and selling art are challenging the old model of an artist who is solely represented by a single gallery and insulated from art buyers. Artists are now able to retain more control over their careers, but that means they also need to take on the tasks that galleries used to provide: marketing, sales, and providing actual and virtual venues for getting their art in front of potential buyers.
In the new model, artists are forced to learn many skills, and that can be very positive. Yes, we need to engage our audience more than we have in the past, but that offers both artists and buyers many rewards. Artists get to explain how their art is made, how long it takes to make specific pieces, and why they are creating these works in the first place. We have the power to inspire by showing the world that professional artists are not only creative and skilled, but also extremely hardworking.
That said, all of this extra work does take artists out of their studios. I don't know any creative people who feel they have enough time to do everything they want to do. Actually, I don't know anyone at all who feels that way.
Give us an example of how you balance studio time with business time.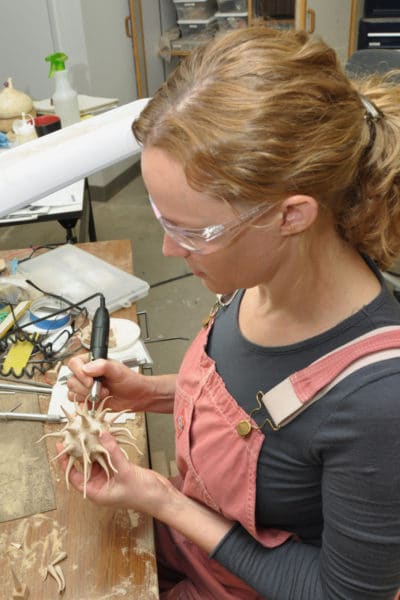 When my kids are in school, I spend that time in my studio making sculpture or experimenting with new techniques and designs. This amounts to about 30 hours per week during the school year. I protect this studio time pretty fiercely by not scheduling appointments, and avoiding email and the Internet.
My afternoon time is quite unreliable, and things can get crazy with kid activities and our menagerie of dogs, chickens, and a ferret. I have worked hard to create a life where either my husband or I can be with our kids every day before and after school, and this time with them feels precious. Some days, they are totally self-sufficient, but I'm here for them if they need me.
I write (applications and online content), read art and art business-related material, and update my website, art inventory, and financial records at night and on weekends. Each summer, I spend a week looking for promising juried exhibitions, fellowships, and residencies, and set up an application-deadline calendar for the year (which gets modified over time). I try to listen to art and art-business podcasts while doing boring but necessary household chores, such as folding the laundry and cleaning. So basically, I make art during the day and conduct art business at night and on weekends.
How have you evolved as an artist?
Over the past ten years, I've found my original style, narrowed down my preferred subject matter, and developed confidence in my design ability and craftsmanship. I'm true to my style and don't care what others are making or what's in fashion—probably a mark of artistic maturity. I am brave and innovative in my artistic problem-solving, and I love coming up with new ways of doing things.
I now apply to more ambitious juried shows in the areas of fine art and fine craft, and no longer confine myself to the world of woodworkers. I like doing things that scare me. I truly don't mind getting rejected from juried shows because I use those no's as data to gauge which types of venues may not be a good fit for my work. Rejections help guide and goad me into improving.
How have you evolved as an entrepreneur?
Initially, I was very intimidated by the idea of having a website and posting to social media—I was uncomfortable putting my name and thoughts out into the world—but I knew I needed to join modern times. These days, I am much more relaxed about sharing my work and words. I have made some great connections through these channels and feel quite grateful that my work is being seen far and wide. I also love to see what other people are making. With respect to financial record-keeping, art inventory, and document filing, I am more organized than before. Life is much easier and less stressful when I stay on top of these things.
Four years ago, when I was visiting a university shop, I noticed that they were missing a certain technique, so I volunteered to teach it. Being proactive about connecting with others has paved the way for teaching paid workshops all around North America, including at one of the US' most prestigious arts and crafts schools.
What role do artists play in our society? What role SHOULD they play?
Artists serve as innovators and interpreters. In a world where money is held in such high esteem, the decision to pursue a creative path is not a trivial one. Working artists are an example of what it means to follow your true calling, and they serve as inspiration to those who feel the creative pull but have not yet committed to living as artists. Artists should be society's truth-tellers.
Anything else you would like us to know?
When my daughter saw me looking through an issue of Fine Woodworking, she said, "Mama's reading one of her lady magazines." That's when I knew I had served as an example of a woman who defies female stereotypes.
As a postdoctoral research fellow, I worked in an MIT biology lab. Twelve years later, I revisited the campus and stopped in at the hobby shop where I had spent many, many nights building furniture for fun after I'd finished the day's lab work. The folks in the shop welcomed me back, and I spent six more months working there. Eventually, I was given the title of artist-in-residence and started teaching occasional workshops to share my skills with others.
When I look back on that time, I can't believe that I had the opportunity to inhabit two very different roles in such an amazing place. (The professor who worked in the lab next to mine has a Nobel Prize, and one of the men I met in the hobby shop is a MacArthur Fellow.) I have lived my two dream jobs—scientist and artist. Incredible.
For more information on Kristin LeVier, see her official CHF bio.
Want to see more great art in the world?
Help hardworking artists like Kristin run self-sustaining businesses. Support CHF's educational programs by making a tax-deductible donation today.