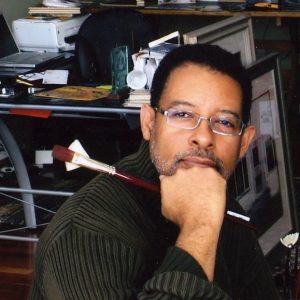 Dean Mitchell is a nationally recognized painter of figures, landscapes, and still lifes, and his work often depicts themes from his Florida upbringing. He is a member of CHF's Advisory Board.
You just celebrated the one-year anniversary of the Marie Brooks Gallery (named for your maternal grandmother), which you opened in Quincy, Florida, where you grew up. What was the first year of being a gallery owner like for you? Any insights that have helped you as an artist?
It's a lot of work trying to figure out how to be successful because the gallery is in a very small market. Trying to find a market in general is difficult. Although there have been other rewards, including reaching young people who have very little experience with going to a commercial art gallery at all. There are other factors that went into why I decided to pursue this project. I have learned a lot about patience, marketing, and building a new client base to support work in an area that is not well traveled and where most of the population lives below the poverty line.
Through this gallery, I have been able to create a monthly newsletter that highlights not only my accomplishments, but also upcoming events, to show that I am an artist who's constantly moving and doing things in the fine-art market. The galleries that handle my work do not have the liberty of doing this because they represent a large number of artists. So it has given me more control over reaching the general public, which I didn't realize was possible. It is filtering into those other galleries that represent my work because of the exposure and updates on awards. It helps them sell as well.
Owning the gallery has taught me a lot about branding and marketing. Also, I learned a lot by reading and publishing my own books—to be able to tell my story and give collectors that personal touch about my experiences as an American artist.
For the gallery anniversary, you created a poster of your piece After The Hurricane, and donated the proceeds from the sales toward Hurricane Michael relief efforts. Why was it important to do that? What does it say about the role that artists' play in their communities?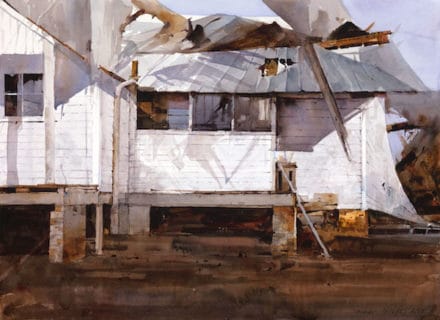 First of all, I grew up there, and I know that most people who live in that area are poor and live in structures that, for the most part, cannot withstand hurricane-force winds. So when I first heard about the destruction, I was trying to figure out how to help. I've always believed that art can play a role in understanding the frailties of life, and serve as a tool to help rebuild and participate in our communities. The poster has been sold across the country. It's an image that resonates a sense of loss, but it also represents a sense of hope.
Throughout history, art has been used to participate in the dialogue of the day. Think of how Picasso communicated through his art during WWII. Unfortunately, many times in our culture, the artist is portrayed as a tragic figure, but by participating in what is affecting individuals on a daily basis, art can inspire hope and produce something that can help others out of despair. It has taught me that the artist has played a larger role throughout the decades, to create a new industry, to create an intellectual product that enhances our spirits and our lives, and create a new sense of humanity.
Even beyond the opening of your gallery, this has been another stellar year for you: Your painting R.T. Williams Buffalo Soldier was in the Prix de West show; another one of your works was shown in China; Southwest Art featured your Napoleon House painting on the cover of its November issue, and you received the Lifetime Achievement Award from Watercolor USA Honor Society. What stands out most for you when you look back on the past year?
What stands out most for me is not my accomplishments, but the lack of diversity within the markets that I am in. The lack of diversity of collectors. The lack of artists being highlighted in publications. This is the most troubling to me. That still, in the 21st century, we are fighting for an equal playing field in the art market. Trying to constantly look for venues that are willing to pay us for our efforts to continue our artistic growth. What are we doing wrong? How can we, as a people, move beyond this separation?
As always, you've won a slew of awards, and your works have been selected for juried exhibitions. Why you still enter those competitions at this stage in your career?
To be frank, these shows gave me a voice and an income when I could barely sell my work. Even with all of the awards I've won, I've been in shows in where collectors just walk by your work as if you're not even in the room. However, when one of my paintings wins a top award, collectors want them. So it's not the quality of the work. I am constantly trying to prove myself as an American painter.
These shows reinforce what I have achieved and play on the psyche of those who collect and are insecure about their own tastes. By placing the work in front of knowledgeable peers and having the work selected for awards, it cannot only give you visibility, but help you build a market on a national level, which has always been paramount to my survival.
As you know, CHF has another Art-Business Conference coming up in your home state of Florida—specifically in Fort Lauderdale, February 1-2, 2019. Why is it so important for visual artists to obtain business training and connect with their peers?
Many artists are only concerned about doing their art and are inexperienced in the business of art, so attending a conference like this helps artists by connecting with other people in the business. Artists can learn from other artists, and find out how they've built their careers. No different from going to painting workshops where you learn from those who are in the field.
There are different discussions that can happen at a business seminar with other artists, discussions about how to get in galleries, how to approach foundations, how to invest your money, starting a retirement account. In order to succeed in the art world, artists need to take the business of art seriously.
To hear more from Dean, in his own voice, listen to his appearance on our Thriving Artist™ podcast. Register here To attend CHF's upcoming For Art-Business Conference in Fort Lauderdale, February 1-2, 2019.