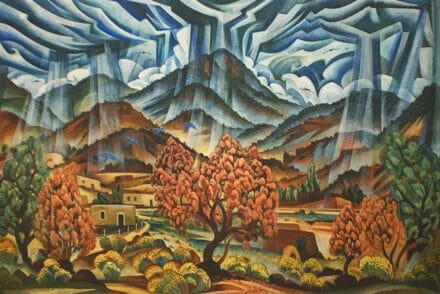 Artists face many questions about the best ways to promote their art: advertising in national art magazines and local print media were the traditional staples. Today, there are a host of ways to promote—a website and social media are just the beginning. Artist website platforms such as FASO or ArtSpan host and make it easy to build your site with integrated, artist-friendly e-commerce features, and blogs such as Artsy Shark lead the way with artist portfolio visibility. There is also participation in juried and non-juried shows and events to gain visibility locally and around the country—and even the world.
Big Coffee Break
What if one day Starbucks Corporation called to ask if they could acquire one of your works to display on the wall of a store in your home town? That's what happened to Navajo contemporary artist Tony Abeyta. Starbucks identified Tony as an iconic New Mexico artist, and they wanted to buy one of his works. This offered income, but clearly, this program is also a great way to promote his art. Like most artists, Abeyta has considered many ways to gain visibility for his work. This phone call in the fall of 2020 was a very interesting development. How large a piece, you ask? 1,728 square inches. The Starbucks store design team wanted to fill a 12' x 12' wall in the coffee shop on W. San Francisco St. in downtown Santa Fe with one of his works!
Abeyta was intrigued by the opportunity, but he said that he wanted to think about whether it was right for him, and how it might fit into his overall plans. He concluded that it would be a great way to promote his work, as the location is a regular stop for both locals and tourists. Another factor was COVID: it was spiking again as he got the call. It was unclear how the next wave of the pandemic would affect his art business, so the income was especially timely. He made a conscious decision to go forward.
Mural or Reproduction?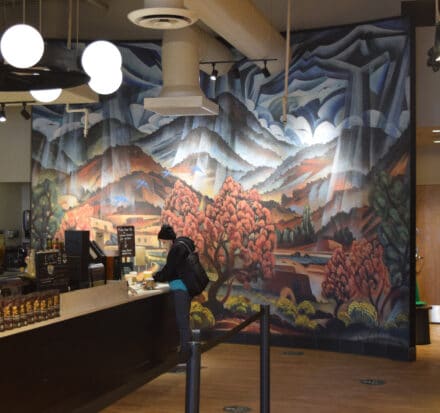 Starbucks has developed a really impressive Global Arts Program and was willing to pay a current market price for the project. At first, however, they'd suggested he paint a mural on the wall of this store, but Abeyta felt it would be too time-intensive given his current commitments. Instead, he suggested that rather than purchasing an original commission, he would be willing to license a single-use reproduction of one of his works to Starbucks. Abeyta has a keen business sense when it comes to preserving the value of his work and his brand, so he articulated clear requirements before going forward with licensing for this purpose. Together, Starbucks and Abeyta worked to present the piece in a high-quality reproduction that honored the original art. Of particular focus for Abeyta was to ensure that the project would not diminish the art in any way: for example, he would not have considered commercial merchandising, such as putting his art on a coffee mug. However, he supported the idea of presenting the image in high resolution and in the proper ratio for the piece.
Exemplary Artistic & Corporate Citizens
Starbucks included Abeyta in selection of the foundation material, which is a vinyl paste up technique, but has the texture of art canvas; they also worked together to ensure the reproduction process would do justice to the original work. Abeyta wanted to have a plaque prominently displayed on the wall with his biographical data and contact information so that collectors and others could learn more about him, and Starbucks printed one-page information sheets about the artist that people can take home. In the end, Abeyta said: "this is great visibility. It's almost like having a billboard on the wall of a bustling downtown coffee shop." This is a great story for many reasons, but in particular, because Abeyta took time to consider his goals and how the opportunity fit with them. Equally importantly, he took steps to preserve the integrity of his art while working directly with Starbucks to create a quality presentation. Some people might be intimidated when doing business with a large corporation. Abeyta, on the other hand, stayed focused, and the finished product is professional and truly breathtaking. Even the lighting is tasteful and presents the work in an optimal way. Another commendable part of the story is that after further consideration of local impact COVID was having on the community, Tony decided to donate part of the proceeds from this project to some of his favorite charities. If a company does something like this, we say they are an exemplary corporate citizen, I would say Tony is an Exemplary Artistic Citizen.
Starbucks Global Art Program
Is this a one-off? Actually no, it's part of Starbucks' "Community Store Program." Lara Behnert leads the Starbucks Global Art Program, working with artists and store design teams around the world. "When we look for artists, we look for original thinkers with unique perspectives and styles," Behnert said. "We love finding people who feel in line with how we are—optimistic, thoughtful, and full of new ideas. There's an essence of joy at Starbucks, and we want people to feel that through our celebration of these artists."
Jen Carroll, Starbucks store manager on W. San Francisco Street, said that this is a Landmark location for the company and is very connected to the community. They allow local artists to display art on their walls, as many coffee shops do; they saw this as a great program to expand that spotlight on art. Carroll said that the Santa Fe team was thrilled to take this next step to complete a permanent art installation by an iconic New Mexico artist.
Artistic License
Abeyta's Starbucks collaboration is an excellent example of an artist's educated decision-making around licensing and reproductions—and also what it's like to work with an informed and respectful corporate partner. Artists will want to consider if a potential project moves you closer to the goals in your Career Blueprint, and make sure that the benefits of exposure and income don't come at the expense of artistic integrity or the long-term value of your work. Are your partners open to working with you as an equal contributor—and are you and your collaborators familiar with intellectual property law and ready to create a fair agreement to protect you and your work? Where's your line?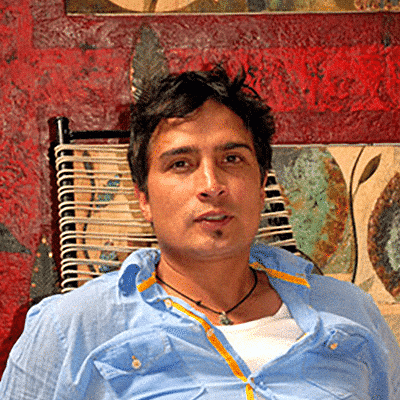 Tony Abeyta is a Navajo contemporary artist working in mixed media paintings. A graduate of New York University with an honorary doctorate from the Institute of American Indian Arts in Santa Fe, Tony was the 2012 recipient of the New Mexico Governor's Excellence in the Arts award, and recognized as a Native treasure by the Museum of Indian Arts & Culture.
Tony currently works in both Santa Fe, NM and Berkeley, CA. Tony's work is included in the Smithsonian's National Museum of the American Indian, Boston Fine Arts Museum, the Heard Museum in Phoenix, AZ, New Mexico Fine Arts Museum, Denver art museum, Crocker museum in Sacramento the Autry Museum in Los Angeles, CA, and the Eiteljorg Museum in Indianapolis, as well as in many other public & private collections.
Follow Starbucks Art Program & Starbucks Stories for more info on art at Starbucks.