Celebrating the Centennial of modern realist painter Clark Hulings (1922-2011), The Clark Hulings Foundation will throw a 100th Birthday Party in Santa Fe, NM, November 20th, 2022, to launch a year-long commemoration of Hulings' life and work. Fittingly, the Hulings Centennial will be launched in the artist's home city from 1972, and staged in Santa Fe's historic hotel, La Fonda on the Plaza, also commemorating its first century.
Clark Hulings' paintings, whether visions from Europe, North Africa or the Americas, have immersed us in exquisitely realistic portrayals of life since he first put brush to canvas in the 1950's. With the skill of an 18th Century master, and 20th Century eloquence, Hulings captures the people's labors, domestic lives, and street cultures from the mid-20th to early 21st centuries. He reveals them as if to remind us how utterly we depend on the natural rhythms of life's endeavors and are served by the nobility of our shared human spirit.
In a nod to Clark Hulings' senses of humor and perspective, birthday celebrants will be welcomed to La Fonda by a gregarious live donkey, Rosita, and offered one of Hulings' favored Martinis to begin a cocktail hour of mingling with family members, writers, collectors, curators, gallerists, and working artists gathered on the hotel's La Terraza & Garden Terrace. During cocktail hour, guests can bid on silent auction items, demo the Hulings VR exhibition, and observe five Santa Fe artists, Lee Rommel, McCreary Jordan, Katherine Stedham, Brad Smith, and Ric Dentinger, as they complete paintings to be sold off their easels.
During dinner, those whose lives and work were influenced by Clark Hulings will reminisce via a collection of short videos assembled by maverick film editor Barbara Ottinger and award winning Photographer Carol Halebian. The Director of the Booth Western Art Museum, Seth Hopkins, will virtually cut the ribbon to launch his museum's Clark Hulings Virtual Reality Exhibition and the evening will draw to a close with expressions of appreciation, a birthday cake, and a champagne toast to the launch of the coming months' Centennial events.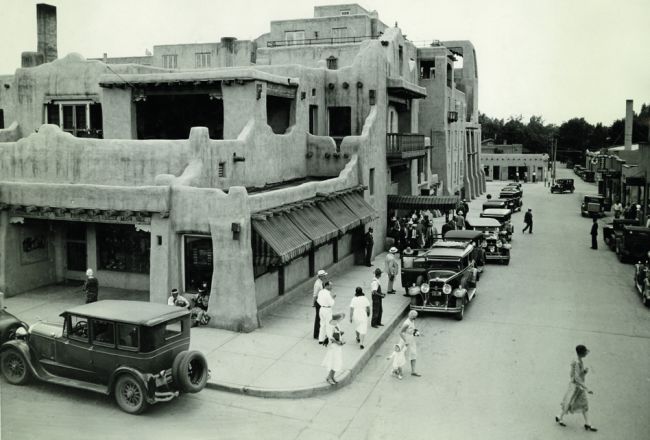 Clark Hulings La Fonda on The Plaza, historic photo
Among the Hulings Centennial programming in development for 2023 are further virtual exhibitions of his work in collaboration with museums including The New Mexico Museum of Art; further virtual and in-person exhibitions; and the re-launch of in-person educational programming by The Clark Hulings Foundation that leverages CHF's digital and hybrid model.
The Centennial Birthday Party can be attended in person or virtually, to be streamed on date and time to be announced, with an MC hosting live on-line.
All celebrants will receive a collectible NFT commemorative featuring Clark Hulings' original donkey and cart and the Hulings Centennial Logo—one more example of Clark Hulings' forward-facing legacy.
The evening benefits The Clark Hulings Foundation, established in 2013 to promote Hulings' legacy by equipping artists to be self-sustaining entrepreneurs so that they can thrive from their artistry, as he did. The Foundation delivers an ongoing suite of integrated learning services via live events, digital channels, and portable media formats and builds professional networks of opportunity.
The Clark Hulings Foundation (CHF), based in Santa Fe, New Mexico is led by Hulings' daughter, Elizabeth, the Executive Director. CHF's board of directors and advisors is drawn from business, fine arts, and education in 20 American cities. clarkhulingsfoundation.org/about/leadership
Attendee Hotel Arrangements
For a special room rates November 18th-21st, call La Fonda on the Plaza 800-523-5002 or 505-982-5511, Option #1. Call 8 AM–5 PM before Friday, October 21st.
The Clark Hulings Foundation reservation code is 1061127.
Additional Details about and reservations for the November 20th Santa Fe Gala are available at clarkhulingsfoundation.org/hulings100
Media Interviews with Clark Hulings' daughter, Elizabeth; Santa Fe based Board member and former director of the Mizel Museum, Denver, Ellen Premack; and the author of his soon to be published scholarly monograph James D. Balestrieri can be made by contacting: Penelope C. Thomas, Communications and Partnership Director, 917 679 0755 or penelope@clarkhulingsfoundation.org
Arrangements to Attend the November 20th Celebration as covering media; additional information; and high-resolution images; contact:
Walt Borton, 505 577 0301 or walt@waltborton.com
Or
Penelope C Thomas, penelope@clarkhulingsfoundation.org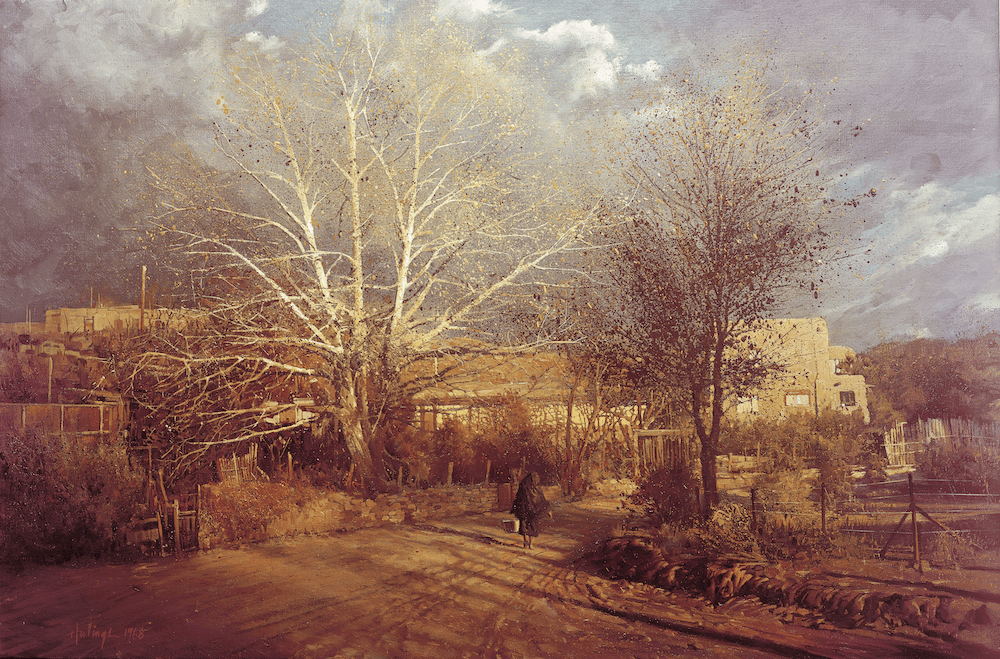 Clark Hulings Off Palace Avenue
Editorial Advisory
Details for Clark Hulings' November 20th
Birthday Gala in Santa Fe
Sunday, November 20th, 2022 5:00 PM–9:00 PM MST
La Fonda on the Plaza, Historic Santa Fe Hotel
La Terraza & Garden Terrace (4th floor)
100 E San Francisco St, Santa Fe, NM 87501
(Festive attire is guests' choice from business casual to black tie)
Live Event
$250 per person or 8-ticket table $2,000—a portion of which is a tax-deductible contribution to the Clark Hulings Foundation
Cocktail Hour (5:00 PM – 6:00 PM)
Guests will be greeted by Rosita, a gregarious live donkey from Pecos, and offered a Clark Hulings martini and icebreaker conversation-starters
Guests mingle with the heart of the Hulings community: working artists, writers, collectors, curators, gallerists, Hulings' family, and CHF donors
Five Santa Fe artists working on original 16 x 20" oils or acrylics to be sold off the easel later in the evening: (Lee Rommel, McCreary Jordan, Katherine Stedham, Brad Smith and Ric Dentinger.)
Ongoing demonstration of the Virtual Reality Exhibition of Clark Hulings' works by Hollywood digital designer Jeremiah "Flip" Benjamin of 88-Ideas
Dinner & Program (6:00 PM – 9:00 PM)
Learn about Clark from those who knew him and were influenced by him through a video created by maverick film editor Barbara Ottinger and award-winning photographer Carol Halebian
Seth Hopkins, Director of the Booth Western Art Museum, virtually cuts the ribbon to the first phase of his museum's Clark Hulings Virtual Reality exhibition
Silent auction results, including who will take home the live-painted works
Champagne toast & birthday cake
Virtual Event ($75 tax deductible contribution to the Clark Hulings Foundation)
In-depth documentary interviews about Hulings' life and legacy
Special Virtual Reality Art Gallery demo session with Hollywood's Jeremiah "Flip" Benjamin of 88 Ideas
Proof of Attendance Protocol non-fungible token (NFT)—you will have a unique digital collectible that proves you attended!
Recipes and recommendations for your at-home party
Arrangements to Attend the November 20th Celebration live or virtually, as covering media; additional information; and high-resolution images; contact:
Walt Borton, 595 577 0301 or walt@waltborton.com or
Penelope C Thomas, penelope@clarkhulingsfoundation.org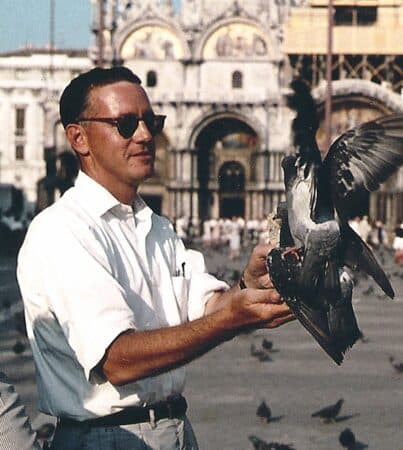 Clark Hulings in Venice