Let's be honest: There's a glut of digital education on business, art, and everything. If I want to know how to cook an egg, change the battery in a remote, or split a column in a spreadsheet, I just search youtube.com for a dozen (mostly poor) videos. For stuff like that, it's perfect, and CHF is there, too. If I need a longer course, sites like Skillshare are ready for me. How to draw cartoon superheroes, how to transplant shrubs, or even (supposedly) how to be awesome at marketing. Warning: quality of the insights and advice vary—a lot!
So did we reinvent the wheel? Yes, because we think it's not good enough. When we designed CHF's Digital Learning Portal, we had YOU in mind.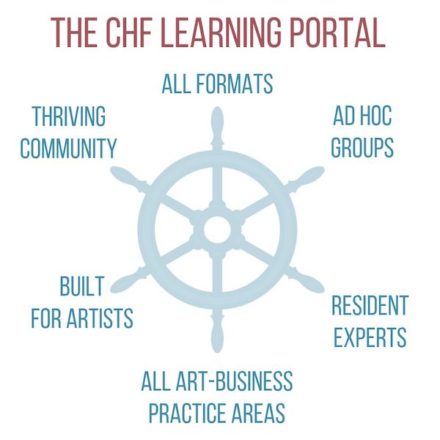 First, it's built for artists. Working artists. What we know is that artists spend half or more of their time in studio or on production. You need more than a few tips for social media that are here today, obsolete tomorrow. There has to be some substance, because art is not a hobby—it's a career. But you also need to quickly index, find, and focus on learning that will benefit your business practically. We've spent enormous effort to ensure that's possible.
Second, you don't need a box. When you click "learn" at CHF, you're instantly greeted with a choice of formats. Sometimes, all you want is a quick article to help you get motivated or started. Or you might be driving to a show, and need an .mp3 to download or pull up on iTunes so that you can listen in the car (you don't want to be watching a video at a red light). When you're ready to deep dive into something, you need it organized and actionable, so we are continually adding to our library of digital courses, which are designed with one purpose: to accelerate your career.
Third, you're in control. Click any format, and it asks WHAT you want to learn. You can go through a logical program of business skills, or jump around and get just what you need.
Sales strategy (need help pricing your work?)
Marketing (want to nail down a theme that gets enthusiastic fans to amplify your story?)
Project management (want to go beyond one-offs and do something big?)
Fourth, you're not alone. This is big. Most learning portals are not communities. We wanted ours to be chock full of OTHER working artists, including senior Fellows at CHF, and art-business experts who know their stuff. Making art can be solitary, but building a career is not. None of us go it alone, and certainly none of us "make it big" that way. We wanted you to be able to swap stories, articles, insights, advice, and just moral support, because THAT is how most of us really learn things that are truly valuable, in a lasting way. For us, the CONTENT and the COMMUNITY are inseparable twins—they go together like corned beef and mustard.
If you're still going it alone and digging through a mish-mash of help videos and course-selling sites, you can stop that now. Artists now have a place to acquire essential entrepreneurial skills AND connect with other artists. That's the wheel as we envision it. Take a look, join our community, and give a shout-out on the "Posts" page to let us know what you're up to.