I grew up in a middle-class household, and my father happened to be a successful visual artist who worked out of his home studio, sometimes at 3:00 am. If you compared my upbringing to those of my friends and classmates, you'd find that my home was one of the most well-adjusted. (Of course it was Santa Fe in the 1970's, so everything's relative, but still…) As a result, I took for granted that people could earn a living from the creation of art.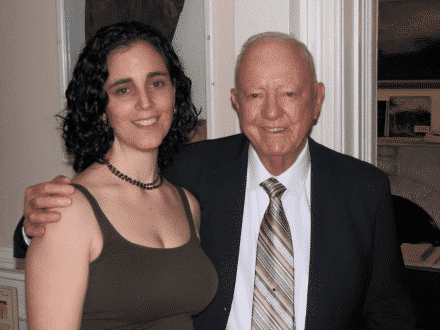 Looking back now, though, I realize that my father had advantages that other artists do not. His family was entrepreneurial and very driven–a temperament he clearly inherited. Although his father initially forced him into a field that he hated (physics), my grandfather relented in time, supporting Dad as he embarked on his chosen path. My father repaid the money that his father lent him to study art in NYC, but that too was an advantage, because it transformed the gesture from a handout into a business transaction.
Later, when Dad left art school, he became a commercial illustrator–a career that taught him many essential business skills, starting with how to deal with difficult people. Operating in a field that was structured around independent 1099 consulting work, he also learned how to price his work, negotiate rates, and manage his time. And because of his illustration jobs, he was able to save up enough money to finance his eventual shift to easel painting.
Not every artist, however, follows the same trajectory, or has access to the same opportunities, and that's where the Clark Hulings Foundation comes in. We're here to fill whatever gaps exist by providing visual artists with the tools and know-how they need to succeed at the business of art. It doesn't matter where artists come from, how they were raised, or what kind of art they create. What matters is their will to succeed, their dedication to the work, and their eagerness to learn and avail themselves of the resources they need to get ahead.
No More Starving Artists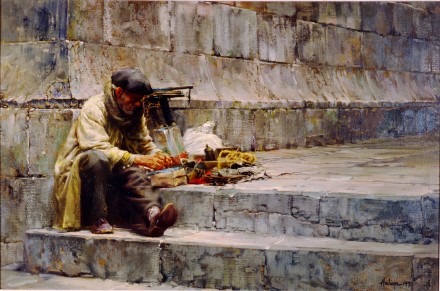 Most works of art travel a winding path. From their birth in a studio, they might go to a private collection, then a museum or gallery, and back again to another collection. Along the way, there are a lot of people who make money from the sale, trade, and display of those pieces, so why shouldn't their creators have the same opportunity to earn a living from their talents and efforts?
Artists are the ultimate entrepreneurs. They take on extraordinary risk in the hopes that they will procure a return on their investment—a result that is not at all guaranteed. It's up to the art market to determine the value of the works, and if the market sets a high value on those pieces, there is no logical reason that artists should not be fairly compensated for creating something that bears currency in the world. They should not be expected to work just for "exposure," or to starve for the "privilege" of doing their jobs.
If we were talking about individuals or companies in other fields—the accountant who does your taxes, the farmer who grows your vegetables, or the electric company that powers your office and home—no one would question their right to be paid for the value of their output. And it is just as silly to categorize certain jobs as "business" and others as "creative." Whether you are deciding what kind of paints to use, what crops will flourish in current soil conditions, or the best way to categorize a client's expenses, all work requires some creativity, and all creativity requires work. Professional working artists are no different than other entrepreneurs; they all need to master business skills if they are to earn a living.
What's a "Real" Job?
Another misperception against which artists must battle is the notion that they are less serious about their work than folks in other industries. They have often been branded bohemian dilettantes, people who stay up late, and get up even later, rolling into a studio only when the mood strikes—and not for very long—to play with paints or clay. There are, of course, artists who live down to this description, just as there are lazy office workers, and lackadaisical civil servants, but just because artists don't work in a cubicle, and keep "unconventional" schedules does not automatically mean that they are not working at least as hard—and often twice as long, even taking on "day jobs" to pay the bills—as folks who keep "regular" business hours.
From my vantage point as the daughter of a painter, I know firsthand that the life of an artist is not a 9-to-5 existence—you don't clock out on your art at the end of the afternoon, and inspiration can strike at 2:00 am on a Saturday—but neither is that of a nonprofit director, event producer, or any number of titles in today's job market. Although artists work in a studio, and have fluid schedules, other professional norms still apply. Art remains a business, and like other businesses, success in the art world requires risk, effort, business strategy, marketing outreach, networking connections, organizational skills, and financial investment at crucial moments. If an artist is willing to tackle the first two items on that list, the Clark Hulings Foundation is here to help them achieve the rest.
To receive the "Director's View" column by email each month, please sign up here.