Social media has revolutionized how artists sell their art in the 21st century. Gone is the day when they had to wait for a reputable gallery to "discover" them. Today, visual artists can access a whole new pool of potential clients—branding themselves, building a fan base, increasing engagement, and driving up sales exponentially—using nothing more than a laptop computer, a reliable Internet connection, and a few marketing tips.
Choose Your Medium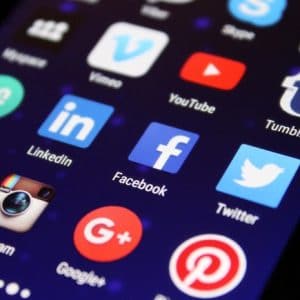 The reach of social-media platforms is staggering:
Facebook has more than 840 million users worldwide, and these folks share more than one billion connections. Over 50% of North Americans are active users.
Twitter: more than 310 million active monthly users
Instagram: more than 300 million active users.
Pinterest: more than 100 million active monthly users.
LinkedIn: more than 430 million active members.
These figures represent a world of potential clients, but unless you have a huge marketing team and budget, it's difficult to get the most out of all of these platforms at once. You're better off focusing on those you think will work best for you.
1. Facebook
Facebook is a rich resource for making new connections, finding new audiences, and showcasing your work. It's easily integrated into websites, blogs, and other social networks. The medium's timeline photos, large-sized thumbnails, and tagging capabilities give it an unmatched visual advantage. And it has the fastest-growing audience of art buyers.
To increase interaction with your brand, you can create your own art page, side by side with your personal profile. You can also join art groups and interact with collectors, galleries, and other artists.
2. Twitter
Twitter is popular with middle-aged working audiences that have already developed an appetite and appreciation for art. Recently, the site has improved its image options, and it's easy to share web and blog content with catchy captions and hashtags.
3. YouTube
Many visual artists steer clear of YouTube because their artwork is static, but that's a mistake. YouTube is one of the best search-engine drivers and most popular video sites, making it a great asset for boosting traffic and promoting upcoming shows.
Why not create a YouTube channel that features interviews with collectors, gallery managers, and event sponsors? You can also give clients a glimpse of your artistic process—sharing works in progress and tours of your studio. If you use your YouTube channel to demystify art, you'll attract new buyers.
4. Pinterest
While Pinterest may not work well for selling, it is a wonderful branding platform, allowing your followers to re-pin your images, and spread the word. Your images should link back to your website, blogs, and other social-media accounts, generating interest and gathering feedback on your work.
5. Foursquare
Many folks overlook Foursquare, but an astute artist can use this platform to provide locations for galleries. For instance, why not add a tip that lets users know the dates your work will be on display at a particular location? You can also describe tours, and list collections and other galleries that show your work.
Have a Marketing Strategy
While social media is entertaining and most definitely addictive, it can also be distracting and irritating—like when you receive hard-sell notifications from the same person every 30 minutes.
The most effective way for you to coordinate the branding and selling of your work is to have a plan. Know the best times of day for reaching the maximum number of people in your target market. Here's a breakdown for the most popular social-media platforms:
Facebook –  Most shares: 1pm EST; Most clicks: 3pm EST
Twitter – Most retweets: 5pm EST; Most clicks: 12pm EST
Instagram – Anytime that's not during traditional work hours (Fortune 500 companies bombard Instagram with content, which makes it hard for your voice to be heard.)
Pinterest – 8pm – 11pm EST
For a relatively small investment, a professional business coach can offer valuable insights on social-media marketing strategies. As marketers themselves, they can also help you set up a schedule that allocates time for answering questions and/or reacting to comments from your followers.
Encourage Engagement
What happens if you don't receive any comments? Do not fear. There are many ways to draw an audience to your channels:
Start a conversation using engaging content and images. Use the Twitter search function to find out what's trending, and address those topics. By sharing your opinion about the subjects that people are already discussing, they are more likely to engage with your brand.
Be honest and raw. Show pictures of your very first pieces—yes, the ones you created in middle school that now make you cringe. Make it interesting, and don't be afraid to poke fun at yourself. Others will love your open nature, and will want to associate with your brand as a result.
Create a contest that offers art as the prize. If you are a portrait artist, for instance, you can create a caricature (even if that's not your usual thing), and ask followers to identify the subject. The first person to get the correct answer receives one of your existing artworks, or maybe something you've created specifically for the contest. This will earn you free marketing and (potentially) press attention.
Be Smart and Treat Your Followers With Respect
Billions of social-media profiles make for stiff competition, so you have to be smart if you want to get results. Remember to be consistent across all of the platforms you use. Research your audience. Monitor your feedback. Treat your followers as the individuals they are. Charm them with your authenticity. Then dazzle them with your art. That's what real marketing is all about.
ADDITIONAL INFORMATION:
Communications Consultant Denise Graveline offers 11 social-media tips for visual artists.
Help CHF provide valuable resources to working artists.
Support our work with a tax-deductible gift.