"As one absorbs his work, especially his market and village scenes for which he is famous, the technical proficiency his work displays, his excellent craftsmanship, lifts his work out of mere social commentary or ordinary landscape painting into a higher realm, something both real and spiritually uplifting. He had something of the same quality I admire in Andrew Wyeth's work. His work feels timeless."— Huffington Post
Happy Birthday to Clark Hulings! November 20, 2021, would have been Clark's 99th Birthday, and there is so much to celebrate. Our current generations of artists continue to thrive, inspired by his masterful balance between the muse and the market. We have BIG plans for his 100th Anniversary: watch this space!
Click here to help us turn today's working artists into thriving artists.
Join us for a deep dive into what makes Hulings' art and legacy so relevant now.
HE DEPOLARIZES. Hulings' work unites us by placing us in others' shoes, showing us other contexts, and making us think for ourselves.
HE TRANSFORMS. Hulings' American work ethic, discipline, and determination, combined with his rare skill and talent, carried him through a fifty-year career with remarkably few dips. His drive galvanizes artists and collectors alike to reach their own potential.
HE INVIGORATES. Artists who study Hulings' paintings and drawings see in them not only an apex of representational work to which they can aspire but also a melding of techniques and ideas that offer a roadmap across the 20th Century from American Impressionists and Realists to their own creations.
HE DIGNIFIES LIFE ON EARTH. Hulings' intrepid travels resulted in striking depictions of our vast, complex, yet fragile world—reminders of what we are losing.
Melting Pot and Melting Planet: Hulings' Message is Meant for this Moment
"I love the potential for romance and dignity waiting to be discovered in the colors, shapes, and textures of a junkyard of rusting cars." — Clark Hulings
Hulings' recognition of the everyman, belief that there is no "other", and ability to pull us right into a scene and then make us fend for ourselves in it, are just as useful today as they were when he began painting in the 1950s. With every painting, Hulings demanded that we see everyday reality and create meaning from it for ourselves as individuals, and as human beings. By placing us in others' shoes, he forced us to think and create our own stories about the world at large. That kind of perspective is incredibly valuable at this moment of global polarization.
Hulings' work is a continuous recognition of ordinary life, punctuated as it is by labor, domestic activity, and market commerce. He was fascinated by the myriad ways people live and do things, always eager to showcase hard work and ingenuity and to remind us that we depend utterly on the multitude of others' actions. Fruit doesn't arrive in the market by accident. There are countless essential steps in the chain that bring it to our door.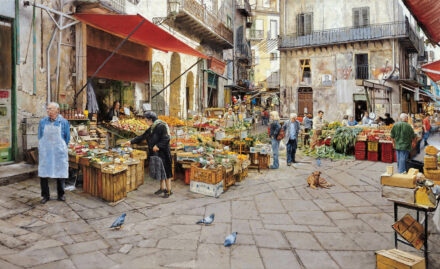 Master-Level Work: Hulings Produced Exceptional Art.
"Hulings' art speaks to the profound beauty that surrounds us all. We begin to see how the painter sees."
— Art Today
"He is my inspiration, motivation, and teacher by example." — Craig Shillam
Clark Hulings knew all the rules and was more than proficient to execute them, but he also knew when and how to break them to achieve his desired effects. He is known as a painter's painter. Artists study his work the way chefs taste each others' dishes—to glean inspiration and knowledge so they can improve their own. Hulings' technique, both with oil and watercolor, is revered, and his subject matter has long been emulated. His work continues to be appreciated and avidly collected by those who know it. The longevity of his career, as well as the consistency and quality of his oeuvre, are remarkable and require our attention.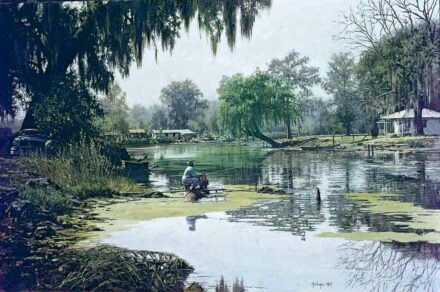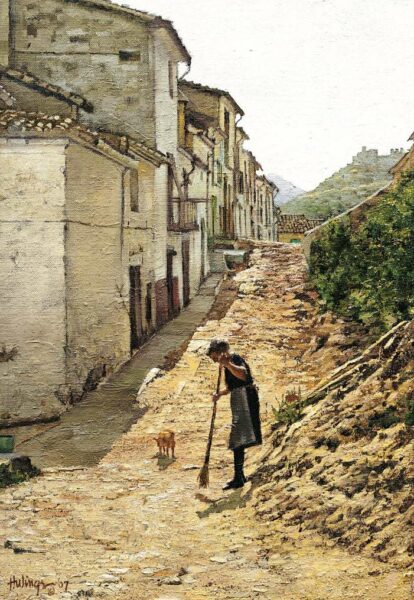 Endless Exploration and Stalwart Dedication: Hulings Worked Like the Donkeys He Loved to Paint
"Better 5% talent and 95% drive. It's the drive that gets you somewhere…" — Clark Hulings
Clark Hulings worked a minimum of 42 hours per week, until well into his 80's. When traveling on a subject matter hunting trip, he would awake at dawn and not stop moving until well into the evening, sometimes forgetting to eat, sometimes sleeping in the car at the scene he was scouting. At home, he would paint for 3-hour stretches, sometimes in the middle of the night, if an idea pierced his sleep.
He considered himself a "trial and error" painter, and he constructed his compositions from the ground up, creating a "recipe" for each new work. He would start with a basic scene— market, street, landscape—that he had scoped and recorded in every which way. To this, he would add elements—bicycle, woman, duck, trees, skies—from source material collected in different locations and across decades. When he had gathered as many possibilities as he thought he might need, he would prepare a canvas and start drawing. Then he would paint in layers, adding and subtracting, and changing as the picture unfolded. Nothing below par left the studio, and "par" was a very high bar.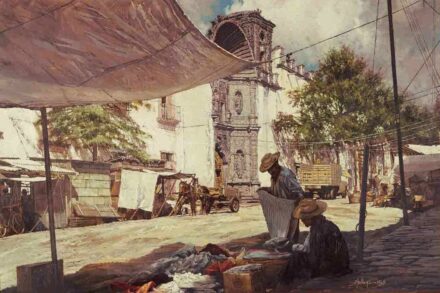 Manifest Destiny: Hulings the Entrepreneur
Clark Hulings went his own way and followed his own muse when it came to his art and his career. He set his goal to be an easel painter in 1934, when he was twelve years old, and did not rest until he had achieved it. Tuberculosis, World War II, and a father who was not in favor delayed, but did not stop him. Hulings' desire to communicate the dignity of the human experience during a century of Modernism meant he had to work harder, and smarter to reach success, but the fashion of the times did not stop him.
Nor did the traditional organization of the visual art industry stop him. He worked without representation—for almost twenty years. When auctions came on the horizon he contracted to sell his new work directly. Hulings bought his own advertising, negotiated what subject matter he was allowed to enter into various group competitions, wrote his own books and catalogs, and stood on press when his work was reproduced. The Clark Hulings Foundation provides business support to today's artists so they can follow in the footsteps of this artist-entrepreneur.