2017 Accelerator Fellow
Where did you grow up?
I am a Midwesterner at heart—born and raised in Evanston, Illinois. The house I grew up in was within walking distance of the city of Chicago and the shores of Lake Michigan. That Great Lake played a big part in my upbringing, and still informs my work with memory and metaphor.
When/how did you first know that you wanted to be an artist?
As a child, I was asthmatic and had to be very still and quiet. With my mind's eye, I drew around everything; I traced the shelves, the books, the walls, even the figure drawings that lined the dining room. My mother, who was also an artist, encouraged me in everything I created and bought me adult-grade supplies even when I was very young.
I didn't know that I was epileptic until the age of 18, so before my diagnosis, whenever I drew comments for my habit of staring off into space or my lack of concentration in school, Mother would simply say, "She's fey. She's going to be an artist." There was never anything else.
Where do you currently live/work, and how would you describe the arts community there?
I live and work in the high desert of Albuquerque, New Mexico. I connect with other artists on an ongoing basis through weekly figure-drawing groups. In a low-income, low-population state with a harsh environment and few opportunities, my sense of the art community here is one of true grit.
How would you describe your art to someone who's never seen it?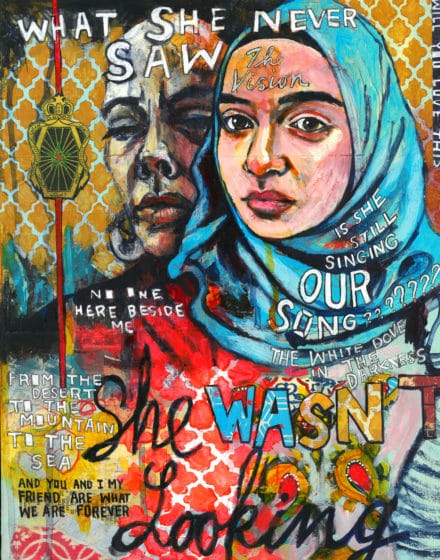 I am a storyteller. I create mixed-media paintings, figure drawings on paper, and artist books that combine narrative with imagery. I do not start out with an idea or plan, and then execute it. I begin spontaneously, with paint, collage, or writing, and allow the work to arrive rather than strong-arm it into something that needs to be beautiful or make others comfortable. I add layer after layer, working on many pieces at once until a story begins to emerge. This may happen over many years' time, as stories get lost and found, until they feel complete. I respond to the work, letting it tell me what to do next. I am always in the unknown as I access signs and symbols from the unconscious for transformation.
What do you hope to communicate to your audience?
I strive to communicate a depth of personal emotion that also gives voice to feelings that my audience may not have been able to express until viewing my work. I believe that my art awakens and stirs the soul of the viewer and opens them to the mystery within—that ineffable something inside that needs to heal and express itself. My work can be challenging to some and may bring up their fears and projections, but it is in this way that I hope the work elicits mercy and compassion.
What's been your biggest business challenge?
As an artist with a disability, I find time management, organization, and focus to be my biggest challenges. I have seizures all day long, which makes it difficult to concentrate and set priorities. I am often at a loss with regard to exactly what I am doing (or sometimes even where I am), and I'm unsure of what I have already done, so I end up repeating tasks. Some of the ways my epileptic brain works cause a lot of anxiety, but it's that same dysfunction that makes me the artist I am.
Tell us about a business success and what you did to achieve it.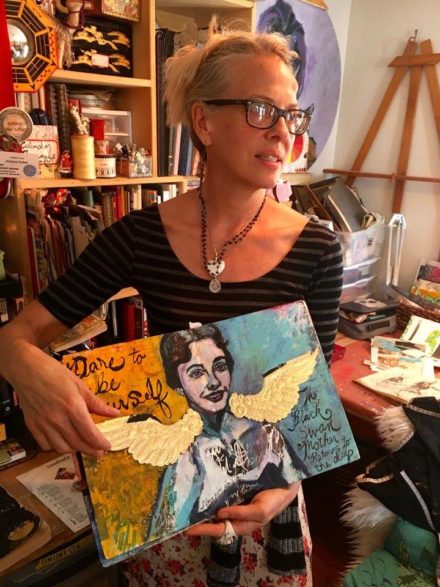 As a teacher, I have designed workbooks for every workshop I've ever taught. (Basically, they are black-and-white folded-paper booklets.) I use them as a script, as well as a handout. When students started asking if they could buy workbooks from my earlier workshops, I considered the possibility of selling them. I opened an Etsy online shop, and the first year I sold $17,000 worth of my workbooks!
It took a lot of steps to get there—organizing an inventory of the classes/workbooks, choosing which ones to sell, writing the descriptions, getting the images up on the site, figuring out how to ship them, and marketing/advertising my shop and products—all of which was beyond my skill set at the time. Making those sales was a real achievement for me.
How do you feel about today's technology (tools for your business, for creating your art, or both), and has it altered your way of doing business?
Certainly, computers and cell phones have changed the way people do business, interact, shop, and play. I am excited about some of it, while some of it intimidates me and even prompts resistance. But I know that if I want to have a presence in a mostly Internet-based art economy, I will need to update my skills.
What do you think about the state of today's art market?
To be honest, I don't know anything about it. Clearly, neither talent nor skill have anything to do with sales, pricing, or who becomes famous. But there are artists who are making it in today's market—producing and profiting—so I might as well be among them. And even if the market is at an all-time low, does that matter? Will it stop me from doing what I do? I'm epileptic, so reality doesn't mean a lot to me. My existence is proof that anything is possible.
Give us an example of how you balance studio time with business time.
I find that business time takes up most of my day as I juggle all of the different things I do to make a living, such as teaching and product sales. It's very easy for me to feel desperate—that I'd better work, work, work—so I make sure to attend at least two figure-drawing groups per week. I rework and layer my drawings, so there is a lot of preparation involved, and that gets me to the studio.
Typically, I am only in the studio when I have a show coming up, and I'm working my ass off. Those are my best days. I aspire to tip the scale in the direction of art-making; that is the deepest source of my longing.
How have you evolved as an artist?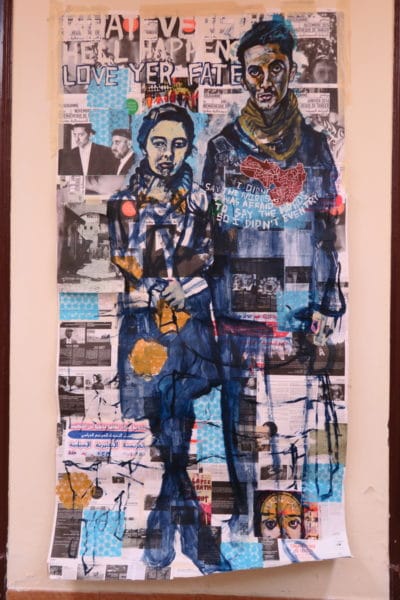 My evolution as an artist occurred while I was doing other things. It happened when I thought nothing was happening, and especially when I took a break from my art to focus on teaching.
One day when I was back in art school, I ran into an older student I knew. "How's it going?" she asked. I told her that things were not going well. I was very discouraged because all of my drawings from that semester sucked, to which she said, "Oh, lucky for you!" So I replied, "No, you didn't hear me. I'm sucking." What she went on to say was that my discomfort was a good sign; it meant that something new was going on below, on a deeper level. When something feels like it is going wrong or that nothing is happening, THAT'S when the juicy stuff is brewing.
I try to remind myself of that conversation whenever I feel frustrated; evolution is happening, whether I notice it or not. Whether I have faith in it or not. Each thing connects to another. A residency in Morocco led me to apply for CHF's Accelerator Fellowship, which led me to apply for a summer residency at Otis College of Art and Design, which is guiding me to a completely new project that feels monumental.
Robert Johnson, the famous Jungian, referred to these synchronistic events as the golden threads that wove his life together. My process continues to evolve, yet it also remains true to my expression and philosophy. My life is my art. Artistic evolution is both meandering and cataclysmic, and it's a lifelong process.
How have you evolved as an entrepreneur?
I've worked hard to make a living from my art and teaching. As an epileptic, I've never been able to have a 9 to 5 job, so I've had to be creative. I've tried a lot of things and though I may not have earned a lot of money from them, I am very proud of my endeavors. My past serves as a solid foundation upon which I can grow my business.
The most important step in my entrepreneurial evolution is that I am here in this program, ready to take my career to a higher level and be the success I envision. I understand where my behavior, practices, and websites are not serving me. In just a couple of months, I am seeing the world with new eyes and asking myself how each step will develop my career. I am starting to put the desperation behind me and opening myself up to greater possibilities, to all that I can accomplish with CHF's help!
What role do artists play in our society? What role SHOULD they play?
Artists ARE society. They are the creative problem-solvers who are always asking questions and pushing the envelope. They are activists, songwriters, and poets who speak out about the government. They are performance artists who address transgender hate crimes, painters who assert that black lives matter, and sketchers who document the world around us. They are visual journalists telling the world what it feels like to be sad, to be hurt, to be alive. They are musicians who trumpet injustice, opera singers who make us feel what we lack the words to express, writers who make us think in new ways, and filmmakers who challenge us with another person's pain and bravery in the moonlight.
Artists are also mothers, brothers, sisters, lawyers, doctors, and police officers who create and build when they can. We all have the ability to challenge the world—to make it think and feel. Each artist plays his or her own role. My role is as a healer who encourages compassion, both in my work and through my teaching. Another artist's role may be as an instigator who incites anger, because that is also part of creating change.
For more information on Juliana Coles, see her official CHF bio.
Want to see more great art in the world?
Help hardworking artists like Juliana run self-sustaining businesses. Support CHF's educational programs by making a tax-deductible donation today.