2017 Accelerator Fellow
Where did you grow up?
My father was in the US Marine Corps so we moved frequently and traveled a lot. I was born in New Jersey, but my first memories are of Camp Pendleton, the USMC base north of San Diego. From K through 8th grade, I attended eight different schools. We often spent our holidays with my grandparents in New Jersey.
When/how did you first know that you wanted to be an artist?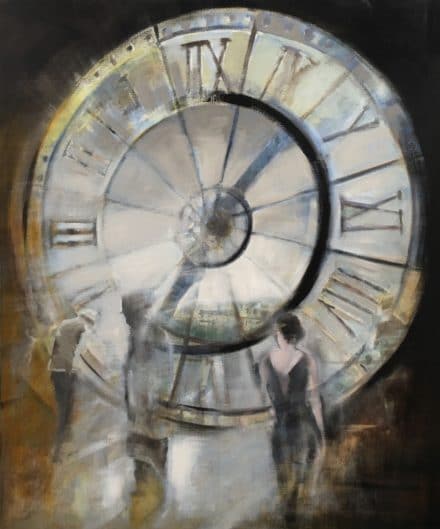 As a six-year-old, I fell under the spell of painting. My father had just finished a tour of duty in Vietnam during the war, and we reunited as a family in Europe—first in Paris, where my parents had lived as a young couple, and then a few days later in Amsterdam. At the Rijksmuseum, I was captivated by the Rembrandt painting entitled The Syndics of the Clothmakers' Guild. I knew the image from seeing it on the lid of my father's favorite brand of cigars, Dutch Masters, and I found it oddly comforting. For a brief moment, everything in my young mind seemed to make sense: Dad's return from war, our family reunited, the cigar-box lid amplified and enlarged by the genius of Rembrandt on the wall. I have been creating art ever since.
Where do you currently live/work, and how would you describe the arts community there?
After spending a number of years in San Francisco and New York City (the latter for graduate school at NYU), I moved to Santa Monica, California, which is where I currently live. More than ever, I feel that the arts community in Los Angeles is taking off. I am part of a group of artists at the Santa Monica Art Studios that is driven to create, share knowledge and experience, and help the community at large. I also belong to a small local group called Artist Matters, which is hosted by the noted art writer Peter Clothier and his wife, gallerist and artist-mentor Ellie Blankfort, and I am connected to many people from the world of film and literature. I recently hosted a panel discussion called "Art In the Time of Trump," featuring a variety of noted experts from different fields.
How would you describe your art to someone who's never seen it?
I have been painting for three decades. My current studio is an old airplane hangar where the flurry of takeoffs and landings on the runway outside creeps into my artwork, as I explore movement, time, and travel within my light-filled paintings.
I am primarily an oil painter but I also create monotypes—singular impressions painted on a metal plate and pressed onto paper. The freedom and spontaneous nature of the printmaking medium helps inform the movement of pigment in my oil paintings. I go back and forth between paintings and monotypes. When I am home, I generally paint daily in my studio, and when I travel, I am constantly sketching, taking notes and photos, and reflecting. Every one of my paintings is a compilation of moment and memory filtered through the process of mark-making. Figures and places appear in my paintings as if summoned from long-lost dreams. As I paint, scenes flicker across the canvas. Sometimes, the images remain fixed, but more often than not, they are lost in a flurry of brushstrokes, leaving ghosts of their former selves. For me, my paintings feel like a magic movie screen that holds shadowy images of all the films that have been projected on them before.
The series I'm currently working on is entitled Mystery Train (the name is a nod to the blues song of the same name). It evokes America's railways, which are part of this country's enduring mythology and also happen to run deep in my blood. My grandfather worked as a railroad fireman, stoking coal in steam engines before becoming a train engineer on the Jersey Central Line. Family gatherings brought the rhythms of the rails home. The sounds of railroad workers echoed in the music that my relatives played in the shadows of the trains that passed outside. Often, my grandfather would wave to my grandmother as his train passed by their house.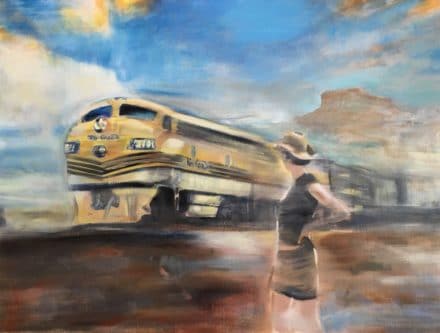 What do you hope to communicate to your audience?
Inspired by the long line of painters that came before me, I see oil painting as both the passing down of an almost mystical tradition and the perfect media to capture our current moment in time. I am intoxicated by the vegetal fragrance and the synergistic relationship between linseed oil and linen surfaces.
On life in general, my message is to be relentless. Breathe in the world around you. Have the courage to be yourself. Find friends, peers, and mentors who accept you and are a source of support. And work extraordinarily hard at your craft. Study the work of the great masters from around the globe—those long gone and those who are making art today.
What's been your biggest business challenge?
Balancing individual exhibitions in galleries and art fairs with the long-term challenge of sustaining my career.
Tell us about a business success and what you did to achieve it.
My biggest business success has been holding steady on the prices I charge for my paintings across all platforms and sales opportunities. I have been selling seriously for a number of years and have resisted the pressure to offer "extravagant deals" that would eventually devalue my work. My strategy is to create artwork at various price points, so that most people can find something they can afford. As an an NYU graduate student, I met with the noted art dealer Ivan Karp at his gallery in SoHo; when I showed him my work, he advised me to have art that all types of people could buy. "Paint big paintings, for sure, but also paint smaller works that are more affordable. And make cards and sell them at a low price. People will cherish the things they pay for."
How do you feel about today's technology (tools for your business, for creating your art, or both), and has it altered your way of doing business?
Current technology has created new opportunities and makes it much easier for artists to connect to their audience. Having lived in San Francisco in the 1990s, during the first Internet boom, I was introduced to the early stages of social media and online sales, and I continue to use these in my business practice. In the early 2000s, I started blogging about art and society, which has given me the opportunity to meet art writers, collectors, and artists all over the globe. I became very active on Twitter soon after its debut, and I also use Facebook and Instagram, and sell my art online at Saatchi Art and Artspace.
What do you think about the state of today's art market?
From conversations with my friends who are art dealers, I understand that the current bricks-and-mortar market is in a period of great change. Middle-tier galleries are getting squeezed by high rents and slow sales, while blue-chip galleries continue to do very well. Pop-up shows seem like a good idea for many.
The way I see it, the market has rarely been better for artists. Thanks to the Internet and social media, my reach is now global. I recently sold a piece to a collector in Estonia, and in the past year I have sold and shipped paintings to New York City, Phoenix, and Park City.
Give us an example of how you balance studio time with business time.
My high-speed Internet connection is in my home rather than the studio. This helps me compartmentalize my tasks, and also limits distractions on both sides of the studio/business equation.
How have you evolved as an artist?
I cannot remember NOT making art. My early travels across the globe sparked my curiosity and appetite for beauty. In describing the art of Tibet, art writer Holland Cotter called it an "art of fusion" that helps us learn how cultures "intersect, interact, serendipitously echo one another." It is these intersections, interactions, and echoes that fuel much of my work.
I have spent my life learning artistic techniques. After I had finished my formal studies, my artistic voice was ready, but I still had to hone my vision by doing the work. I have been painting non-stop ever since, and my work has evolved from addressing subjects of personal concern, to art that speaks to a broader audience. Now, the material or medium I use changes with each new idea that I consider. As I work with the surface and the paint, I am physically engaged in each moment. The figures in my paintings express what it means to be alive in the 21st century, both here in the U.S. and across the globe.
How have you evolved as an entrepreneur?
In high school and college, I began selling my work on a small scale, which gave me the courage to move forward with an art career. My time at NYU helped prepare me for the world at large, so I ventured to Japan, and painted and found galleries to present my artwork. When I moved to San Francisco, I secured gallery representation, and by riding the Internet boom, I built my business online. The creation of my current Santa Monica art studio in 2004 gave me a concrete home for my vision. Even as my galleries shift focus or go out of business, my art and its audience remains—I am now on the map. And the next chapter has begun with the Clark Hulings Foundation.
What role do artists play in our society? What role SHOULD they play?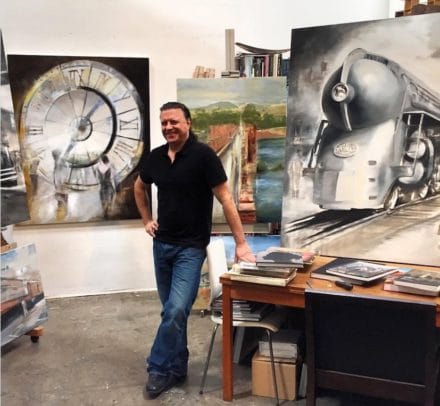 When a Buddhist image is created, the eyes are the last thing to be painted, because it is believed that the eyes give life to the Buddha or the saint. As artists, we "paint in" the eyes as well, adding the spark that injustice threatens to take away. Artists should never forget their power to do this. It is the poets and writers and artists of the world who so often are the ones to speak the truth. If we do not do it, how will the truth be told? How will those fighting for justice be supported? How will they know that we understand? That we care? That we stand in solidarity? If we ignore the call, how can we live with ourselves?
In times of crisis, artists keep their eyes and ears open, and their hands actively at work. By bearing witness, we force those who commit acts of state-sponsored injustice to look upon their own actions. We refuse to let them forget. Visual art is a language that can be invoked by disparate communities—a symbol that shines a spotlight where it is needed.
I hope that the lyrical nature of my work draws people in and prompts them to ask, "This piece depicts a beautiful person, but who is she? What is her story? What is she saying to me?" A vibrant, powerfully composed painting is both timeless and immediate; it can cut through the visual white noise that surrounds us. Art can speak across oceans and cultures when words are not enough.
Anything else you would like us to know?
Proud dad moment: I have a wonderfully bright 22 year old—Cassiel Chadwick—who is currently a college student and a budding video game developer. Cassiel is also proudly transgender, so supporting LGBT rights and social justice has become an even larger part of my life.
For more information on Gregg Chadwick, see his official CHF bio.
Want to see more great art in the world?
Help hardworking artists like Gregg and the rest of our Fellows run self-sustaining businesses. Support CHF's business education programs with a tax-deductible donation.