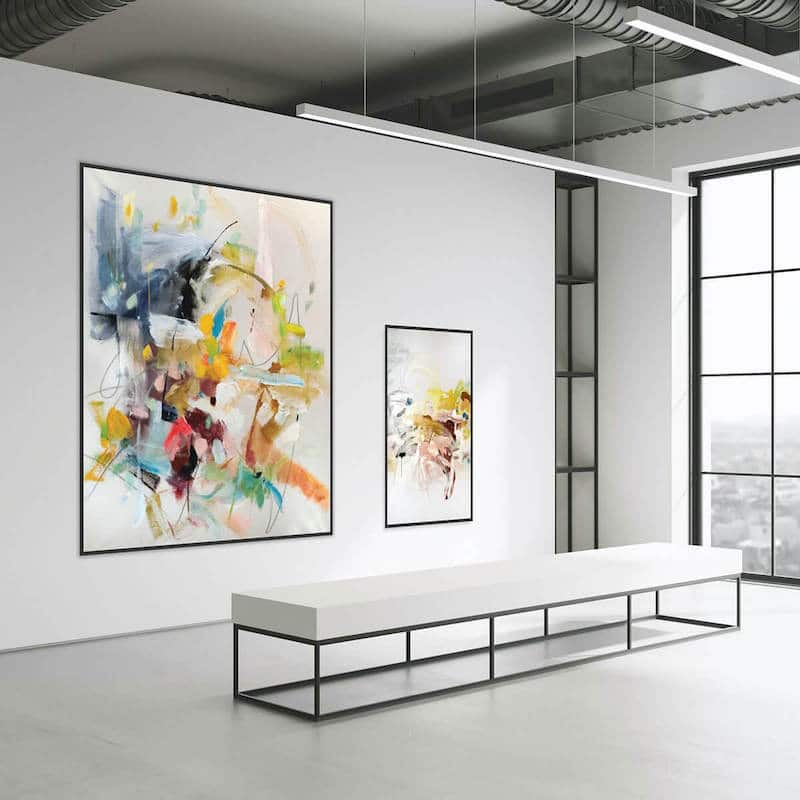 We're excited to welcome ArtPlacer as a conference sponsor for our Virtualize Your Art Career Conference (Oct. 19-30, 2020). ArtPlacer is embracing the "The New Normal"—a changing, increasingly virtualized art world—through its Online and Mobile App-based art-viewing platform, enabling the art world to visualize art in place to prepare for events and gallery exhibits, and to enhance collectors' experiences of imagining art in their homes. ArtPlacer offers artists, gallerists, and curators the profound opportunity to engage with other art professionals and expand their business potential by making a virtual portfolio accessible to a wider audience. CHF Staff writer Kate Seklir discussed the platform with ArtPlacer's Nicolas Michael & Erica Goldemberg.
Kate Seklir: How does ArtPlacer work with artists to best showcase their art and elevate their overall business potential? What benefits do artists get by working with ArtPlacer?
Nicolas Michael & Erica Goldemberg: Artists are incredibly talented and have a lot of potential, but they sometimes struggle taking all of that creativity online. ArtPlacer is a powerful tool that helps them achieve proper art layouts in a matter of minutes so that they can showcase their pieces at scale and in different scenes.
The software offers sample rooms to "pick and hang" artworks, and the possibility to upload your own room, which is a nice asset if a potential customer wants to see how a piece would look in their home. These previews enrich artist's websites and social media profiles, providing an exciting virtual viewing experience.
We believe that one of our most precious jewels is the ArtPlacer Widget, which is embedded within the professional's website and provides a significant differential value from just-the-artwork websites. One of the hardest things about understanding art in a virtual world is getting a sense of the scale of the pieces. How large are they? How do they look in relation to my sofa? The ArtPlacer Widget quickly provides prospects with visual support, aiding the decision making process and which ultimately landing more sales.
KS: In what ways does ArtPlacer facilitate a more interconnected art community, and how is it able to take advantage of the increasingly virtualized art world in order to do so?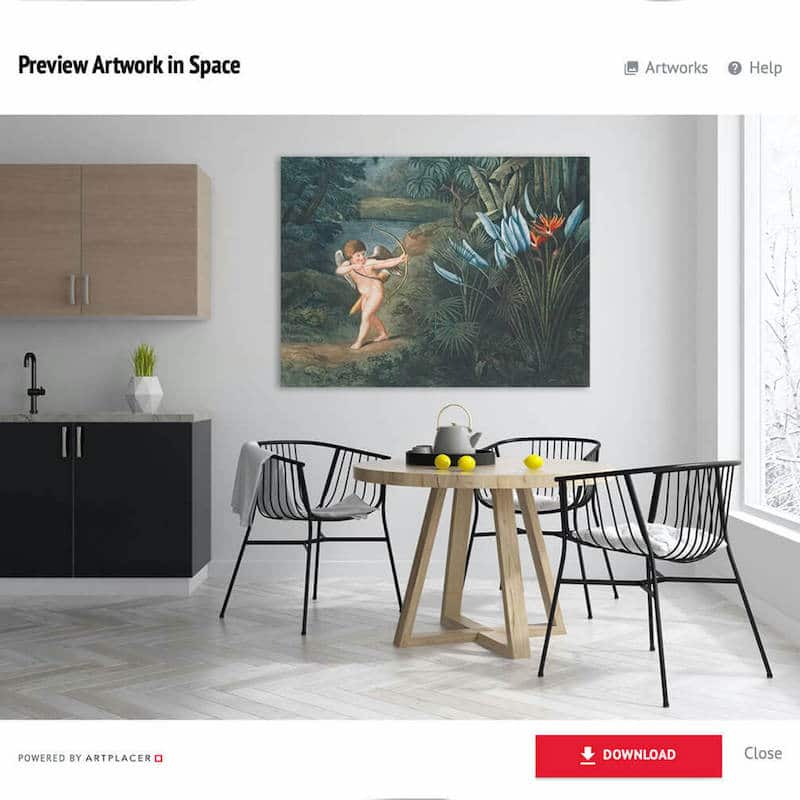 NM & EG: With the COVID-19 crisis forcing the art world into an abrupt lockdown and online becoming the sole promotion channel for most artists, we immediately understood that action had to be taken on our side as a software start-up. Setting up a polished website can be time-consuming and expensive for many artists, so in order to contribute to the art community, we created the Discover ArtPlacer site.
On this site, art professionals can present their work, show curated collections and reach a broader audience of art lovers. This online platform can work as a personal profile or as a Viewing Room; we added the ArtPlacer Widget to provide a sense of spatial verisimilitude, enhancing the collector's experience. They can view how the art pieces look in their own spaces by uploading or taking a picture of their room and by clicking on the Augmented Reality module that will pop the artwork onto the wall in front of them, through their device's camera.
There's something really powerful in artists learning from peers and other art professionals, and that's why we use our blog and social media profiles to portray our amazing community. These channels amplify their personal experiences; their adaptation process, fear confrontation, new online business models, etc. We like to provide good insights and advice to help art professionals survive and thrive in the "new normal." We believe that in these new and challenging times, virtual opportunities and innovative strategies are the lifelines of the artistic community.
KS: In what ways has the ongoing pandemic forced ArtPlacer to adapt and grow, and how have you seen different groups of art professionals—artists, curators, consultants, gallerists, etc.—each shift their practices in distinct ways?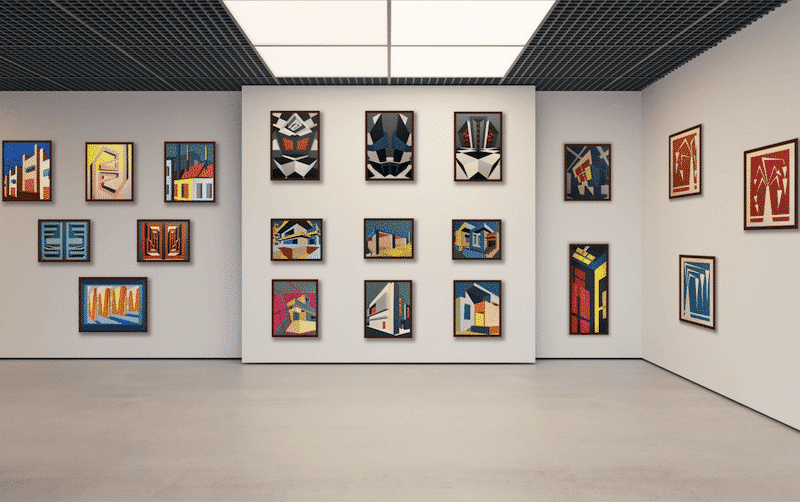 NM & EG: Many art professionals have begun using ArtPlacer in the past few months because of the urgency of taking their art business online. We have users from all over the world, currently in over 85 different countries.
Artists—and small and mid-size galleries—were struggling with growth, planning, and becoming more visible online, and ArtPlacer has served as an excellent tool for them. Curators and galleries are creating and hosting virtual exhibitions and rich viewing experiences.
We hurried to launch the Discover site and Mobile App with the Augmented Reality module, enhancing the sense of actually seeing the art in front of you.
KS: What are the ways artists can best prepare themselves to work with ArtPlacer and take advantage of the resources ArtPlacer has to offer? What are the advantages in having a background in art-business education and a comprehensive brand story when partnering with an organization like ArtPlacer?
NM & EG: ArtPlacer is a very intuitive tool, so no professional experience is required to use its features. Users can easily achieve beautiful layouts to post on their social media profiles, Etsy shop, websites, you name it.
Nevertheless, having an art-business background is a plus when using these previews for marketing purposes. The visuals of art pieces in curated rooms can help artists build a cohesive brand story and online presence, creating an engaged community that supports the work they do.
Whether you are a small artist looking to have a better Instagram profile or a seasoned one looking to leverage its art career, ArtPlacer is a great digital partner. We offer different plans to suit everyone's needs and budget, starting at $11 a month.
KS: How does ArtPlacer integrate new technologies into its business model, and what effects do these innovations have on how art is shared?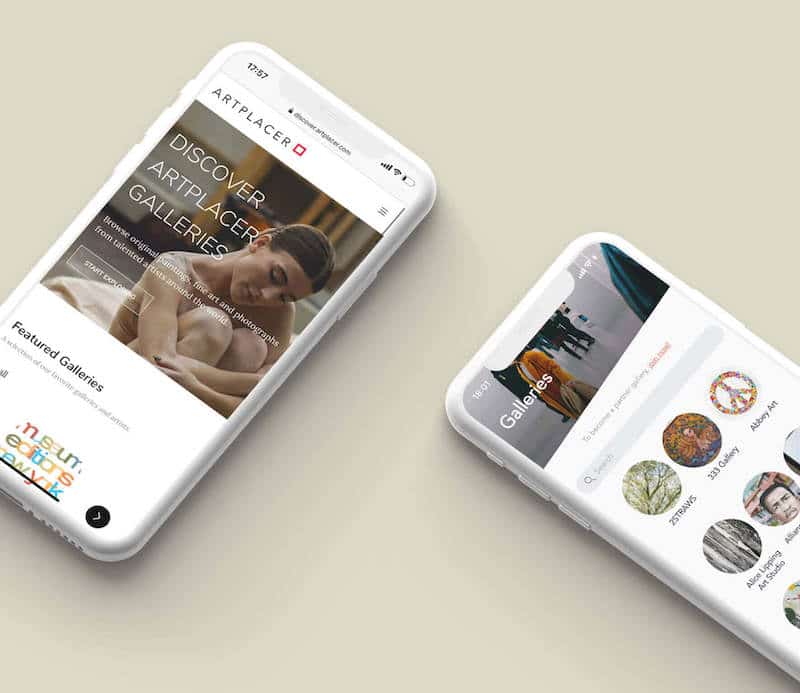 NM & EG: New exciting developments are on the way in terms of display, curation, content, and user experience.
ArtPlacer currently offers the ability to create layouts with perspective and proper dimensions either on a vast selection of stock rooms (art fair booths, galleries, living roms, offices, lobbies, bedrooms, and so on) or on your own walls by uploading a picture of your room. This functionality does wonders for artists' and galleries' Artworks Pages, and can be seamlessly installed using the ArtPlacer Widget to allow visitors to try art pieces right then and there.
As we mentioned, we have recently launched the ArtPlacer Mobile App on the iOS store and it is soon to be released on Google Play. Using Augmented Reality technology, you can view art pieces on your walls in real-time, mimicking the feeling of seeing the artwork on your wall in-person. This involves the collector at a different level, increasing their interest.
The Mobile App and the ArtPlacer Discover site allow collectors to browse the art of ArtPlacer's users and experience their art pieces with ArtPlacer's technology.
Going forward, we will be launching 3D exhibition experiences to allow users to navigate a gallery space in real time. We are very excited with this upcoming feature, so stay tuned!
KS: The theme of our 2020 "Virtualize Your Art Career Conference" is "The New Normal." What does ArtPlacer see as "the new normal" for the art world?
NM & EG: We hope that the pandemic ends and is controlled very soon. We firmly believe that a "new normal" has already been accepted and adopted by the art world. This "new normal" relies strongly on an online connection between artist and consumer. Even though live exhibitions will come back and will be visited frequently, there is no question in our minds that online tools are here to stay, as they are a great way to connect people from all over the world and provide opportunities to view, try, and sell art.
Thank you Erica & Nicolas! For more information about ArtPlacer, visit Discover ArtPlacer and the Mobile App.