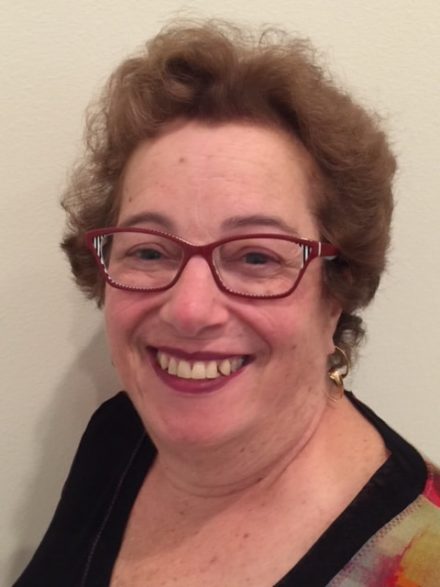 Rickie Leiter is the publisher of The Rickie Report, which covers the visual art scene from Melbourne to Miami, Florida. Her free online publication features artist stories, helpful tips, upcoming art events, and calls to artists and artisans for both juried and non-juried shows. In this Spotlight, Rickie tells us about the many hats she's worn and how those experiences have helped her become a linchpin for South Florida's art world.
Tell us a little more about what you do.
I am in close contact with individual artists, gallery owners, museums, art leagues, guilds, and organizers of visual art events. I network with their members, publish articles about their events, and encourage art lovers and art patrons to become involved in the visual art community. With connections reaching beyond South Florida, I am eager to bring new ideas, present innovative marketing plans, and connect previously non-involved people to these art institutions.
As a little girl, my dream job was to work as a reference librarian, linking people to information they didn't even know existed. As a former psychiatric social worker, I use my skills to analyze the needs (of an individual or a group) and then find potential solutions. I'm a bit like a concierge. I tend to think "big," seeing possibilities when others may be confounded by the challenge they are involved in. I love interacting with all of these creative people, and I especially love working with emerging artists. When I speak with them about how to market their artwork, there are those "a-ha" moments, when you know that they just get it… and that's so exciting and fulfilling. It makes my efforts all worthwhile.
Before The Rickie Report, you were an art advisor in Massachusetts.
After working for ten years in a school system, I felt the need to return to my own creative roots. I grew up with a natural curiosity and was always very involved with the art world and fine crafts. I was fascinated not only by the actual art or craft, but also by how it was made. It still gives me a sense of wonder when I see some artists' creativity!
While in Massachusetts, I had a business as an art consultant. My clients included medical spaces, banks, large insurance companies, and attorneys. I'd go to their offices or homes, and either look at real rooms or the architectural plans. I'd ask "What is going to happen in this room?" or "What do you WANT to happen here?" If it's the waiting room for an ophthalmologist, I'm going to look for realism—images that people can easily recognize easily—so that they don't feel anxious while they're sitting there waiting for their appointment. Even if the doctor likes Monet's Impression Sunrise, I'd say, "That's great, but maybe that's for your own private office. Think about how your patient feels when they look at that and cannot find an easily recognizable image."
When we learn in an open group setting, questions are often raised that an individual might be embarrassed to ask, for fear of seeming unskilled or naive. 
Sometimes, a client would say that they didn't even know what they liked, so if they needed two pieces, I might bring them 15 to choose from. I wanted them to feel that they were part of the process—that's very important. It allowed them to learn more about art and what emotions that art evoked for them. Often, they'd say, "That's exactly what I was looking for," even though they didn't know when they first called me. It was about having a relationship, understanding their needs, teaching them, and encouraging them to have more confidence in their choices.
After buying our first home in Florida, I started making jewelry with shells I found on the beach. I enrolled in classes at a local bead shop in Massachusetts and eventually began teaching what I had learned. I loved it when students saw not only what they could create, but how they could make it their own. I was selling to wearable art boutiques and museum shops, but I felt isolated, making my jewelry at home and dropping off pieces to be sold. I missed the creative camaraderie I had back at the bead shop.
My husband Jeff and I went to ArtiGras, and I started speaking with an emerging artist about his work. There was no one in his tent at the time. After a few minutes, he asked what I did, because I knew so much about his artwork. He told me to turn around, and I saw that there was a group of people listening to me talk about his work. The artist said, "Lady, we need more people like you to talk about artwork!" As we left that tent, Jeff told me that I looked happier than I had in a year….It was time to go back to my art consulting.
With the help of a business mentor, The Rickie Report was born, using the Internet to communicate. Half of our readers are artists and the other half include art lovers and art patrons, so I bring them together. I get great joy when I connect artists to each other, to learn from one another, and to network and grow. At the same time, I love it when an art patron finds just the right art to make their home or office their own.
What do you wish all artists knew about marketing and the art business?
That you don't have to be a starving artist. That's a misnomer. It's a romantic anti-hero notion, and it's not reality! I fully understand that an artist's ego is on the line—on the paper, on the canvas, on the mannequin—but artists have to (and CAN) learn to make the leap from "hoping to sell" to "making the sale." I help with the steps in between.
We address their fears to the point that they are reassured that this is something they can do. Everything gets broken down into steps with a timeline. We role-play, and I help edit their marketing materials and refer them to other specialists who can help them meet their goals.
How has the South Florida visual arts community changed since you first started the report in 2011?
There were not as many arts organizations in the area, but the ones that existed were fearful that someone else would steal their ideas, so there was little cooperation. New visual arts initiatives, from grassroots to corporate, have sprung up over the past seven years, creating a unique synergism. It is very satisfying to be part of this creative growth—to see individual artists and organizations grow to new heights.
So how did you overcome that resistance?
I had to overcome their fear of sharing their events and ideas. I earned their trust by promising not to share information, by treating everyone with the same respect, and by being honest. I helped them think strategically about when their event would have the most impact and when their article should be published to attract the biggest audience. This is a relationship, so I expect them to respect others when they are playing in my sandbox. We learn from each other—not by disparaging or diminishing, but by seeing what works best for others and how to make that their own.
During the first year, no one had a clue about what The Rickie Report was, with many expecting it to just be a calendar listing of visual arts events. By the second year, more organizations were interested in having articles. Now, in our seventh year, we are publishing a new article daily, in addition to offering banner and sidebar advertising on a monthly basis.
I act as a consultant/advisor, offering to meet with the boards of directors and significant team members of various organizations and galleries to help them grow their reach. I offer one-on-one consulting to artists, speaking with them before our meeting to get a sense of what they need and what they are currently doing. After I do my research into what will help that artist (e.g., marketing, getting into galleries or exhibits, branding, etc.), we meet and I give them a detailed plan. I follow up with them on a regular basis.
CHF has another Art-Business Conference coming up in Fort Lauderdale, from February 1-2, 2019. Why is it so important for visual artists to obtain business training and connect with their peers?
There is a special chemistry that fills the air when creatives work together, be it on an actual art project or just to learn. The stimulation from networking professionally offers a sense of camaraderie and a shared boost of confidence. Most art schools have never offered business training, which leaves artists in a vacuum. It is up to organizations like CHF to give them the training they need to be successful.
When we learn in an open group setting, like CHF's Art-Business Conference, questions are often raised that an individual might be embarrassed to ask, for fear of seeming unskilled or naive. The point of these conferences is to learn the business skills that artists need—because they already have the artistic skills. Whenever I attend a lecture, hear a sermon, or listen to a speech, I always ask myself, "What kernel of knowledge did I get from this to help me?" Though I know a lot about marketing, I can always learn something new or have an idea reinforced. We all need that.