Is the art-world pendulum once again swinging back toward realism? When asked about this for a recent Artspace article, Bill Arning, the director of Houston's Contemporary Arts Museum, made the case for a more complex and interesting reality, expressing the belief that we are living in a time of hybridization, when the old divide between figuration and abstraction is no longer relevant.
The desire to categorize is an inexorable part of human nature; it's how we make sense of the world around us. But when it comes to the art world, we at the Clark Hulings Foundation believe that pigeonholing artists, and favoring certain styles over others, only limits artistic expression and the ability of artists to build sustainable businesses.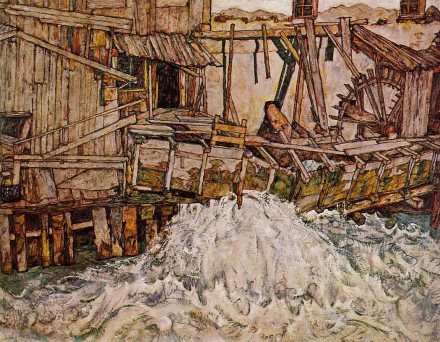 That's why our Business Accelerator Grants program is stylistically agnostic. The artists who serve on our review panel represent different backgrounds, and our program gives no preference to one movement or style over another, choosing to focus instead on how well a particular applicant is handling the business side of his/her enterprise. One of our judges, the landscape realist painter Philip Koch, simply advises young artists to be true to themselves. "Just do the work that's important to you in your studio, develop your vision, and follow that relentlessly to where it needs to go. And then go out and find an audience for that work."
The idea of polarization is one that hits particularly close to home for me. My father, in whose memory The Foundation was established, was a realist painter at a time when abstraction reigned, and while he did become a financially thriving artist, and overcame many of the obstacles that were placed in his path, we'll never truly know how much broader his reach could have been if the prevailing fashions of his day had been less rigidly stacked against realism.
Fostering Community
Placing artists in silos not only limits their individual success–it also prevents collaboration among those who work in different styles and media. Even though the famed abstract artist Frank Stella (whose career is being highlighted in a major retrospective at the Whitney) created pieces that in no way resembled my father's, the two men were friends, and played tennis together regularly. During their get-togethers, they often discussed the business of visual art, including details such as the fact that they used the same brand of oil paints. Their chosen styles never precluded them from connecting as artists and human beings, and it's that very sense of commonality that The Foundation seeks to encourage.
Happily, the zeitgeist is shifting in this direction as well. Today's technologies provide us with immediate access to art, and create an intimate connection to it, as well as fostering communication among artists, industry professionals, and collectors–breaking down many of the barriers that used to exist.
"When I first started out," says painter Tim Kennedy, one of our 2014 grant recipients, "the major fight was between whether something was abstract or figurative. If you were–or decided to be–a representational painter, there was a lot of discussion about why would you be doing that, as opposed to doing photography. And almost all of those things don't exist as arguments anymore, which is really very unexpected." Speaking specifically about the world of painting, Kennedy notes: "Abstract painters and figurative painters just feel like they're on the same team."
This knocking down of walls is a trend we heartily embrace. Artists should be able to focus on creating work that highlights their individual talents and voices, instead of being stuck in spaces that were not built for them. And artistic freedom benefits more than just artists; an open environment breeds creativity and experimentation, which increases the size and depth of the art pool that's available to collectors, gallerists, curators, art dealers, and the general art-appreciating public.
Open any art reference book, and you soon realize that for some of history's most successful artists, the relationship between realism and abstraction has been fluid. You see it in their career trajectories, in the way that they moved from one part of the spectrum to another over the course of their creative evolution. These artists understood that the best art defies labels, and embraces the nuances of life.