Earlier this month, I had the pleasure of chairing a panel discussion at the Ohio Arts Council's Arts Impact conference, an event that celebrated the many delightful ways that the arts influence our economy, perspectives, and lives. The discussion I led featured artists representing a wide array of genres and styles, but as you would imagine, every one of them embraced the "ands" of their careers.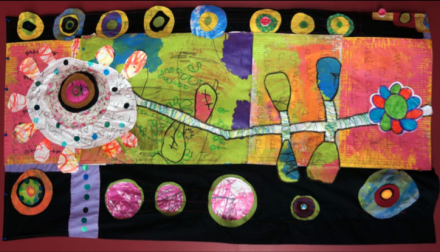 Here's what I mean by the "ands": One of the panelists was Lisa Yanofsky, a conservatory-trained opera singer. And a dancer. And a scholar. And a teaching artist for the arts council that sponsored the conference. Throughout our discussion, she used the phrase "straddling duality" to capture the beautiful overlaps in our creative lives, and that theme ended up guiding the talk.
Long after the panel was over, I still couldn't get that idea out of my mind, because it's what we all do on a daily basis. As creative entrepreneurs, we wear a lot of hats, and bear many titles. For example, one of the other panelists, Patty Mitchell, is a maker. And a teacher. And an empower-er. And a cicada creator. (I'm not kidding about that last one.)
There are plenty of potential outlets for our creativity, and by embracing the word "and" in our personal descriptions, we empower ourselves to identify opportunities. We don't have to be limited to just one thing, and we shouldn't allow ourselves to be pigeon-holed into a tiny sliver of the industry. Our skills and talents cross boundaries and traditional customer segments.
Entrepreneurs call this "opportunity spotting." Artists call it living.
There is optimism embedded in the idea of spotting opportunities, just as there is optimism in the thought that we can be more than one thing—that we don't have to be stuck in the description that earns us the most money, or consumes the greatest chunk of our time. We can be and do more than one thing. And we can do more than one thing well.
PUT IT INTO PRACTICE
List the first five descriptors of yourself that come to mind. Don't stop at five if the words keep coming!
Use these to build your unique value proposition.
Perhaps you are a photographer. And a documentarian. And a master editor.
Or maybe you're a sculptor. And a creator. And a storyteller.
You might be a painter. And a secret-keeper. And a challenger of conventional assumptions.
Maybe you're an illustrator. And a fighter of stereotypes. And a voice for the voiceless.
Or you might just be a designer. And a problem-solver. And a critical thinker.
By knowing ourselves and our skills, we articulate what entrepreneurial experts would call our "unique value proposition." What is it that we, as artists, do better than anyone else? The answer is different for everyone. No two artists are the same—thank goodness—and no two value propositions are identical.
When we know our personalized version of what we have to offer, we can think more nimbly and creatively about opportunities that might make excellent use of our strengths—especially when those opportunities aren't immediately obvious.
After all, an opportunity is nothing more than a solution to a problem. In an entrepreneurial context, an opportunity is your chance to say, "I am the solution to your problem." (But please never say those words exactly, because you will sound like a snake-oil pitchman. Find your own authentic way of expressing that same idea.)
Patty Mitchell does this exceedingly well. As an artist, she has a heightened sense of empathy for others, and she's an excellent listener. By going beyond the words that others say to her, she spots opportunities. She listens to the messages their words contain, and uses that information to determine what their needs might be. Then, she responds to those needs. To be clear: Patty doesn't change what she does to suit the market. (While that may work for a commodity-based business, it's a terrible idea for a creative entrepreneur.) Patty takes on the projects that she wants to do. She doesn't change what she creates, but she does describe her work in a way that resonates with those she serves. She cultivates opportunities for herself by speaking in ways that others will appreciate.
As a result of her approach, she straddles many worlds: She is a maker. And a leader. And a social entrepreneur. And a masterful salesperson. And an advocate for her work.
Like Patty, we all wear a lot of hats. We tackle the work of being administrators, marketers, makers, bookkeepers, email managers, and coffee experts. And it is our creative abilities—the skills that make us uniquely qualified to do what we do—that empower us to excel at the others tasks, too.
ADDITIONAL INFORMATION:
Help CHF provide valuable resources to working artists.
Support our work with a tax-deductible gift.