Accelerator Fell0w (2013)
Lorna Ritz creates paintings that simulate landscapes, and bring the outdoors inside. Working in a completely improvisational way, she listens to how the paint wants to move, and composes with colors as if they were "chords of notes." Her work has been exhibited in galleries and museums all over the US, as well as in Africa and Latin America through the State Department's Art in Embassies program.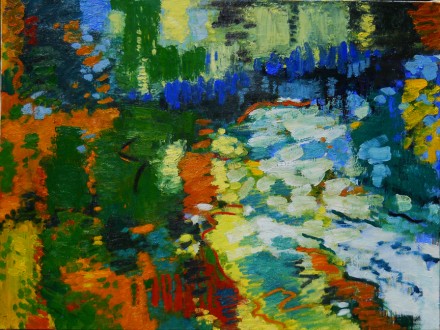 Lorna Ritz says in her bio: The night before, I write down on an index card all the practicalities and chores that must get done the next day, in order of priority, so that once I am in my studio, I will have nothing on my mind except the color and paint before me; (that, and keeping my cat out of the paint. Not stepping on her has become part of my process). I have become skilled at entering that 'inner quiet place' from where my ideas come. When in gear, morning becomes night, just 'like that!' without any sense of the passing of time. When I am stuck, I just stand there and wait, motionless, looking at the canvas, breathing deeply; painting is an act of faith, so ideas always come, without my pushing them to show up. I want the real ones, not the facile ones. New images arrive only by indulging my curiosities beyond what is familiar, in spite of great personal obstacles that life so readily brings. Every day life worries do not live in the studio. I have carved out a 'painting-life' by creating a visual documentation of my painting's growth over decades. Color is the universal language that reaches across culture borders where I have taught/lived/visited. I live in the world of my travels, landscape, books, and color. "What is the specific nature of light on this given day that will fall onto the canvas?" It is how colors relate that always guides me. Every day brings a new sense of inner light I express on canvas, and I want to be present to find it. A distant memory finds itself in there, changing the direction of the painting, and I have to be present to incorporate it. Painting is a foreign country in which to travel. I reach for the inaccessible, referential to implied landscape. My painting process is always unsettling, completely passionate, radical, and driven, but it is the paint itself that guides me to a place of wonder, just as an improvisational musician finds "lines".