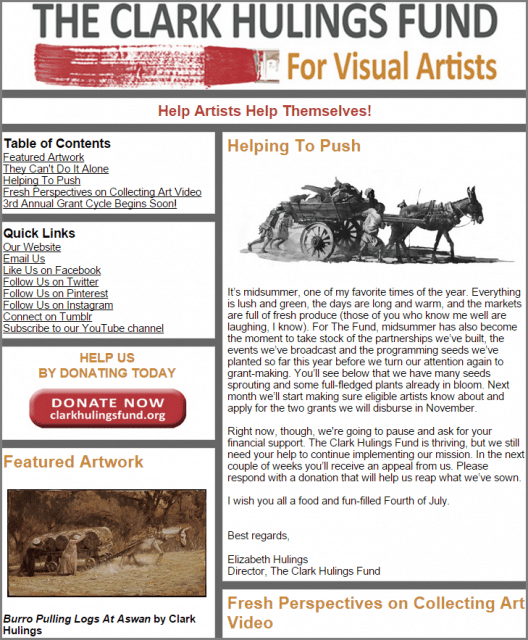 It's midsummer, one of my favorite times of the year. Everything is lush and green, the days are long and warm, and the markets are full of fresh produce (those of you who know me well are laughing, I know). For The Foundation, midsummer has also become the moment to take stock of the partnerships we've built, the events we've broadcast and the programming seeds we've planted so far this year before we turn our attention again to grant-making. You'll see below that we have many seeds sprouting and some full-fledged plants already in bloom. Next month we'll start making sure eligible artists know about and apply for the two grants we will disburse in November.
Right now, though, we're going to pause and ask for your financial support. The Clark Hulings Foundation is thriving, but we still need your help to continue implementing our mission. In the next couple of weeks you'll receive an appeal from us. Please respond with a donation that will help us reap what we've sown.
To read all of The Foundation's updates featured in our latest newsletter, click here.
I wish you all a food and fun-filled Fourth of July.
Best regards,
Elizabeth Hulings
Director, The Clark Hulings Foundation