Albuquerque-based gallery owner Nancy Zastudil emailed with CHF about the changes contemporary galleries are undergoing. Here, she explains the shifting face of gallery representation, how these changes empower artists, and walks us through the decision-making process as she implements changes to her own gallery.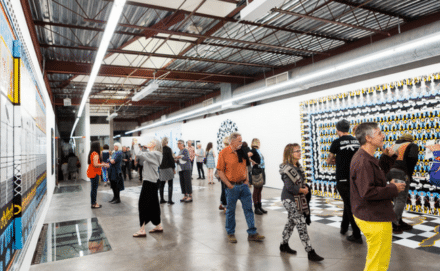 There are many gallery models: blue chip, co-op, artist-run, boutique, virtual…on and on. But we are seeing that the conventional brick-and-mortar gallery is becoming less sustainable, at least in terms of relying on sales alone, and less interesting and relevant in contemporary society. Still, artists at all levels of their careers tell me they want to find gallery representation, a conversation that usually happens when they feel stuck: maybe they have hit a plateau in their development, or are unsure how to promote their own work, when sales are slow, or when exhibition opportunities are lacking. This usually becomes a longer conversation about what they expect gallery representation will do for them—and sadly they usually express unrealistic expectations.
A "successful" gallery will typically adopt a sales strategy that hits three main levels of interest: They will show work by emerging or "up and coming artists" in a project space-type area of the gallery; they will have a roster of mid- to late-career artists, the ones for whom they are known for showing, and they will have a strong secondary market offering. It's the sales of secondary market artworks that really help keep galleries afloat. And as the "experience economy" has really taken hold, more galleries are trying to sell experiences either in place of or in conjunction with art objects.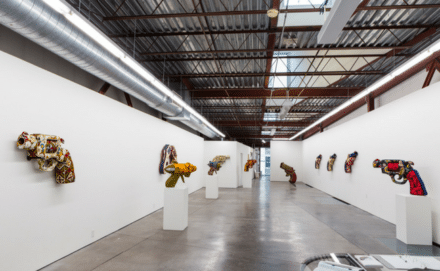 For someone like myself (for Central Features), who does not have a staff and is only open a few days a week, the typical gallery model doesn't fit what I do and how I work with artists. The upside is that because my operating budget is relatively small and because I have two jobs that pay my personal bills, I can usually do a lot with a little. The downside is that I am limited in the financial and programmatic risks I can take.
Central Features is currently organized as a hybrid business model—an LLC with fiscal sponsorship.This means that I can function as a commercial entity when needed and as a nonprofit when needed. In Albuquerque, specifically, we are lacking when it comes to the mechanisms that typically help artists succeed (respected critical arts publications, numerous commercial art venues, nationally recognized contemporary art centers/museums, and active collectors with diverse interests and deep pockets). This is not to say we don't have any of these things; what we do have I find to be quite compelling. But I see my artists wanting and needing opportunities beyond what Albuquerque is currently able to provide. The costs involved in mounting an exhibition and maintaining an exhibition venue are substantial. Without writers, curators, and collectors coming through to see the shows, it literally doesn't pay off for the gallery or the artists.
Therefore, following the lead of many other galleries throughout the country, I have decided that this summer, Central Features will vacate the space in which it is currently housed and will instead focus energy, unfettered and untethered, on more effective programming that directly supports artists and truly engages audiences. Some of these programs are already underway, for example, the Visiting Curator Series, the annual Art+Feminism Wikipedia Edit-a-thon, the development of an Albuquerque Artist-in-Residence program, and more.
My vision for Central Features is to connect artists with opportunities that yield transformative, tangible results, and demonstrable impact in areas of community relationships, career development, and market visibility. In this way, Central Features can be more dynamically present in the Albuquerque art community and beyond. Moving forward, the focus of my gallery will be on presenting a series of contemporary art programs and events that promote the value of art-making in contemporary society, motivated by the question: How might art translate and transform the human condition in relevant, discernible, and local contexts?
I see artists benefiting from this shift in lots of ways, from new and imaginative exhibition possibilities; the potential for more diverse audiences, exposure, and support; and increased opportunities to experiment with all aspects of art and exhibition-making. Personally, I am excited about the ways galleries and artists can develop more deeply collaborative working relationships.