Salon Series: Evenings with Hulings
If you've ever looked at a famous artist and wondered how they did it, beyond the hype, this is your chance for an intimate "fireside" inside-look. We'll be delighted if you join us as we immerse ourselves in the talent, art, and business practices that make Clark Hulings a beloved and essential American artist. The Salon Series is co-produced by SHIRLEY HOLLAND.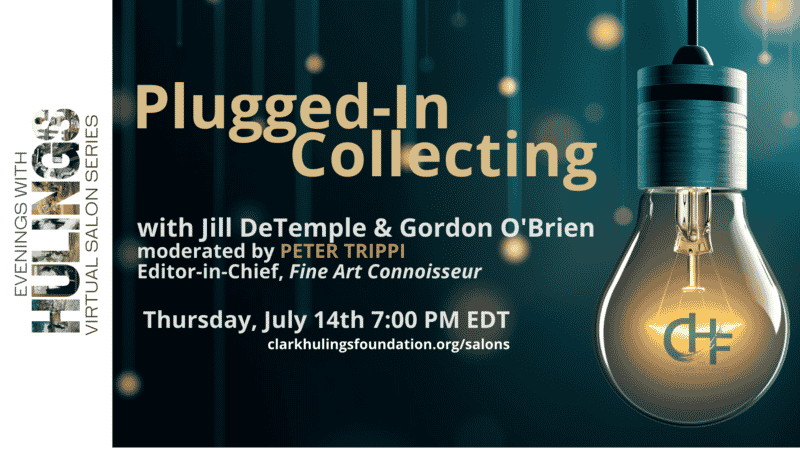 Plugged-In Collecting—Evenings with Hulings Virtual Salon
Thursday, July 14, 2022, 7.00 PM Eastern
A conversation with Jill DeTemple and Gordon O'Brien
This power couple are forward-thinking, business-savvy art collectors. Gordon O'Brien and Jill DeTemple's involvement in local organizations such as Plein Air Easton and national organizations including Oil Painters of America powers their ongoing relationships with artists and art-making. Their collection ranges from Mian Situ, C.W. Mundy, and Andrew Wyeth, to Tomutsu Takishima—to 19th Century artists such as Léon Augustin Lhermitte. A conversation facilitated by Fine Art Connoisseur editor-in-chief Peter Trippi will explore the expertise collectors can share with one another; tips for buying art online and their thoughts on NFTs; art acquisition as an investment vs. passion; what Jill and Gordon have learned about displaying and storing art; and how artists get on their radar.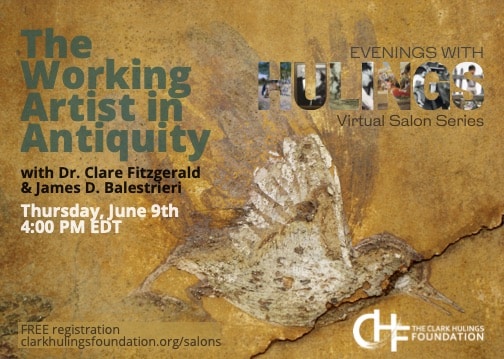 The Working Artist in Antiquity—Evenings with Hulings Virtual Salon
How did Roman fresco painters paint? How did patrons and clients in antiquity discover or commission art for their homes? What can contemporary artists learn from the work and the working conditions of painters in other times and places? Join us for a conversation with curator, art historian, and Egyptologist Dr. Clare Fitzgerald of New York University's Institute for the Study of the Ancient World; and James D. Balestrieri, author of the upcoming Hulings book and the recent Antiques & The Arts Weekly article "Mirror Dimension – 'Pompeii In Color: The Life of Roman Painting.' "
Evenings with Hulings Salon Series— with Stephanie Stebich & Peter Trippi
Stephanie Stebich is the Margaret and Terry Stent Director of the Smithsonian American Art Museum, the final stop on the U.S. tour of Many Wests: Artists Shape an American Idea exhibit. With her extensive experience acquiring and exhibiting art of the American West, Stebich is superbly qualified to explore how artists' perceptions of this complex region have changed over time. Clark Hulings' work is woven into the conversation with a look at Woodbearers of Chimayo at The Tacoma Art Museum. Peter Trippi, editor-in-chief of the national magazine Fine Art Connoisseur, moderates this fascinating discussion.
Evenings with Hulings Salon Series— Hulings and 20th Century Realists with Dean Mitchell & Alex McAdams
"Mr. Mitchell is a virtual modern-day Vermeer of ordinary black people given dignity through the eloquence of his concentration and touch." - The New York Times.
The second event in our Salon series features a conversation on our running theme of Hulings and twentieth-century realists—why they matter, their antecedents, heirs, and how they fit in the continuum and canon of American art. Featuring acclaimed painter and CHF Board Member Dean Mitchell, and moderated by painter & CHF Development Coordinator Alex McAdams.
Evenings with Hulings Salon Series—Collectors & Collecting: What artists and the rest of us need to know.
With Peter Trippi, Editor-in-Chief, Fine Art Connoisseur, and special guest, Collector Libby Whipple. The Salon Series is co-produced by Shirley Holland.
This ongoing series explores Clark Hulings' place in the canon of American art and the continuum of realism. It showcases him as a role model for artists building careers today, and fosters dialogue among collectors, artists, and others throughout the industry. Clark Hulings exemplified what it takes to run a thriving art business, create decades of top-notch work, cultivate rock-solid relationships, and leave a seminal body of work and a road map for today's creative professionals.
The ingredients of a successful art career are a mix of passion, commitment, skill, business sense, and hard work. We'll investigate all of these with experts who are deeply familiar with Hulings' art, life, and legacy. Formats will range from talks, presentations, and demonstrations to interviews and jousts! Delivered live via Zoom, with a limited, invitation-only audience whose questions and insights will be encouraged, each evening will subsequently be edited and released on all of our platforms and promoted widely to our broadest audience.
Beginning in June, 2021, we'll host a virtual salon each month. Running between 60-90 minutes at cocktail hour, we'll do sessions with the following themes:
Key Business Developments—blockchain, Non-Fungible Tokens (NFTs), and their definition and place in the art world), shipping, tracking, virtual and augmented reality exhibitions, etc.—led by Elizabeth Hulings and CHF faculty.
Hulings and 20th Century Realists—why they matter, their antecedents, heirs, and how they fit in the continuum and canon of American art—curated by our Artist-in-Residence, James D. Balestrieri.
Collectors and Collecting—what artists and the rest of us need to know—led by Peter Trippi, Editor-in-Chief, Fine Art Connoisseur; and Director, President, Projects in 19th Century Art.