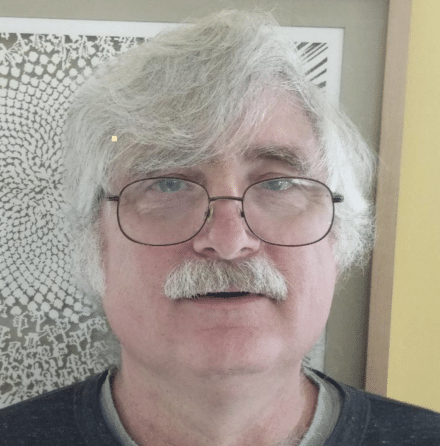 Artist Blake Conroy captures the complexity and uniqueness of our natural world. He draws highly detailed images of living things, creates metal and paper laser-cuts of these drawings, and then layers these images atop each other, allowing the audience to appreciate these plants and animals from many different perspectives.
Blake recently completed two years in CHF's intensive Art-Business Accelerator, earning a spot as an Executive Fellow in the program's second year. He will also be appearing on an expert panel at our upcoming Metro Washington DC Art-Business Conference, March 23 – 24 in Rockville, Maryland. [For more information about the event and to register, click here].
In this interview, Blake explains how his art business has been boosted through his collaborations with other artists.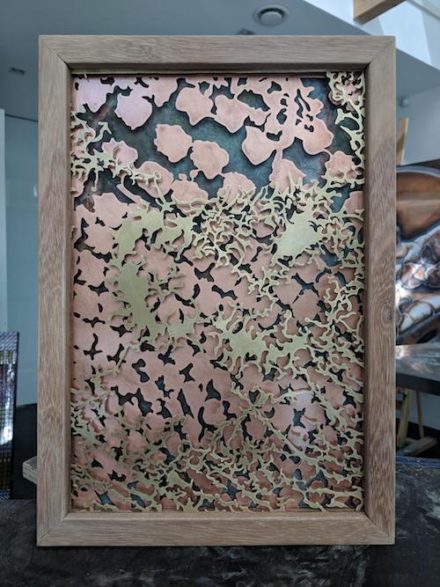 You just graduated from CHF's Accelerator. What are some of the most important things you learned in the program?
I learned to set goals and keep to them. I also opened up several new avenues for my work. I am working on putting together a number of exhibitions where I control all aspects of the show, including who is featured, the themes (which will be related to environmental activism), where the shows are hung, and fundraising to pay the artists who participate. (For most shows, artists themselves pay to participate.)
The other major result of my time with CHF is that I'm collaborating with other artists. I am currently doing projects with artist/woodworker Vicco von Voss, and I'm looking forward to working with glass artist Lea DeWitt.
You have decided to leave your day job at a major foundry, where you've worked for a very long time.
I am officially leaving the foundry as of June 1, 2019. My boss is retiring, and I am not taking over–which had been the plan until I started at CHF. If I took over the foundry, I'd have to give up pursuing my artwork. It is a scary decision, but I am very excited to put all of my efforts into my work. I am so much better prepared for this next step because of the work I did with CHF.
Tell us about some of your 2018 achievements.
I participated in GLO'ART Belgium's Artist in Residence program last April and May. It was the first time in 38 years that I was away from the foundry for more than two weeks. While I was in Belgium, I made two pieces, and they kept them for their collection. I was paid for being there, and they covered all of my expenses except food. They even paid for my airfare, which is very rare.
I was also in a show entitled Symbiosis at the Maryland Hall for the Creative Arts. This was the first show I did with Vicco that was separate of the Massoni gallery where we originally met.
On the business side of your practice, what accomplishments are you the most proud of?
I have taken much more control of my career. Instead of just applying to juried shows and hoping that someone will see my work, I am planning shows and teaming up with other artists. Since my successful artist residency in Belgium, I am also applying for other paid residencies.
Additionally, my wife, Nicole Fall, and I just got a commission to produce window grates as part of a renovation of a Boys and Girls Club in south Baltimore. In addition to being a sculptor, Nicole has been teaching for 35 years, so she'll meet with the kids at the club to get their design input. We'll integrate their ideas with our own, and also with the murals that already on the buildings. Finally, I will draw the designs so that they can be water jet-cut and powder-coated, and then we will install them.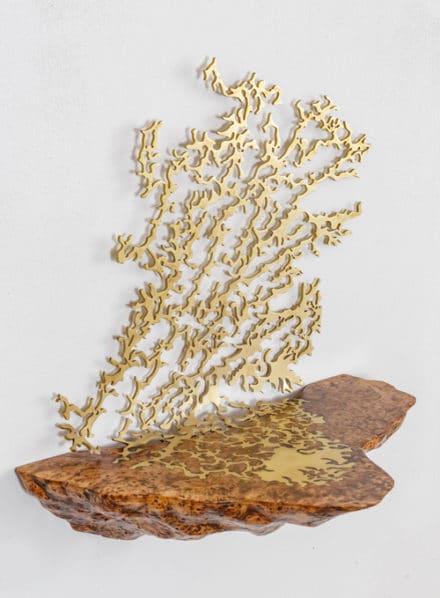 You've mentioned several collaborative projects. How have those experiences benefited you?
Collaborations have broadened my art practice by introducing me to new materials and new markets for my work. Before collaborating with Vicco, I was showing just my cut-paper work and, very occasionally, cut metal. I had done hand-cut brass for years, but I'd had no success in selling it because the pieces took so long to make that they were not commercially viable. I would spend nine months on a single piece.
By working with the technology that I employ with my cut-paper pieces, I have been able to use water-jet cutting to make metal pieces again. This led directly to the furniture work that I've been doing with Vicco. It's an area that I had no experience with until he and I started collaborating. Vicco's expertise also opened up a brand new market for my work. I hope to have the same experience with Lea DeWitt.
My strategy for growing my business is to get out and meet people–gallery owners, art consultants, architects, builders, developers, interior designers, etc.–and continue collaborating.
A big part of the Accelerator Fellowship is encouraging artists to network with their peers. How have you been helped by the relationships you've made through the program?
For me, the biggest thing about CHF is the support of my fellow artists. The other Fellows have become a support group for me. Because of this group, I have also reached out more to friends locally. I have been more confident about approaching other artists because of my experiences with CHF. The staff has been great. too. The branding work that I did with Elizabeth and Daniel was specifically helpful for me; it focused my thoughts on what I was doing like no other conversation I'd had up to that point.
Your art examines the uniqueness of each element in our natural world. Why is that so important to you?
The message that drives me is that we are all on this planet together–plants and animals, humans included. We can't treat this world as if we are not a part of it. If we continue to do that, we are all going to suffer or die.
If you had the opportunity today to time-travel and talk to yourself back in December 2016, just before starting the Accelerator program, what advice would you give?
I know of so many artists who toil in their studios doing good work that just stays in their studios. I don't want to be one of those artists. If I had anything to say to myself back then it would be to start thinking about your future and what you want to do with the time you have left. Develop a plan.
This is where CHF came in for me. It happened at the perfect time. I had just started working on the laser-cutting. Before that, I would not have been able to take advantage of all the things CHF had to offer. I was also not yet ready to leave my job and bet on myself. This was a very big step that I am now financially secure enough to make. Before, I had other obligations–with my kids–so leaving my job was not feasible. It was ideal timing for me.