Clark Hulings: The Work of Art and the Dignity of Work
Clark Hulings: The Work of Art and the Dignity of Work will establish Hulings as a pivotal American artist, one whose career straddles the Golden Age of Illustration and fine easel painting, realism and modernism, art as a calling and art as a profession, as well as the pre and post digital worlds. Hulings embraced change throughout his career without ever relinquishing his training, his subject, his work ethic, or his passion. Pre-order your copies today!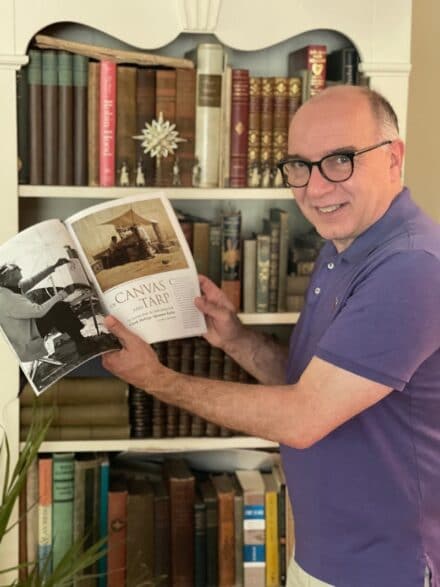 Author James D. Balestrieri has already completed a substantial amount of the written content for the monograph. James is an arts consultant and writer, specializing in catalogue research and writing on American art, estate and collections management and acquisitions, and marketing and communications for museums and auctions. He served as Director of J.N. Bartfield Galleries in New York for 20 years and has published over 150 feature essays and reviews in a wide variety of national arts publications.
Read published excerpts from Clark Hulings: The Work of Art and the Dignity of Work: "On Canvas and Tarp" featured in American Fine Art Magazine, or "Illusions and Subversions: Hulings and the American West" from Western Art Collector.
"Like his peers, Hulings valued work, but his observations on work and working people on his travels led him to make the lives and labor of working people his principal subject. When we speak of the word 'oeuvre,' a word we have borrowed from the French language, we mean an artwork or an artist's body of work. In Hulings' case, work became his work. Work was his oeuvre. The canvas became not only the site of his labor, but a mirror for the ancient, rural labor that he saw giving way inexorably to modernity."
The centenary of Clark Hulings' birth is November 20, 2022, which makes this terrific timing for this project. This book is a pivotal piece of the Hulings legacy, anchoring the value of the paintings and reaching diverse audiences worldwide: collectors, artists, scholars, students, libraries, and art lovers.