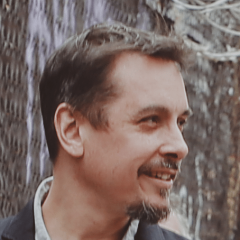 Daniel is Digital Ecologist® at MadPipe®. He's a mercenary who puts other firms' ideas in front of a broader market with brand messaging, corporate story, and campaign leadership. MadPipe® does for a company what a campaign manager does for a political campaign: prioritize winning. He is also co-founder of Free Agent Source, Inc.—the consulting firm that delivers enterprise projects through direct relationships with consultants.
"All progress depends on the unreasonable man." – Shaw
Daniel spent a decade in corporate sales, marketing, education, and technology for Fortune 500 brands. His graduate degree is in instructional technology, and he has 30 years of global instructional experience. His ideas have been elaborated in Inc, Forbes, and Success Magazine.
Daniel studies music, dance, languages, martial arts, and storytelling in the dark.
"I once drove a truck backwards on a busy freeway (unintentionally)."